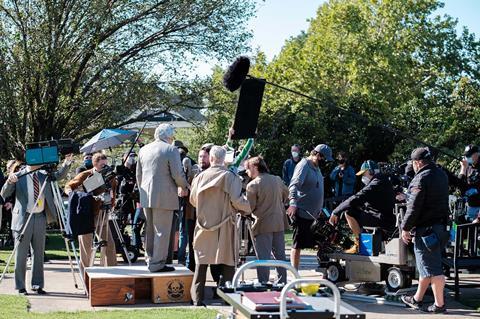 Voltage Pictures' AFM sales title Reagan has found its Margaret Thatcher, with Lesley-Anne Down joining Dennis Quaid and Penelope Ann Miller to play the former British prime minister.
Quaid plays former US president Ronald Reagan and Miller portrays Nancy Reagan in the biopic, which has resumed production in Oklahoma after being shut down for two weeks when several members of the production tested positive for Covid-19.
The US leader and his British counterpart Thatcher forged a strong alliance in the 1980s, a time when the Cold War was never far from the headlines and the threat of nuclear war with Russia was ever-present.
Down's credits include Upstairs, Downstairs, The Pink Panther Strikes Again, The First Great Train Robbery, Rough Cut, and North And South.
"To be asked to portray one of the most formidable female politicians of all time is an honour," said Down. "Working opposite Dennis Quaid as Reagan is certainly a career highlight. Being part of anything made during Covid is a miracle – this amazing production is the bomb!"
The biopic spans the former US president's life from humble origins in Illinois to his ascendency to the White House in 1981, by way of a Hollywood career and the California governorship.
Recounting the story is a fictitious KGB spy played by Jon Voight. Mena Suvari plays Reagan's first wife, Jane Wyman.
Sean McNamara, who worked with Quaid on Soul Surfer, directs Reagan from a screenplay by Howard Klausner (Space Cowboys). Rawhide Pictures' Mark Joseph is the producer.
Voltage, riding high on the international box office success of After We Collided, is at AFM with a sales slate that includes YA romance Finding You, action-thriller The Marksman starring Liam Neeson, horror-thriller The Seventh Day starring Guy Pearce, and the third and fourth instalments in the After franchise, currently shooting in Eastern Europe.