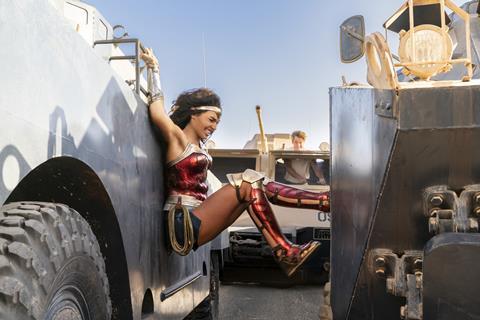 Warner Bros is releasing Patty Jenkins' Wonder Woman 1984 in the UK and Ireland on premium video-on-demand (PVoD) on January 13. It will be available to rent for a 48-hour period across digital platforms.
The debut will come just four weeks after the film's theatrical release in the territory had been scheduled for December 16.
However the day before that was due to go ahead, London's approximately 200 sites were forced to close when the city and parts of surrounding Essex and Hertfordshire were moved into higher Covid restrictions until December 30 at the earliest.
Cinemas in Ireland are presently open with social distancing measures in place.
The superhero saga starring Gal Gadot is only the second major Hollywood tentpole to arrive in the UK since the lockdown commenced last March.
Christopher Nolan's Warner Bros stablemate Tenet opened in late August in a compromised market where open cinemas were operating at reduced capacity, as they continue to do. To date the thriller has grossed $22.9m (£17.5m) in the UK.
Cinemas in France are closed until at least January 7, 2021, and in Germany until January 10, 2021 at the earliest.
Wonder Woman 1984 will open in US cinemas and on HBO Max, Warner Bros' sibling under AT&T-owned WarnerMedia, on December 25. Indoor public cinemas in Los Angeles and New York have remained closed since the US lockdown in March.