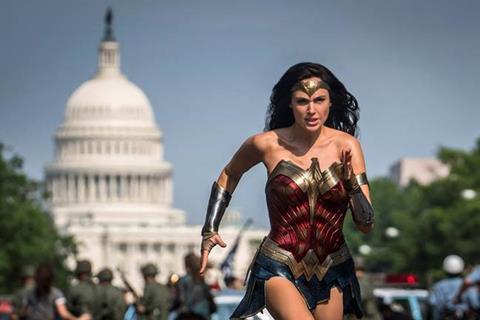 UPDATED: Amid troubling Covid-19 surges in the US Wonder Woman 1984 – the last remaining major tentpole of a decimated 2020 release calendar – will launch day-and-date on December 25 in cinemas and on HBO Max, and debut theatrically in international markets starting on December 16.
The film will be available for one month on HBO Max in the US at no additional cost to subscribers. After that it is understood it will be taken off the platform and continue to play exclusively in whichever cinemas are open.
Media reports have suggested that after another month passes, Wonder Woman 1984 will go to PVoD. WarnerMedia sources did not confirm this, nor did they discuss terms of the deal and potential revenue share arrangements.
The industry had anticipated a change as swathes of the US enter a third wave of the pandemic heading into winter, forcing tighter restrictions across the country including Los Angeles and New York, where cinemas have remained closed since March.
Further details on the international theatrical release were not available at time of writing and are expected to be announced soon.
Many parts of the world including key markets such as the UK, France, Germany, and Spain are experiencing lockdowns or tightened restrictions due to the virus.
While executives will expect international box office prospects to be considerably reduced, they will know that Wonder Woman 1984 stablemate Tenet's most encouraging results came from outside the US, where the film has grossed in the region of $300m internationally from approximately $350m worldwide.
Prior to Wednesday's (November 18) development, Wonder Woman 1984 had been set to open in the US exclusively in cinemas first, alongside international theatrical roll-out.
"We realise that a lot of consumers can't go back to the movies due to the pandemic, so we also want to give them the option to see Wonder Woman 1984 via our HBO Max platform," said Ann Sarnoff, chair and CEO, WarnerMedia Studios and Networks Group.

Writing in a blog, WarnerMedia CEO Jason Kilar said cinemas remained a safe option, and noted that executives were in uncharted territory with regard to comparable release metrics.

"To provide a comparable, a little over four million fans in the US enjoyed the first Wonder Woman movie on its opening day in 2017. Is it possible for that to happen again this Christmas with Wonder Woman 1984 between theatres and HBO Max? We are so excited to find out, doing everything in our power to provide the power of choice to fans."
Patty Jenkins' female empowerment tentpole stars Gal Gadot in the title role and is the sequel to the 2017 blockbuster Wonder Woman that grossed $822m worldwide in a roughly even North America-international split. Chris Pine reprises his role as the love interest.