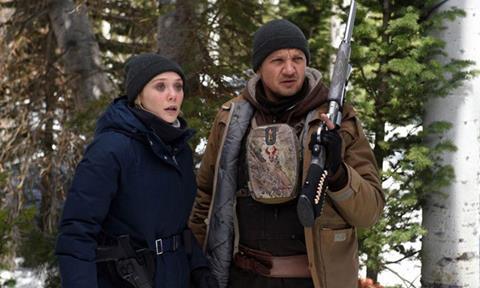 Harvey Weinstein and The Weinstein Company (TWC) names are being scrubbed from Taylor Sheridan's feature directorial debut Wind River in advance of the home entertainment release and heading into awards season.
Sources confirmed the development to Screendaily in the wake of the ongoing sex abused scandal that has engulfed the disgraced former mogul.
It is understood there will be no mention of the name Weinstein on the film's home video release through official partner Lionsgate, nor will there be evidence of Weinstein when the drama streams on Netflix, another TWC partner. The film earned an impressive $33.6m theatrically following its release in August.
Acacia Entertainment, the main financier on Wind River that is itself backed by the Tunica-Biloxi tribe of Louisiana, will now fund an Oscar campaign that sources said will focus on the best picture, writing, directing, and acting categories.
Jeremy Renner and Elizabeth Olsen (pictured) star in the drama, which by an unfortunate coincidence tackles the subject of rape on Native American reservations.
It also emerged on Wednesday that similar efforts are underway to remove the Weinstein name from the upcoming home entertainment releases of the animation Leap! and Tulip Fever. Screendaily was unable to confirm this at time of writing.