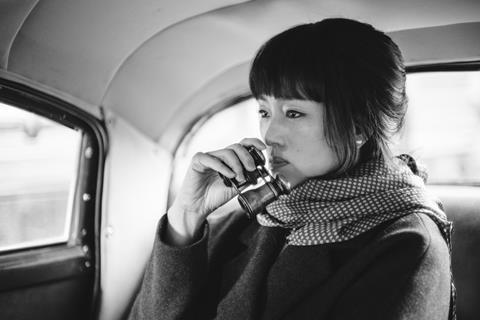 Wild Bunch will launch sales on eight new titles at Cannes this year including Sylvie Verheyde's Madame Claude about an infamous French brothel owner and Lou Ye's upcoming black and white thriller Saturday Fiction.
The slate also features two recent acquisitions out of the Official Selection as well as two new Cannes Critics' Week films alongside the five previously announced Palme d'Or contenders.
Verheyde's Madame Claude stars Karole Rocher (Sex Doll, Stella) as the real-life, late Paris brothel owner whose clients allegedly included John F. Kennedy and Libyan dictator Muammar Gaddafi.
"She's an iconic figure in France who represents an extraordinary period in the history of Paris. It's a big ambitious biopic in the vein of the films about Yves Saint Laurent," said Wild Bunch head of sales Eva Diederix.
Madame Claude, whose real name was Fernande Grudet, revolutionised the brothel business in Paris, rising to control a network of hundreds of prostitutes who supplied sex to politicians and celebrities throughout the 1960s and 1970s.
The high-profile French cast also includes Garance Marillier (Raw), as Madame Claude's alter ego and the woman who will bring about her downfall, as well as Roschdy Zem, Pierre Deladonchamps, Benjamin Biolay and Hafsia Herzi, star of Verheyde's last film Sex Doll.
Michel Hazanavicius, Riad Sattouf and Florence Gastaud are producing under the banner of their joint Les Compagnons Du Cinema production company. It began shooting on May 2.
Other French titles include Philippe Garrel's romantic drama The Salt Of Tears, about a young man from the provinces caught between his passion for two women and desire to please his father. It stars theatre actor Logan Antuofermo opposite Oulaya Amamra (Divines), Andre Wilms, Louise Chevillotte and Souheila Yacoub.
The slate also features Thierry de Peretti's political thriller Undercover, based on the book L'Infiltré, written by late French undercover agent Hubert Avoine with investigative journalist Emmanuel Fansten, exposing corruption within France's anti-drug brigade.
Vincent Lindon plays the complex, shadowy figure of Avoine opposite Pio Marmai as the real-life journalist he approached to collaborate with him in an investigation on French police corruption within the global war on the illegal drugs trade.
"It's a classic French thriller based on a real story which created a scandal in France," said Diederix.
The slate also features Thierry Frémaux's second work dedicated to cinema pioneers Auguste and Louis Lumière, Lumière! The Adventure Continues.
Made under the auspices of his role as managing director of France's Institut Lumière in Lyon, Frémaux plans to expand on 2016 documentary Lumière!, which showcased some 100 early Lumière works including well-known classics such as Workers Leaving The Lumière Factory.
The new work will showcase another one hundred restored Lumière films and explore the invention and spread of cinema in more depth.
"We're hoping to get many of the distributors who handled the first film back on board again," said Diederix
International titles
Wild Bunch will continue sales of Gia Coppola's drama Mainstream about the devastating power of social media on identity and personal values, starring Andrew Garfield, Maya Hawke Nat Wolff and Jason Schwartzman. The production is now due to start shooting on May 21.
In other sales acquisitions, the company also reunites with Chinese director Lou Ye on his cryptic 1940s-set black and white thriller Saturday Fiction. It stars Gong Li as an iconic Chinese actress who returns to Japan-occupied Shanghai on a top-secret mission.
"Gong Li is sublime in this film. She has this aura of a grand dame of cinema which belongs to another era," said Diederix.
The sales mandate continues Wild Bunch's long relationship with Ye which began in 2006 with Summer Palace.
Other recent additions include Azazel Jacobs's French Exit – starring Michelle Pfeiffer as a penniless New York socialite who heads to Paris to save face after burning through her late husband's estate.
Wild Bunch is co-selling the title with Rocket Science, handling the six territories of Benelux, France, China, Italy, Japan, and Spain.
First-time directors
The Cannes slate also includes a number of works by first-time directors including Mexican filmmaker David Zonana's contemporary, neorealist social drama Workforce, starring Luis Alberti as a construction worker who takes the law into his own hands to fight workplace abuse.
The project was brought to Wild Bunch by director Michel Franco, who is producing the film
It is also selling Tigers exploring the world of football youth academies through the experiences of a promising young Swedish player who is signed by Inter Milan as a teenager. It is based on the memoirs of former Swedish player Martin Bengtsson.
It marks the feature directorial debut of Swedish writer and filmmaker Ronnie Sandahl, who has already explored the pressure of the sports world as the writer of the Janus Metz's 2017 drama Borg McEnroe.
"These two acquisitions continue Wild Bunch's long-time strategy of talent spotting and nurturing emerging filmmakers to then follow them throughout their career," says Diederix.
Fresh Cannes Acquisitions
The company has also added four festival titles to its slate in the past few days.
It has recently boarded sales on Juan Solanas's Out of Competition documentary Let It Be Law revolving around the campaign by pro-choice activists to legalise abortion in Argentina, a country where half a million abortions are carried out a year and women die needlessly because of the lack of legal and safe terminations.
Solanas captured the fierce debate and events leading up to a crucial vote last summer on whether Argentina should legalise abortion and make the procedure openly available in public health clinics.
"We signed it three days ago. We saw it and immediately decided we should take it on. It's a gripping and necessary documentary," says Diederix.
A number of pro-choice Argentine activists will accompany Solanas to Cannes and join him on the red carpet ahead of the film's premiere on May 18.
It has also recently signed Un Certain Regard title Homeward by Nariman Aliev.
Set against the backdrop of conflict-ridden Crimea, it follows a man tyring to return the body of his dead son, killed in the war between Russia and Ukraine, to the land of his birth in a tale touching on themes of family bonds and motherland.
"It's a story about the ordinary people caught up in the war in Donbass which is rarely told," says Diederix.
It is also handling sales on Gaspar Noé's medium-length Midnight Screening title Lux Æterna, which was announced as a late addition to Official Selection.
Details of the film are under wraps but in words of Noé, the film is "a vibrant essay on respect for beliefs, the actor's craft and the art of filmmaking".
The company has also recently added two Cannes Critics' Week titles: Chinese director Gu Xiaogang's contemporary family saga Dwelling In The Fuchun Mountains and actress Hafsia Herzi's debut feature You Deserve A Love, in which she stars as a woman who embarks on a series of relationships to get over her partner's infidelity.
"It's a section of the festival which we continue to support as a place where you make real discoveries," said Diederix, noting Wild Bunch previously handled Critics' Week titles like Declaration Of War in the past.
She said the signing of Dwelling In The Fuchun Mountains comes out of Wild Bunch's long-term strategy to forge links with China, both as a source of fresh talent and films and as a new audience for its films.
"Capernaum has recently made $30m in China in two weeks on release and we expect it to go much higher," she says, referring to Nadine Labaki's Cannes 2018 Grand Jury Prize winner. "It's a relationship we want to work in both ways."
Other previously announced Palme d'Or contenders on its slate include the Dardenne brothers' Young Ahmed, Arnaud Desplechin's Oh Mercy!, Ken Loach's Sorry We Missed You, Ladj Ly's Les Misérables and Elia Suleiman's It Must Be Heaven; Kantemir Balagov's Un Certain Regard title Beanpole and Directors' Fortnight titles An Easy Girl by Rebecca Zlotowski and Give Me Liberty by Kirill Mikhanovsky.
Updates on previously announced projects
The slate features another half dozen previously announced titles including Guillaume Nicloux's comedy Thalasso (previously titled Just Great) starring French novelist Michel Houellebecq and actor Gérard Depardieu as two men trying to survive the health regime of a swanky, sea water spa resort.
Wild Bunch will showcase three new trailers for the film which is aiming for a late summer, early autumn launch.
Diederix reports Hirokazu Kore-eda's The Truth is also positioning for an autumn launch. The film, she reveals, has nearly sold out on key territories on the back of the success of Kore-eda's Palme d'Or winner Shoplifters.