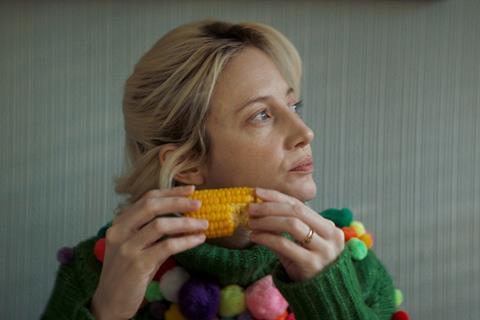 Dublin-based Wildcard Distribution has acquired UK and Ireland rights to two films from rising Irish directors: Damian McCann's Irish-language Storm from producers Doubleband Pictures and Stacey Gregg's SXSW premiere Here Before starring Andrea Riseborough, from Bankside Films.
Storm (Doineann) debuted at this year's online-only Galway Film Fleadh where it was the closing-night film. Written by Aislinn Clarke, it is about at woman and her baby who go missing on a remote Irish island as a storm approaches and stars Peter Coonan and Bríd Brennan.
Mother-child relationships are also the focus of Here Before which is Belfast-born Gregg's directorial debut. Riseborough plays a mother whose painful memories of losing her own child are stirred when a new young family moves in next door. Martin McCann co stars. The film is produced by Rooks Nest and funded by BBC Film, Pia Pressure and Northern Ireland Screen.
The film is playing at the Belfast Film Festival next month.
Wildcard has also picked up Irish-only rights to Brendan Muldowney's The Cellar from Epic Pictures. Muldowney also wrote the screenplay for the film, starring Elisha Cuthbert and Eoin Macken. The psychological horror title is about a woman whose daughter vanishes in the cellar of their new house.
The film is an Ireland-Belgium co-production between Conor Barry of Savage Productions and Richard Bolger of Hail Mary Pictures with Benoit Roland from Wrong Men in Belgium.