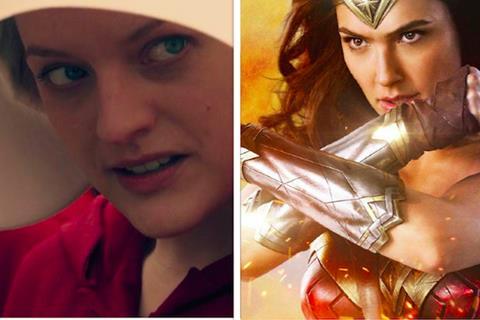 Wonder Woman and The Handmaid's Tale have made it onto the AFI's official selections for the AFI Awards 2017.
The annual awards celebrate what AFI voters regard as the 10 best films and TV shows of the year. The film list includes potential Oscar heavyweights Dunkirk, The Post, The Shape Of Water and Lady Bird, while among the AFI's TV highlights are Game Of Thrones, Big Little Lies, and Insecure.
In addition to the 20 honourees, AFI has recognised The Vietnam War with an AFI Special Award.
"At a time when the world seems defined by division, storytellers bring us together as one," AFI president and CEO Bob Gazzale said. "AFI AWARDS is honored to celebrate this community of artists who challenge and inspire us, entertain and enlighten us — ultimately reminding us of our common heartbeat."
AFI Movies Of The Year
The Big Sick
Call Me By Your Name
Dunkirk
The Florida Project
Get Out
Lady Bird
The Post
The Shape Of Water
Three Billboards Outside Ebbing, Missouri
Wonder Woman
AFI TV programmes of the year
Big Little Lies
The Crown
Feud: Bette And Joan
Game Of Thrones
The Good Place
The Handmaid's Tale
Insecure
Master Of None
Stranger Things 2
This Is Us
AFI Special Award
The Vietnam War
The 2017 lists mark the 18th year of AFI's ongoing almanac celebrating the moving image. The complete list is here.
AFI Awards are selected by a jury of AFI trustees, scholars, artists and critics. This year's juries — one for film and one for TV — were chaired by AFI board of trustees vice-chairs Tom Pollock (former MCA vice-chairman, chairman of Universal Pictures) for film and Richard Frank (former chairman of Walt Disney Television, president of Walt Disney Studios, president of the Academy Of Television Arts And Sciences) for TV.
The juries featured the likes of Judd Apatow (who recused himself from voting on The Big Sick, which he produced), Halle Berry, Jamie Lee Curtis, and film historian Leonard Maltin. Honourees will gather on January 5, 2018, for a private AFI Awards luncheon in Los Angeles.