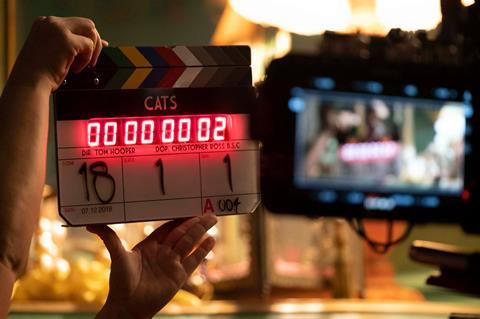 Principal photography has got underway in London on Cats directed by Tom Hooper and starring James Corden, Judi Dench, Idris Elba, Taylor Swift, Rebel Wilson, and newcomer Francesca Hayward, principal dancer with The Royal Ballet.
Based on Andrew Lloyd Webber's stage musical and the poems from Old Possum's Book of Practical Cats by T.S. Eliot, Cats also stars Ian McKellen, singer-songwriter Jason Derulo, and Jennifer Hudson. Cats is scheduled to open theatrically on December 20, 2019.
Corden will play Bustopher Jones, Dench is Old Deuteronomy, Derulo is Rum Tum Tugger, Elba is Macavity, Hudson is Grizabella, McKellen is Gus, Swift is Bombalurina, Wilson is Jennyanydots, and Hayward is Victoria.
Hooper and Lee Hall of Billy Elliot fame have adapted the screenplay. Lloyd Webber's musical centred on a tribe of felines that decides who among them will get a new life. Producing are Hooper, Working Title's Tim Bevan and Eric Fellner, and Debra Hayward (Les Misérables), who brought the idea to Working Title. Steven Spielberg, Lloyd Webber, Angela Morrison and Jo Burn are executive producers.
Working Title produces in association with Monumental Pictures and The Really Useful Group.
Hip-hop dance act Larry and Laurent Bourgeiois aka Les Twins are among the performers, alongside former principal dancer of the New York City Ballet Robbie Fairchild, former soloist of The Royal Ballet Eric Underwood, Mëtte Towley, a member of Pharrell Williams' dance troupe The Baes, Steven McRae, principal of The Royal Ballet, and freestyle and contemporary dancers from Brazil, France, Philippines, the US and the UK.