EXCLUSIVE: First look at feature starring Michael Socha, Georgia Groome; Matt Wilkinson, Maggie Monteith produce; Dexter Fletcher among cameos.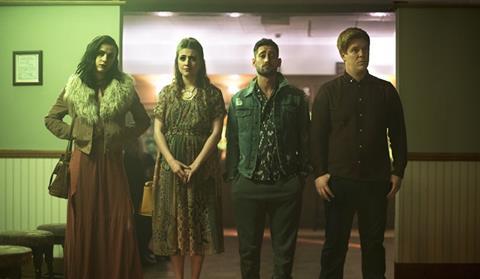 UK sales outfit Film Constellation has boarded international rights to recently wrapped UK comedy-horror Double Date, the directorial debut from UK filmmaker Benjamin Barfoot, written by UK actor Danny Morgan.
The co-production between Dignity Group and Stigma Films stars Michael Socha (This is England), Georgia Groome (London to Brighton), Danny Morgan (On The Road) and Kelly Wenham (Merlin).
The film follows the story of Jim, aided by his obnoxious but charming best friend Alex, on his quest to lose his virginity before he turns 30. The night before the big day they meet Kitty and Lulu, two beautiful sisters who seem determined to seduce them, but who secretly have another darker agenda for Jim's birthday – virgin sacrifice.
Cameos include Dexter Fletcher (Lock, Stock And Two Smoking Barrels), Tom Sturridge (Far From The Madding Crowd), Olivia Poulet (Sherlock), Robert Glenister (Hustle), Rosie Cavaliero (Jane Eyre) McFly's Dougie Poynter (Just My Luck) and Cressida Bonas (The Bye Bye Man).
Score comes from Swedish psychedelic outfit Goat with rapper MC Big Narstie contributing to the soundtrack.
Producers are Matthew James Wilkinson (The Call Up) and Maggie Monteith (Searching for Sugar Man), and the film is executive produced by Chris Reed of Freebie Films.
Fabien Westerhoff's Film Constellation will introduce the project to buyers at the upcoming AFM. Additional market projects for the fledgling outfit include completed horror Lake Bodom, documentary David Lynch: The Art Of Life and development feature Cross My Mind with Sally Hawkins.