Amy distributor Altitude pre-buys new documentary 'Maradona' for the UK, Cinetic to handle US sales.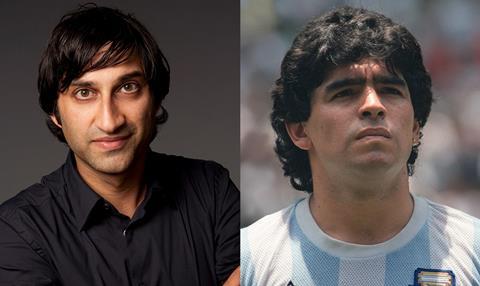 Footballing icon Diego Maradona is the subject of new feature documentary Maradona from the team behind Oscar and BAFTA-nominated Amy.
Director Asif Kapadia, producer James Gay-Rees and editor Chris King will reunite on the story of the genius Argentinian beset by personal demons. Production is underway.
The team will be joined on the project by producer Paul Martin (Ronaldo) and will have access to hundreds of hours of never-before-seen footage from Maradona's personal archive.
Altitude Film Sales will introduce the project to buyers at the EFM with US sales being handled by Cinetic Media.
UK rights have been acquired by Altitude Film Distribution, who released Amy to £3.76 million in the UK, making it the highest grossing British documentary at the UK box office.
The film is being fully financed by Julian Bird's Lorton Entertainment, the new financier-distributor which is also backing a documentary about iconic UK pop band Oasis.
Widely considered one of the greatest players of all time, Maradona was the only footballer in history to set the world record transfer fee twice, first when he transferred to Barcelona for then a world record £5 million and later when he transferred to SSC Napoli for £6.9 million.
At that time, the Naples team had never won a major tournament but their supporters were fanatical in their passion. The charismatic Argentine quickly led them to their first-ever title and he was celebrated as a god by one of Europe's wildest cities.
However, the World Cup winner - father-in-law to Manchester City star Sergio Aguero - also courted plenty of controversy. Not only for his infamous 'hand of god' goal against England in 1986 but also for a battle with drugs. The star was expelled from the 1994 World Cup after failing a drugs test and he later incurred further controversy when he shot at reporters.
Director Kapadia said: "I've long been a fan of Diego Maradona, I was taken by his character, his genius, honesty, passion, humour and vulnerability. I was fascinated by his journey, wherever he went there were moments of incredible brilliance and drama, he was a leader, taking his teams to the very top, but also many lows in his career.
"He was always the little guy fighting against the system, against the wealthy, the powerful and he was willing to do anything, to use all of his cunning and intelligence to win. I first wanted to make a film about Maradona even before I directed Senna, so I'm very excited to have this opportunity. Diego is the greatest player of all time but with flaws and weaknesses, his life was one of extremes, but somehow, ever the street fighter, he has survived to tell the tale."
Producer Gay-Rees added: "Maradona's time in Naples is the stuff of dreams. He performed miracles on the pitch and became a local god - but there was also a price to pay.
"Altitude Film Distribution's approach and strategy for Amy in the UK was instrumental in leading the direction of its release worldwide and we are delighted to be working with them again for the UK release of Maradona and with Mike Runagall's team in taking the film to the international marketplace. We are also extremely excited to be working with John Sloss' team at Cinetic Media again with respect to the North American market; Cinetic have consistently delivered for us since we worked together on Exit Through the Giftshop, Senna and Amy."
Director Emir Kusturica made a documentary about the footballing legend in 2008.