SCREEN SUBSCRIBERS: Aton Soumache, producer of Mark Osborne's global hit The Little Prince, talks about bringing the French classic to the big screen and his ambitions for Paris-based mini-major On Entertainment.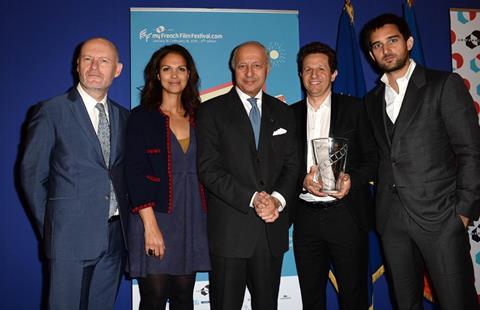 Producers Aton Soumache and Dimitri Rassam of On Entertainment received Unifrance's French Cinema Award at its annual Rendez-vous in Paris over the weekend in recognition of the global success of their recent production, Mark Osborne's The Little Prince.
The $57m production has drawn more than 15 million spectators worldwide since its release last July, making it the most successful French-produced feature-length animation of all time, and has still to hit screens in the US, where Paramount Pictures has set a March 18 launch. UK and Canada releases are due around the same time.
When Soumache and Rassam first approached Osborne about directing an animation adaptation of Antoine de Saint-Exupéry's classic novella, the Kung Fu Panda director turned them down. The pair had gotten used to rejection by that point.
"We approached about 20 directors, big names from Hiyao Miyazaki to Luc Besson and Jean-Pierre Jeunet. Like everyone else, Mark thought it was amazing that we had the rights, but he didn't feel he could do it. He said the book was too mythical," says Soumache.
One of the key obstacles in the early stages of development was working out how to adapt the "esoteric", "mystical" tale of a pilot who crashes into the Sahara desert and is befriended by a "little prince" from another planet who recounts his life above the clouds.
"It's practically unadaptable. Everyone has their own interpretation of the story depending on how old they are or their state of mind when they read it," says Soumache.
A few days later, however, Osborne got back in touch. He had discovered that Orson Welles had acquired the rights to the novella from Saint-Exupéry in 1942, just prior to its publication in 1943, and was intrigued.
Welles had planned to adapt the work in cooperation with Walt Disney. Under the Citizen Kane director's vision for the film, the scenes in the desert were to be live action and the scenes above the earth animated.
"Welles and Disney couldn't get on and the project was shelved. Mark had heard there was a screenplay and asked if we could get hold of it which we did through the family," says Soumache.
It was a disappointing coup. The screenplay was incomplete and gave little indication of Welles's plans but his idea of switching between live action and animation sewed the seed for Osborne of alternating between CGI and stop-motion to delineate between the two story-worlds he created for the film, that of the novella and that of the modern-day story of a young girl who discovers the tale through an elderly neighbour, The Aviator.
Inspired, Osborne signed up for The Little Prince, quitting Dreamworks, where he had been preparing Kung Fu Panda 2 and spent the next four months co-writing the screenplay in Los Angeles before moving his wife and family to Paris for two years and then on to Montreal for another 18-month stretch.
"We set it up as a French-Canadian co-production to benefit from the tax incentives in both territories," says Soumache, who created the studio On Animation Montreal to work on the production.
Other early finance came from France's Orange Studio, which put up €10m, and pre-sales by Soumache and Rassam to Warner Bros in Germany and Japan, Italy's Lucky Red, Paramount Pictures France, Belgian Alternative Pictures as well to Latin America and Russia.
Wild Bunch took on the international sales mandate in May 2014 and added another 30 territories.
Mini-major ambitions
By chance, Friday's French Cinema Award ceremony coincided with the second anniversary of On Entertainment's launch in January 2014, created out of the fusion Soumache's Method Animation and Onyx Films and Rassam's Chapter 2, followed by a €14m fund-raising operation a few weeks later.
Their various operations have been grouped together at new offices on the outskirts of Paris, housing some 200 employees.
"On Entertainment is just two years old but I've been in the business for nearly 19 years," points out Soumache who set up Method Animation with Alexis Vonarb in 1999.
The company's hits include animated TV shows Iron Man, Pinky And Perky and Le Petit Nicolas. Soumache's credits under the Onyx banner included social satire What's In A Name and Nicolas Bary's fantasy tale Trouble At Timpetell, which co-starred a youthful Adele Exarchpolous.
Prior credits for Rassam, who is the son of actress Carole Bouquet and the late producer Jean-Pierre Rassam, also included What's In A Name and Trouble At Timpetell as well as a dozen other live action titles including Bary's Daniel Pennac adaptation The Scapegoat (Au Bonheur Des Ogres).
The success of The Little Prince is one more step in their ambitions to create a mini-major specialising in family-focused TV and feature film fare on a scale usually reserved for the US studios.
The company, says Soumache, is already the biggest producer of TV animation in France and among the top three in Europe but he admits breaking into big budget feature-length animation has proven a longer endeavour.
"There's the economic barrier as well as the difficulty of accessing talent. It took 15 years of work to create a company that was financially big and mature enough to access international markets, projects and talent and raise the finance to make this type of project," he says.
"Today we're the only independent producers, alongside Aardman, capable of financing big projects like this which are usually the domain of the studios. Our model is interesting for the independents who don't have access to the big animations produced by the studios but are interested in these sorts of productions," he says.
He and Rassam are currently attempting to replicate and consolidate the financing and distribution model they created with The Little Prince with its upcoming production Playmobil: Robbers, Thieves And Rebels.
The first in a trilogy of pictures inspired by the best-selling toys, the €60m film is scheduled for an early 2018 delivery. Puss In Boots animator Bob Persichetti, who also worked on The Little Prince, is directing.
The company is also mulling big screen adaptations of a number of its popular animated TV shows including Robin Hood – Mischief In Sherwood and Miraculous: Tales Of Ladybug & Cat Noir, about a Parisian high school student with super-heroine powers.
Live action pictures in the works under the On Live banner include a Saint Exupéry biopic to which Mission: Impossible - Rogue Nation director Christopher Mcquarrie is attached.
"That will be our next live action work. Christopher Mcquarrie has been working on the screenplay and casting is underway for the role of Saint Exupéry. It's a big ambitious project," says Soumache.
"My dream is to complete one animation film every two years and really establish ourselves as a European mini-major capable of making strong films, equivalent to the American tent-poles, but which take more risks and in which there is more artistic freedom," says Soumache. "The Little Prince could never have been created by a studio."
Aside from financing and accessing talent, the other big challenge for On Entertainment has been marketing, promoting and licensing its productions worldwide. The company has set up in-house departments and also hired Paris-based marketing veteran Steve Rubin, who was previously managing director of Warner Bros France and then UGC-Fox Distribution in the 1980s and 90s before heading to EuropaCorp, to handle the global marketing strategy for The Little Prince.
It is for this reason that Soumache says working with popular existing properties makes sense for an independent group like On Entertainment because they are easier to market than original ideas.
"It's more difficult to make an original idea exist than an existing property which is well-known, even for the studios. Walt Disney was doing exactly the same thing when he adapted well-known fairy tales like Sleeping Beauty."