The Brazilian promotional body will attend the EFM for the tenth consecutive year to talk up a slate of national films that includes Panorama selections Time Was Endless and Don't Call Me Son.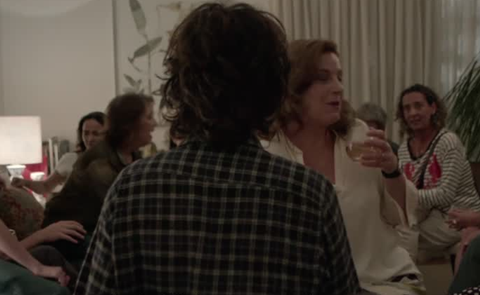 Cinema do Brasil, which works with the Brazilian Trade and Investment Promotion Agency and has support from the audiovisual department of the Ministry Of Culture to champion home-grown fare, will be in Berlin representing a delegation of 32 companies.
Both Panorama entries will receive from Cinema do Brasil a $25,000 Sales Agent Support Award.
Don't Call Me Son (Mae So Ha Uma, pictured) is Anna Muylaert's follow-up to her widely admired 2015 Panorama winner and Brazilian foreign language Oscar submission The Second Mother.
The film premieres on Friday and tells of a teenage city boy who learns that the woman he thought was his mother is not his biological parent and goes on a search for his real family.
Time Was Endless (Antes O Temp Nao Acabava) by Sérgio Andrade and Fábio Baldo takes place in the Amazonia jungle as a native young man leaves his community and heads for the city. The film premieres on Saturday.
The Brazilian film contingent in Berlin includes the short Running Waters from Diego Zon, and the documentary Curumim by Marcos Prado.
Cinema do Brasil will launch its eighth International Distribution Support Prize at its EFM reception on February 13. Market events include a brunch organised with Colombia's Proimágines to promote meetings between Brazilian, Colombian, Italian, Spanish, French and German producers
Market screenings of Brazilian projects include: Point Zero by José Pedro Goulart (Okna Produções); Nise–The Heart Of Madness by Roberto Berliner (TvZERO); California by Marina Person (Mira Filmes); The Violin Teacher by Sérgio Machado (Gullane); Where I Grow Old by Marilia Rocha (Anavilhana and Terratreme); and To My Beloved Dead by Aly Muritiba (Grafo Audiovisual).
"Brazilian cinema has increasingly called the attention from international programmers, distributers and producers thanks to the quality and diversity of our films, allied to the maturity and competence of the audiovisual industry professionals in Brazil", said Cinema do Brasil CEO André Sturm.

"That brings us joy and inspires us to continue the work we have been doing, especially when it comes to providing the opportunity for Brazilian professionals to participate in international forums, as well as promoting the exchange with important audiovisual networking chains."