Mikael Nyqvist joins Emma Watson and Daniel Bruhl in Chilean drama.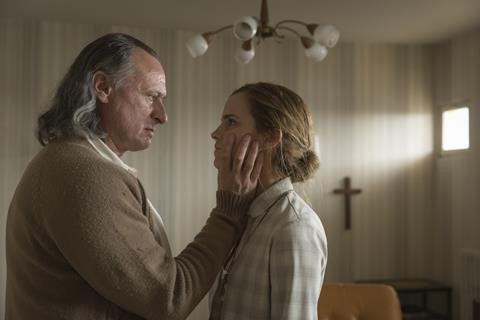 German production house Majesic has released the first image and new cast details Florian Gallenberger's drama Colonia, starring Emma Watson and Daniel Bruhl.
The Girl with the Dragon Tattoo star Mikael Nyqvist, Richenda Carey, Vicky Krieps, August Zirner and Martin Wuttke have joined the cast of the film about a young couple, Daniel and Lena, who become entangled in the Chilean military coup of 1973.
When Daniel is abducted by Pinochet's secret police, Lena tracks him to a sealed off area in the south of the country, called Colonia Dignidad. The Colonia presents itself as a charitable mission run by lay preacher Paul Schäfer (Nyqvist) but, in fact, is a place nobody ever escaped from. Lena decides to join the cult in order to find Daniel.
Having wrapped in Luxembourg, production now moves to Germany, before the shoot is completed in South America later this year. Release is due in October 2015.
The film is a production of Majestic Filmproduktion and co-delegate producer Iris Productions, co-produced by Rat Pack Filmproduktion, in association with ProSieben and Sky, supported by FilmFernsehFonds Bayern, Medienboard Berlin-Brandenburg, FFA German Federal Film Board, Ger­man Federal Film Fund (DFFF), Luxembourg Film Fund and the MEDIA program of the EU.