EXCLUSIVE: Comedy reunites Australian stars for first time since Neighbours.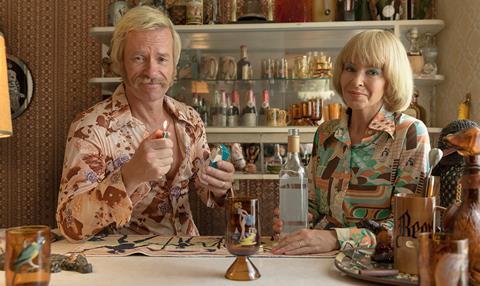 Screen can reveal the first look image of Kylie Minogue and Guy Pearce in Stephan Elliott's (The Adventures of Priscilla, Queen of the Desert) comedy Flammable Children, which reunites the Australian duo on screen for the first time since they starred in hit TV series Neighbours in the late 1980's.
Currently in post-production, the movie follows a teenager coming of age in a small Australian town during the 1970s when a 200-ton blue whale gets washed up on a local beach.
Minogue and Pearce play eccentric parents catching up with the sexual revolution.
The film also stars Radha Mitchell (Man On Fire), Julian McMahon (Nip/Tuck), Asher Keddie (Wolverine) and Jeremy Sims (Idiot Box).
Produced by Al Clark (Chopper) and Jamie Hilton (The Little Death), crew includes production designer Colin Gibson (Mad Max: Fury Road), Oscar-winning costume designer Lizzy Gardiner (Hacksaw Ridge) and hair and make-up designer Rick Findlater (Avatar).
WestEnd Films handles world sales and will show the film on promo at the EFM in Berlin.