The French filmmaker and EuropaCorp head flew into Comic-Con on Thursday for a rare and deeply personal presentation that featured concept art from his upcoming $180m space opera.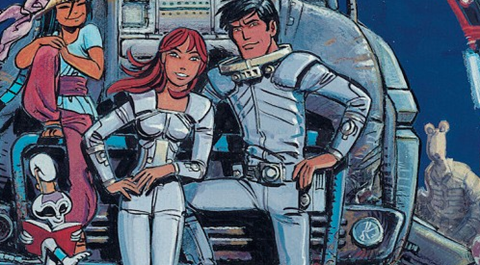 "It's the adventure of my life," the director told an intimate gathering of select press as he offered sparse details on Valerian And The City Of A Thousand Planets, due to start production in January 2016 and open in the US as a PG-13 film via RED (Relativity EuropaCorp Distribution) in July 2017.
The project, which was one of the hottest pre-sales titles in Cannes, is adapted from Pierre Christin and Jean-Claude Mézieres' bestselling French comic book series that launched in 1967.
"It's Mr & Mrs Smith in space," said the director, a life-long fan who said he was 10 when he first bought the comics. "They're super-agents who travel through time and space. They work for the Human Federation."
Besson tore up his original script after he saw Avatar. "It wasn't enough," he said of his first attempt. "That's what I like about other directors. They show you the way. They push you or they kill you.
"Jim [Cameron] opened the door. It's not [necessarily] the storytelling… it's the energy and the dimension he brings." Roughly half of the original script made it into the revision.
Besson remained coy about revealing further plot details, save to say the storyline comprises a romance between the eponymous hero and his highly intelligent companion Laureline and their mission to thwart an enemy whose identity may not be immediately apparent.
'The Ambassador Of The Shadows'
The particular comic book from the 23-strong series that lends its inspiration to the film is The Ambassador Of The Shadows and takes place mostly on a 12-mile wide space station populated by 8,000 species.
Around two dozen richly textured boards of concept art showed a panoply of aliens, spaceships and environments, ranging from lazy cops, hardcore militarised police and information traders to coveted jellyfish and a gorgeous princess who expresses herself by changing the colour of her skin.
The lavish images were reminiscent of Blade Runner, Total Recall, Alien, Avatar and Star Wars and yet were strikingly original in their own right.
Four artists dotted around the globe are responsible for the drawings after a global scout saw the filmmakers send out 1,000 letters to leading art schools.
To this day the quartet has not met each other and only communicate with the director once a week via Skype. One works in China, one in Turkey, one in France and one in a location that Besson said he could not establish.
"I isolate them," Besson said. "I protect them so they're safe and only see me. The only thing they talk about is creativity."
In attendance – by chance, apparently – was storyboard artist Eric Gandois, who told Screendaily he was in town under his own steam, preparing to camp outside Hall H overnight to get into Friday's Star Wars and Game Of Thrones panels.
Besson flew in from Paris, where he is prepping Valerian, to deliver the presentation at Jsix restaurant in Hotel Solamar.
Finding the right VFX partner
His whistle-stop trip includes meetings with potential VFX collaborators. He would not say which companies were in the mix, although he stressed they were best in class and could end up taking the production anywhere in the world.
That said, he is keen to shoot what he can in France. There is hope the production, which will be in English, can qualify for local tax breaks. Roughly half of the effects will be physical and half CGI – at the last count there were 2,235 shots on the schedule.
"This is so complicated," he said. "The Fifth Element is like a short film compared to this."
Leads Dane DeHaan and British model and aspiring actress Cara Delevingne were two of perhaps only five actors Besson anticipated working with on Valerian.
"Dane, I've always loved him. This guy will be huge. He has a way of attracting the camera," he said.

"Cara is different because at the time when I met her she had never made a film, so I tested her [for five hours] and she passed. She's a beginner but she will learn fast and has potential."
Why Besson does not work in a post office
Besson intends to return to Comic-Con in 2016 to show footage. He said he was not thinking of a franchise, although he pointedly referenced the mine of stories within the universe of the property.
EuropaCorp marketing manager Fabrice Denizot has gone on record describing Valerian as a "mission-driven franchise like James Bond."
Besson was vague when asked about a Lucy sequel. A version of the script is in the bag according to well-placed sources and he may not direct it, given that Valerian is his priority now.
He gave a Gallic shrug when asked to wear his EuropaCorp hat and assess the potential risk of adapting Valerian.
"If I don't want risk I can work in a post office."