Minds Eye Entertainment and VMI Worldwide in association with Bridgegate Pictures have cast the star in their action-sci-fi.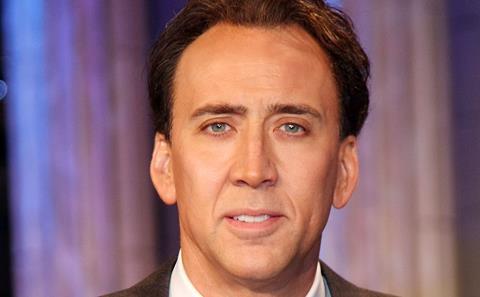 Rob King will direct from a script by Dave Schultz about an investigator in a near-future ravaged by global warming who looks into a secretive programme designed to exile those deemed to be unproductive.
Sarah Lind, Jakob Davies and Hugh Dillon have also joined the cast.
Principal photography on The Humanity Bureau is scheduled to commence this week in British Columbia, Canada.
"We're extremely excited to work with the incomparable Nicolas Cage on this project," said Kevin Dewalt, CEO of the film's US distributor Minds Eye. "We're certain that The Humanity Bureau will be a hit with his legions of followers."

"We're excited to be working with Nicolas Cage on this incredible film, and we feel that the subject matter, given the current state of the world following the 2016 US election, is very relevant on a global scale," said VMI Worldwide president Andre Relis, whose company represents international sales.
Dewalt produces with Danielle Masters and Kelly-Rae Buchan, while Relis serves as executive producer alongside Wayne Marc Godfrey, Guy Griffithe, Robert Jones and Frank White.
The Humanity Bureau is the second title in a six-picture slate deal between Minds Eye Entertainment, VMI worldwide and Bridgegate Pictures following The Recall, a recent AFM sales title starring Wesley Snipes.