EXCLUSIVE: Alex Lawther, Pauline Étienne, Jonah Hauer-King lead cast on UK comedy; first image revealed.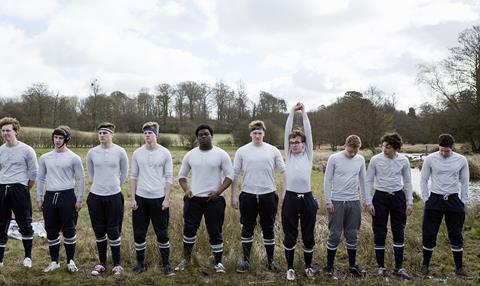 WestEnd Films has boarded world sales ahead of Cannes on Film4 and BFI-backed UK comedy Old Boys (working title), which features rising stars including The Imitation Game actor Alex Lawther and The Nun lead Pauline Étienne, who makes her English-language debut.
Production wraps this weekend on Toby MacDonald's under-the-radar coming-of-age feature debut, which has been filming in locations across Sussex, UK.
Also starring are Jonah Hauer-King, currently filming opposite Bel Powley in Ashes In The Snow, Denis Ménochet (Inglourious Basterds) and Joshua McGuire (Mr. Turner).
Inspired by Edmond Rostand's classic Cyrano de Bergerac story, the film is written by Luke Ponte and The Bad Education Movie co-writer Freddy Syborn and is produced by first-timer Luke Morris.
In the school-set re-working of Cyrano, an awkward but imaginative pupil (Lawther) helps the handsome but spectacularly dim school-hero (Hauer-King) pursue the fiery daughter (Étienne) of a visiting French teacher (Ménochet).
Film4 and the BFI co-developed and co-financed the film while Creative England and Film Väst, in partnership with Erik Hemmendorff at Plattform Produktion, also contributed finance.
Screen Star of Tomorrow Lawther got his break playing the young Alan Turing in The Imitation Game and has gone on to secure roles in Trudie Styler's Freak Show and Andrew Steggall's Departure.
César and Lumière-nominated French actress Pauline Étienne (The Nun, Eden) burst onto the scene in 2009 opposite Reda Kateb in Silent Voice.
Morris and MacDonald were BAFTA-nominated for shorts Je t'aime John Wayne and Heavy Metal Drummer.
"We've re-worked the Cyrano story for the Harry Potter generation and what translates is a fresh, offbeat comedy, full of heart. We are passionate about bringing it to the big screen through Toby's vision and our talented cast and crew," commented producer Morris.
"Film4 are proud to be a part of this very funny and touching film. We're thrilled to have taken it into production with such an exciting cast and to support Toby's unique, distinctive vision," said Sam Lavender, executive producer on behalf of Film4.
Natascha Wharton, senior production and development executive, BFI added: "Toby has established himself as a stand-out talent through his BAFTA nominated shorts and we are delighted to be supporting him on his first feature, an idiosyncratic teen comedy with a brilliant young cast."