Lucile Hadzihalilovic's third feature is defiantly unknowable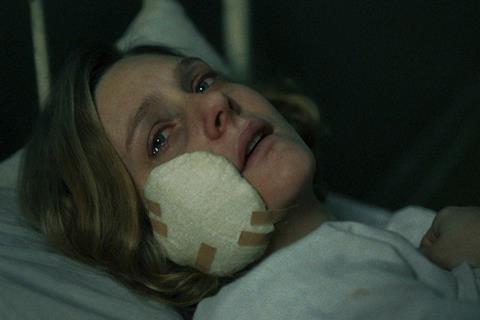 Dir. Lucile Hadzihalilovic. France/UK. 2021. 114 mins.
The much-admired Lucile Hadzihalilovic's third feature, Earwig, screams to be watched on the big screen and, once there, defies the audience by being bafflingly, hypnotically, impenetrable. For a quiet film which barely speaks – it's a half hour until the first word is uttered – it still makes a noise. For an ugly film, all sealed-off porridge-coloured post-Second World War interiors doused in mahogany and very little natural light, it is oddly, strikingly, handsome. It's rare you watch a truly unique work, but Earwig is one such film. Cut from Brian Catling's novella of the same name, it's a singular piece from a defiant director which will polarise audiences and critics alike but ultimately enhance her reputation as a singular voice.
Hadzihalilovic was embraced after her first two films, challenging though they were; Earwig is a very prickly film to hug
Viewers will certainly need to be briefed on what to expect when they enter the murky house occupied by the titular Earwig/Albert Scellinc (Paul Hilton, all angles and rictus features) and his young ward Mia (Romane Hemelaers). The novella placed them in Liege, but the film has no geographic anchor past a newspaper front page of 'The Dundee Post'. An unnerving, hypnotic throb of a score by Agustin Viard and Warren Ellis drops the audience into a dark, drab kitchen where Earwig removes what appears to be a head brace from Mia, but it's a saliva trap which he pours into moulds to provide her with frozen teeth which he must constantly replace. She drools and clicks her way through the film as they melt, the small clacking, grinding noise a background refrain.
Earwig evades classification: it certainly isn't horror, or even art-horror, although it's definitely terrifying by the end. It's an alternative universe, but it isn't sci-fi. The silence of the void in which Earwig and Mia live – the shuttered windows, the closed corridors – demands that the viewer enter to look for clues: to examine the patina on the walls, to stare into the painting of a grand house at sunset which seems to be a clue, but to what? Earwig has a cupboard full of glassware which he constantly polishes – before raising one to the door to listen to Mia as she sleeps – and an unseen, ticking grandfather clock, which strikes a metronomic beat. The score is like a pulse.
A telephone call from Earwig's 'master' tells the guardian that the next pay check will be his last and he must teach Mia "how to behave outside" before discharging her in eight days time. The trauma of her first outing prompts Earwig to drug his ward and go to a bar where he meets a mysterious man and savagely, though accidentally, wounds a waitress named Celeste (Romola Garai) who may be more to him than we originally realise. A bystander named Laurence (Alex Lawther) comes to her rescue. But he also may not be entirely as he seems.
Earwig is a film which withholds information throughout, much like its equally challenging source material – a novella adjunct to the Vorrh trilogy by Britain's Catling, a multi-disciplinary artist and writer. Yet Hadzihalilovic, who co-writes with Geoff Cox, does Catling's beautiful language justice, with quietly dazzling camerawork from Jonathan Ricquebourg. On the surface, it's a through line from the mysteries of her first two films, Innocence and Evolution, which also involved children, but Earwig witnesses the director pare almost everything down to an elemental point. She uses the opacity of the piece to challenge sensory boundaries: the film's aesthetic is ugly, but it's also beautiful; it's a silent piece but loud in its stillness. In one of the film's most memborable scenes, witnessed from a slow train, characters seem to diintegrate into the mist.
Hadzihalilovic was embraced after her first two films, challenging though they were; Earwig is a very prickly film to hug. It's austere and withholding until a final sequence which suddenly gives the viewer almost too much. Yet for all the secrets and the stillness and the clacking, there are moments which dazzle like Mia's multi-faceted glass teeth. Who knows what it all means? It will be a ride audiences either can't wait to get off at the first stop or will sit through stunned and frozen until the final, bloodily destructive moments.
Production companies: Anti-Worlds, Petit Film
International sales: Wild Bunch International, abelgaroui@wildbunch.eu
Producers: Andy Starke, Jean de Forets, Amelie Jacquis, Jean-Yves Roubin, Cassandre Warnauts
Screenplay: Lucile Hadzihalilovic, Geoff Cox, from the novel by Brian Catling
Production design: Julia Irribarria
Cinematography: Jonathan Ricquebourg
Editing: Adam Finch
Music: Agustin Viard, Warren Ellis
Main cast: Paul Hilton, Romola Garai, Alex Lawther, Romane Hemelaers