Dir: Arnaud des Pallières. France, 2016, 111 mins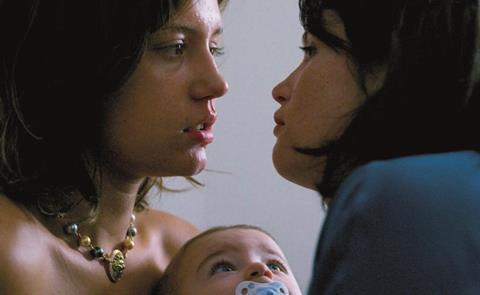 Arnaud des Pallières' own diverse directing career is in many ways as elusive as the heroine(s) of this female-centred thriller-drama (his resume includes documentaries on the Holocaust and Disneyland, the stylised John Cheever adaptation Parc (2008) and 2003 Cannes competition entry Age of Uprising: The Legend of Michael Kohlhaas). He moves into entirely different territory with Orphan (Orpheline), a fragmented, troubling and overall somewhat patchy portrait of a damaged young woman who shows the world several faces through her life.
The film is strongly acted all round, and the decision to have Karine, from 13 on, played by three different actresses is a bold stroke of misdirection
High-profile acting - notably French actresses of the moment Adèle Haenel and Adèle Exarchopoulos, along with international name Gemma Arterton - plus sexually charged themes in a vaguely thriller-like context, should nudge Orphan beyond a strictly festival niche, but audiences may feel that ultimately they're getting less than promised - and certainly less resolution than even the most ardent fans of art-house open-endedness might hope for.
The film opens with Haenel - recently seen in the Dardennes' The Unknown Girl - playing Renée, a super-confident head teacher devoted to the welfare of her disadvantaged young pupils. We also see a woman named Tara (Arterton, effective in both French and English) released from prison; donning a stylish white suit, she storms into Renée's school and demands money that she says she's owed. The two women have unfinished business going back some seven years, and once Renée (meaning 'reborn', get it?) is placed under arrest and revealed to be one Karine, we skip back to Renée/Karine in her former incarnation as a sexually forward young woman on the make (Exarchopoulos).
She's seen meeting the elderly Zev (Robert Hugner-Bühler), who has placed an ad for a young woman to adopt as a daughter; unsurprisingly, his motives are less than entirely paternal. A professional gambler, Lev gets Karine a job at a racetrack as 'shuttle', carrying large consignments of money to the cashiers: good news to Tara, who becomes Karine's lover, and persuades her to conspire in a robbery.
The film then skips back to an earlier version of Karine, played by Solène Rigot, a hyper-precocious 13-year-old already embarked on a career of liaisons with older men, some violent – a pattern that echoes her relationship with her brutal, disapproving father (Nicolas Duvauchelle). In fact, pretty much every man Karine meets is bad news – with the mixed exception of one (Sergi Lopez) who initially protects her, then later in her life becomes her indulgent lover.
The film then tracks even further back to the childhood of Karine - known as 'Kiki' and played by young Véga Cuzytek – although an episode involving the disappearance of two playmates of hers neither fits satisfyingly into the disparate whole nor gives any real insight into why her life takes such a disastrous turn. A longish coda, in which the pregnant Karine/Renée leaves prison in the company of puzzled husband Darius (Jalil Lespert) feels over-extended, its open ending leaving a sense of non-resolution rather than stimulating refusal of closure.
The film is strongly acted all round, and the decision to have Karine, from 13 on, played by three different actresses is a bold stroke of misdirection - but as we enter each new section, it certainly makes for a certain confusion that's hard to throw off. That said, it's possible to believe that these very different- looking young women could be one and the same. The two Adèles – a touch of novelty conceptual casting, perhaps? – are as impressive as they've proved themselves to be in recent work, but the revelation here is Solène Rigot, who has established herself as a face to watch in films such as Guillaume Brac's Tonnerre and pulls off her most demanding, emotionally complex role to date.
Nowithstanding its leads' strong presences, the sense of a too loose structure and some repetitive moments in which Karine is variously roughed up or abused leave the viewer uncertain whether the film is offering a lucid and consistent take on its heroine's emotional damage and its causes, or whether it rather glibly ends up making us feel complicit in the exploitation she undergoes.
Production companies: Les Films Hatari, Les Films d'Ici
International sales: Le Pacte, www.le-pacte.com
Producers: Michel Klein, Serge Lalou
Screenplay: Christelle Berthevas, Arnaud des Pallières
Cinematography: Yves Cape
Production designer: Guillaume Deviercy
Editors: Emilie Orsini, Arnaud des Pallières, Guillaume Lauras
Main cast: Adèle Haenel, Adèle Exarchopoulos, Solène Rigot, Gemma Arterton, Sergi Lopez