Dir: Benedict Andrews. US/UK/Canada, 2016. 94 mins.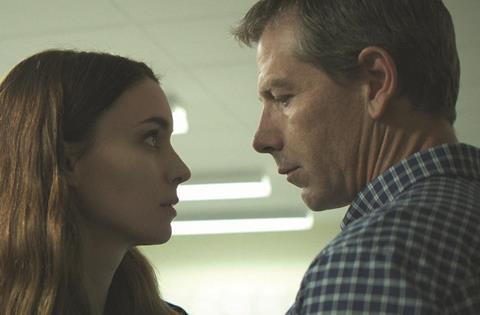 Cat and mouse trade places in the exacting psycho-social drama Una, which depicts the eponymous damaged Englishwoman's stalking of the outwardly ordinary man who, 15 years previously, had a three-month sexual relationship with her when she was aged 13. Adapted by David Harrower from his 2005 play Blackbird, the first feature helmed by the radical Australian stage director-dramatist Benedict Andrews is a crucible for the combustible combination of stars Rooney Mara and Ben Mendelsohn.
The play has been superbly opened out
Pending a positive lift-off at its Telluride and Toronto premieres, Una should find strong favour with fans of thorny films like Compliance, The Diary of a Teenage Girl, and Room, as well as Neil LaBute's discomfiting oeuvre, though it could possibly prove too dark and ambiguity-laden for mainstream tastes.
The film crosscuts between Una's current life as a bitter, promiscuous 27-year-old living with her sick widowed mother (Tara Fitzgerald) and her tragic experience as a precocious adolescent (the excellent Ruby Stokes) smitten by her father's fortyish friend and neighbor Ray (Mendelsohn). Flashbacks trace the progress of their affair, from a flirtation at a barbecue, an underwater dalliance at a swimming pool, and a tryst in a park to an evening in a cheap hotel where they slept together.
The opening shows the adult Una (Mara) coming home at dawn, having had anonymous sex in a club bathroom, and setting out to confront Ray, whom she has located working as a staff manager on an industrial estate. She is led to him by a young employee, Scott (Riz Ahmed), who takes a shine to her – and on their impromptu later date treats her with more respect than Ray ever did.
Once Ray, who has taken a different name, overcomes the shock of being discovered by Una, their conversation takes a serpentine course. He says he was persecuted as a paedophile during his four-year prison term but argues he isn't one of those "sick bastards". He has rebuilt his life and married.
Una's recriminations slip into nostalgic reminiscences of their affair – she and Ray even have a laugh – and it's worryingly clear she yearns to renew their intimacy. A murky flashback shows that when looking for Ray in a pub, after he panicked and left her in the hotel, she automatically told a suspicious barman she was seeking her dad, not the only time she named Ray as such. It is implied she unconsciously sexualised him as a surrogate father figure whom she then tried to protect.
Whatever Una's feelings for Ray were when she was 13, and are now she's 27, Ray was guilty of raping her as a minor. That bottom line is unerasable, but Harrower's script allows that there are imponderables, given Ray hasn ow paid his debt to society. Just before the third act begins, the increasing volume of a pulsing electronic tone on the soundtrack (which recalls the din in the club where Una had sex) threatens to become deafening, but then ebbs away as the action enters a lull. This anti-climactic aural motif is emblematic of the film's refusal to answer most of the questions it raises.
Since Una is permanently scarred, can the older Ray be exonerated morally? Is he speaking the truth when he insists she is the only underage girl to whom he has been attracted? Scenes showing physical contact between Ray and the adult Una and later between Ray and his wife (Natasha Little) intentionally offer mixed messages about his sexual predilections. Mendelsohn makes Ray plausibly remorseful, yet the suspicion remains that he's as creepily self-serving as Humbert Humbert in Nabokov's Lolita. Mara, meanwhile, is like a seared, broken Alice groping for a way out of a psychic labyrinth - hers is a fearsome performance.
The play has been superbly opened out, and the prowling cinematography of Thimios Bakatakis (Attenberg, The Lobster) and Fiona Crombie's cheerless sets combine to sustain an oppressive mood throughout. Una and Ray's long dialogue unfolds in the male workers' locker room, a bathroom, and the more secluded spaces of a cavernous warehouse-cum-industrial facility. It's a daunting male environment, the last place in which a fragile woman should be seeking to resolve the trauma that ruined her life. The pub in which she had sought Ray 15 years earlier had been a similarly threatening masculine enclave: damningly, the sullen drinkers who gleaned Ray was a child-abuser and half-heartedly tried to catch him are the same ones who frankly ogle her.
Production companies: Bron Studios, Film4 Productions, Jean Doumanian Productions, WestEnd Films
International sales: WestEnd Films, www.westendfilms.com
Producers: Jean Doumanian, Patrick Daly, Maya Amsellem
Screenplay: David Harrower
Cinematographer: Thimios Bakatakis
Editor: Nick Fenton
Production design: Fiona Crombie
Original music: Jed Kurzel
Main cast: Rooney Mara, Ben Mendelsohn, Ruby Stokes, Tara Fitzgerald, Riz Ahmed, Tobias Menzies, Natasha Little