Debuts The Winter and The Giant, share the special jury prize; Hong Sang-soo wins Silver Shell for best director.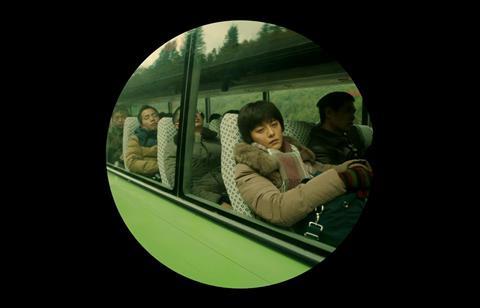 The San Sebastián International Film Festival (Sept 16-24) awards ceremony had a marked Asian flavour last night [24].
Feng Xiaogang's I Am Not Madame Bovary - the social satire about a woman seeking to restore honour after a bitter divorce - won the Golden Shell for best film at the 64th edition of the festival.
I Am Not Madame Bovary, which had previously won the fipresci prize in Toronto, also earned Chinese star Fan Bingbing the Silver Shell in San Sebastián for best actress.
South Korea's director Hong Sang-soo won the Silver Shell for best director for the love story Yourself And Yours.
The Special Jury Prize was shared between the Argentinian-French coproduction The Winter, a contemporary western set in a remote area in Patagonia by first time director Emiliano Torres, and the Swedish-Danish debut The Giant by Johannes Nyholm.
The Silver Shell for best actor went to Eduard Fernandez, who stars as the notorious Spanish secret agent, diplomat and con artist Francisco Paesa in Smoke and Mirrors. Moved but without loosing his sense of humour, Fernández got one of the most enthusiastic rounds of applause of the evening.
The best screenplay award also went to a Spanish thriller, May God Save Us, written by Isabel Peña and the film's director Rodrigo Sorogoyen.
The Audience Award went to Ken Loach's Palme d'Or winner I, Daniel Blake. Distributed by Caramel Films, the UK film will be realeased on the 28th of October in Spain.
The 64th edition of San Sebastián closed with The Odyssey, Jerôme Salle's take on the life and work of Jacques Cousteau.
San Sebastian 2016 winners in full
Golden Shell For Best Film
I Am Not Madame Madame Bovary
Feng Xiaogang (China)
Special Jury Prize, Ex Aequo
The Winter
Emiliano Torres (Argentina/France)
The Giant
Johannes Nyholm (Sweden/Denmark)
Silver Shell For Best Director
Hong Sang-soo
Yourself And Yours (South Korea)
Silver Shell For Best Actress
Fan Bingbing
I Am Not Madame Bovary
Feng Xiaogang (China)
Silver Shell For Best Actor
Eduard Fernández
Smoke And Mirrors
Jury Prize For Best Cinematography
Ramiro Civita
The Winter
Jury Prize For Best Screenplay
Isabel Peña, Rodrigo Sorogoyen
May God Save Us
Kutxabank-New Directors Award
Sofia Exarchou (Greece)
Park
Special Mention
Morgan Simon (France)
A Taste Of Ink
Horizontes Award
Rara
Pepa San Martín (Chile/Argentina)
Special Mention
Alba
Ana Cristina Barragán (Ecuador/Mexico/Greece)
Zabaltegi-Tabakalera Award
Eat That Question: Frank Zappa In His Own Words
Thorstern Schüte (France/Germany)
Special Mention
The Disco Shines
Chema García Ibarra (Turkey)
San Sebastián European Capital of Culture Audience Award
I, Daniel Blake
Ken Loach (UK/France/Belgium)
European Film Award
Ma Vie De Courgette
Claude Barras (Switzerland/France)
Irizar Basque Film Award
Pedaló
Juan Palacios (Spain)
Ezae Youth Award
In Between
Maysaloun Hamoud (Israel/France)
Films In Progress 30 Awards
La Educación Del Rey
Santiago Esteves (Argentina)
Caci/Ibermedia TV Films in Progress Award
La Educación Del Rey
Santiago Esteves (Argentina)
V Europe-Latin America Co-Production Forum
7:35 AM, directed by Javier Van de Couter and produced by Varsovia Films (Argentina)
Special Mention
Hogar, directed by Maura Delpero and produced by Disparate (Italy/Argentina)
EFADs-CACI Europe-Latin America Co-Production Grant
Los Días Según Ellos, directed by Juan Pablo Félix and produced by Utópica Cine (Argentina/Spain/France)
Arte International Prize
Hogar, directed by Maura Delpero and produced by Disparate (Italy/Argentina)
Fipresci Award
Lady Macbeth
William Oldroyd (UK)
International Film Students Meeting Awards
Panavision Award
Floor X
Francy Fabritz (DFFB- Berlin Film Conservatory, Germany)
Special Mention
Umpire
Leonardo Van Dijl (LUCA School of Arts, Belgium)
Orona Award
24° 51' Latitud Norte
Carlos Lenin Treviño (Centro de Estudios Cinematográficos, Mexico)
Special Nominal Mention
A Quien Corresponda
Valeria Fernández (Universidad de Cine, Argentina)
Tokyo Gohan Award
Theatre of Life
Peter Svatek (Canada)
TVE-Another Look Award
In Between
Maysaloun Hamoud (Israel/France)
Spanish Cooperation Award
Oscuro Animal
Felipe Guerrero (Colombia /Argentina/Netherlands/Germany/France)
Special Mention
Viejo Calavera
Kiro Russo (Bolivia/Qatar)
Era O Hotel Cambridge
Eliane Caffé (Brasil/France/Spain)
Zinemaldia Feroz Award
Smoke & Mirrors
Alberto Rodríguez (Spain)
Greenpeace Award
The Odyssey
Jérôme Salle (France/Belgium)
Signis Award
Nocturama
Bertrand Bonello (France/Germany/Belgium)
Special Mention
A Monster Calls
J.A. Bayona (Spain)
Guipuzcoan Blood-Donors' Association Corresponding To The Solidarity Award
150 Miligrams
Emmanuelle Bercot (France)
Sebastiane Award
In Between
Maysaloun Hamoud (Israel/France)