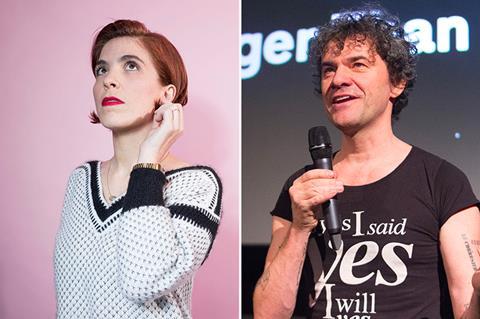 Talent talks featuring directors Mark Cousins and Eva Husson, and producers Kat Mansoor, Elizabeth Karlsen and Tracy O'Riordan all featured in We Are UK Film's online programme of industry sessions, which ran during this year's Cannes Film Festival (July 6-17).
We Are UK Film was a virtual UK pavilion presence in Cannes this year owing to challenges around travel during the pandemic. Set up and funded by the BFI with partners including British Council, the national and regional screen agencies and the British Film Commision (BFC), the initiative represents the UK Film industry at key international festivals and markets.
This year's programme also included panels on deals and contracts (hosted by Screen International), the Global Screen Fund, sustainability, bullying and harassment, and how to break into the industry.
Watch all the sessions below:
July 1: ScreenDaily Talks: How deals, contracts and business affairs are changing in 2021 (in partnership with Screen International)
Speakers: Wendy Bernfeld, founder and managing director, Rights Stuff; Louisa Dent, managing director, Curzon Artificial Eye; Christos Michaels, partner and head of film, Lee & Thompson; Ryan Kampe, founder and president, Visit Films. Moderator: Wendy Mitchell, contributing editor, Screen International
Watch below:
July 6: Introducing the UK's Global Screen Fund
Speakers: Neil Peplow, director of industry and international affairs, BFI; Julia Lamaison, head of research and statistics unit, BFI; Karina Gechtman, head of international marketing & publicity, Altitude Films. Moderator: Wendy Mitchell, UK Film events curator
Watch below:
July 7: Talent Talk - Mark Cousins on his documentary The Story Of Film: A New Generation
Watch below:
July 7: Sustainability in Action
Speakers: Melanie Dicks, managing partner, Greenshoot and producer, Fingerprint Content; Louise Marie Smith, founder and managing director, Neptune Environmental Solutions; Wim Goossens, line producer, Bulletproof Cupid; Charles Gachet-Dieuzeide, director general, Secoya Eco Tournage; Roser Canela-Mas, international manager, Albert. Moderator: Wendy Mitchell, UK Film events curator
Watch below:
July 8: Fighting back on bullying and harassment
Speakers: Ngoc Nguyen, head of entertainment, Time's Up; Jennifer Smith, head of inclusion, BFI; Sara Putt, managing director, Sara Putt Associates; Michelle White, psychologist, coach, consultant, and co-founder, 6Ft From The Spotlight and collaborator with Film In Mind; Clark Crewe, production executive, Fable Pictures. Moderator: Wendy Mitchell, UK Film events curator.
Watch below:
July 8: Build Your Network and Boost Your Career
Speakers: Om-Kalthoom Bashmailah, cast assistant and director's assistant; Manon de Reeper, manager, Start with 8; Niamh Fagan, producer, Lunar Pictures; Joy Gharoro-Akpojotor, producer, Joi Productions; Maria Zani, mentee on Step Up. Moderator: Briony Hanson, director of film, British Council.
Watch below:
July 9: Talent Talk with Kat Mansoor, producer of Andrea Arnold's Cannes Premiere film Cow
Watch below:
July 10: Eva Husson and Elizabeth Karlsen talk Cannes Premiere film Mothering Sunday
Watch below:
July 10: Mark Cousins talks about the making of his documentary The Storms Of Jeremy Thomas
Watch below:
July 11: Talent Talk - producer Tracy O'Riordan discusses Clio Barnard's Directors' Fortnight film Ali & Ava
Watch below: