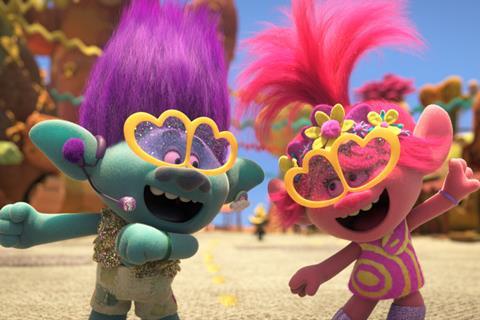 The unprecedented public row between Universal and AMC Theatres sparked by the premium video on demand (PVoD) release of Trolls World Tour heralds the next significant erosion of the exclusive theatrical release window in the near- to mid-term after cinemas reopen, say US analysts.
Furthermore, as the US industry contemplates the possible fall-out from the row, many believe it may become harder to make films for theatrical distribution as studios become even more laser-focused on placing their bets on franchises and bankable IP, while VoD platforms will become the first port of call for mid-budget independent films.
Jeff Shell, CEO of Universal parent company NBCUniversal (NBCU), threw a cat among the pigeons when he claimed Trolls World Tour exceeded expectations in the first three weeks of its digital-first release. Fired up by a reported $95m in sales on the family title, Shell infuriated the exhibition community when he said the company expected to release films in theatres and on demand once theatres emerged from the shutdown.
Those remarks sparked a sensational response from Adam Aron, CEO of the world's largest theatre group AMC, who fired off an open missive to the chairman of Universal's filmed entertainment group Donna Langley and said the exhibitor was banning Universal releases from its global sites.
Regal owner Cineworld echoed the sentiment the following day, by which time Universal and the National Association Of Theatre Owners had joined the fray, hurling brickbats and souring a relationship that has by and large kept its disagreements behind closed doors.
"I just can't imagine AMC or Cineworld would not play No Time To Die"
Most industry figures believe the matter will resolve itself once cooler heads prevail. As one distribution veteran said: "AMC could punish Universal for a couple of films, but the big dinosaur is the James Bond film [No Time To Die] that Universal has internationally. I just can't imagine that AMC or Cineworld would not play that film."
The 25th 007 instalment was postponed until November and will open in the US through United Artists Releasing and across the rest of the world via Universal. Insiders agree AMC, reportedly facing bankruptcy after it closed its doors in mid-March due to the coronavirus outbreak, is in no position to pick a fight with a franchise-rich studio backed by a telecoms giant.
Bleeding cash, without revenue, desperately short on fresh inventory, and likely to be at around 25%-30% capacity when it eventually reopens its doors, the argument goes that AMC cannot afford not to carry No Time To Die, let alone Universal's summer 2021 tentpoles F9, Jurassic World: Dominion, and Minions: The Rise Of Gru.
China's Dalian Wanda Group, which owns AMC, issued a statement in April calling bankruptcy reports "pure rumours".
"Agitation is one of the last emotions that occur before the end of days," says investor and finance expert Eric Schiffer, CEO and chairman of Patriarch Organization and Reputation Management Consultants, who believes AMC overplayed its hand if it expected Universal to sit on its assets. "It's unfair that your content partners should suffer just because you're suffering."
Studio sources say Universal had no intention to bypass the theatrical window for Trolls World Tour, explaining that as a redundant April 10 theatrical release date approached and with tens of millions in sunk marketing costs and expensive sponsorship ties-ins activated, the studio had little choice but to parlay its marketing spend into a PVoD launch.
Universal has been the most aggressive Hollywood studio when it comes to shrinking the exclusive theatrical window, averaging 90 days after it came down from 120 some years ago. In 2011 it tried to launch the Ben Stiller-Eddie Murphy comedy Tower Heist on PVoD three weeks after theatrical release, eventually backing off when exhibitors threatened not to carry the film.
However the landscape has changed drastically in the last nine years. Streaming and digital platforms now offer tried-and-tested, lucrative alternatives with growing subscriber bases, especially at a time when there is no theatrical alternative.
"[Universal] have been picking up rocks since Tower Heist and they wanted analytics to see what would happen if Trolls World Tour bypassed theatrical," says Jeff Bock, senior media analyst at Exhibitor Relations. "That's the nature of their parent company Comcast's business. The surprising thing is that they released any numbers at all… They didn't need to release these numbers and they certainly didn't need to brag about it. The fact that the numbers are good vindicates their decision to release it on PVoD.
"Theatres never wanted any data like this to come out because they want to keep the 90-day or 75-day [exclusive theatrical] window," Bock continued. "They don't have the content, and if you're reliant on others for content you are always going to be behind the 8-ball in terms of leverage."
Audience demand
Armed with analytics on a PVoD release for a family film, NBCU will soon mine audience demand data for an R-rated film when Universal's Judd Apatow comedy The King Of Staten Island debuts on PVoD on June 12. The film had been scheduled to open SXSW before that festival cancelled, and was going to open theatrically on June 19.
"I don't think anybody's clamouring for it, but it's worth it to Universal to have the analytics behind what an R-rated movie will do when it's released on PVoD," notes Bock. "I think it will do better than it would have done in theatres. Is this not what this is about – seizing opportunities? There's so much money out there because people are sitting at home waiting to get their wallets out. A lot of people are willing to spend $20 to keep their family occupied for an evening and make it a special event. You have got Scoob! [Warner Bros] coming out and now Staten Island."
"To me that looks like [Universal] were worried about it and decided to put it on VoD and not spend the money on theatrical," says one executive. "Trolls World Tour is one thing – a family movie in the quarantine that they'd already spent $50m on – that I get. But The King Of Staten Island was set for June, so why not just push it back?
"Some movies will get relegated to streaming or premium VoD and not theatrical," the executive notes. "On some films they will feel like the investment isn't worth it, or they will start making certain films for premium VoD. I don't see a lot of day-and-date, however there could be a shorter window, like 30 or 45 days."
Also appealing to studios are the splits: a studio gets a return of roughly 80% from digital rental or purchase fees, compared to roughly 50% shared with exhibitors on a theatrical release.
The executive adds VoD could become the preferred launch window for mid-budget independent fare, while studios could start to back off even more from risky theatrical fare, which will get harder to make except for the most seemingly cast-iron tentpoles.
Schiffer too sees a pivot towards VoD and expects to see prices for transactional VoD and streaming rise as studios' parent companies seek to recoup their costs from lost theatrical revenue.
Observers note marketing spend could get as high or nearly as high on VoD-first launches as it is for theatrical releases, because of the need to build awareness and the must-see factor.
Tenet or first summer tentpole must hit the mark
At the time of writing exhibitors and the industry at large was holding out for July 17, when Warner Bros plans to release Tenet, Christopher Nolan's latest sci-fi spectacular starring Robert Pattinson, John David Washington from BlackKklansman, Elizabeth Debicki, and Michael Caine. The film would rank as a blockbuster at any time of the year, but despite its obvious tentpole bona fides, if this is the film to lead the charge back to theatres, observers say now more than ever it will need to hit the mark to make wary patrons feel their return was worth the risk.
Patriarch Organization's Schiffer notes that while the ongoing situation under coronavirus marks "the single greatest devastation in American film history", the theatre-going experience will return. "There could be a theatrical renaissance but there will be fewer theatres and they could become more luxurious," he says. "There will be consolidation in exhibition and lower per-theatre revenue. However theatres will never completely go away because audiences have a nostalgic love for cinema that allows them to soak up the emotionally charged, captivating energy of the crowd."
NBCU head Shell recognises the value of theatrical tentpoles – it's why Universal pushed F9 into summer 2021 rather than setting a PVoD release. However the executive and his Comcast paymasters are bullish about VoD, and observers note that even though Shell sounded a more diplomatic note in a Comcast earnings call the day after his explosive Trolls World Tour comments, it was pure semantics. By declaring that theatrical and VoD releases can complement one another, he has not changed his tune.
In the age of streaming, most studios and large distributors are aligned with parent companies that have invested heavily in digital platforms. Earlier this year Warner Bros and stablemate HBO Max formed Warner Max specifically to produce mid-budget features for HBO Max.
John Stankey, CEO of WarnerMedia parent AT&T, also spoke a little too candidly for the exhibition sector's liking when he proclaimed recently that WarnerMedia was "rethinking" the theatrical mode. Stankey and Warner Bros CEO Ann Sarnoff hastily qualified the remarks after consulting their PR gurus, but the underlying message remains: while certain tentpoles are rightly valued for the money they make in theatres, the profit centre lies downstream and a studio owner with a scalable, digital platform will reward subscribers by making select studio content available exclusively online first.
As Bock puts it: "It comes down to what audiences want. This is a generational thing; people want entertainment the way they want it and consumers decide. Why does AMC have AMC On Demand? They realise which way the business is heading. Studios are moving their businesses toward a streaming-centric world: that's what their parent companies are doing."
One studio source who spoke to Screen intimated exhibitors need to get their heads out of the sand. PVoD is coming and theatrical windows could go down to 60 or even 30 days before long. If, the source continues, the average film-goer in the US visits the cinema three or four times a year and studios have an abundance of content, they will want to get a share of customers' disposable income in the remaining 48 weeks of the year.
"Exhibitors need to be flexible on windows and negotiate for a cut of the VoD if the theatrical window shrinks," says Bock. "The timing to do that is now. The flexible window is something the studios have wanted and they don't want to keep flops in their theatres because of a contractual agreement."
Tough negotiations and a daunting amount of strategising lie ahead. However what is certain is the tentpoles are stacking up towards the end of this year and in 2021, when previously set releases will go out alongside bumped 2020 heavyweights that at time of writing included F9, Minions: The Rise Of Gru, Morbius, Ghostbusters: Afterlife, and Peter Rabbit 2: The Runaway.
"Assuming health and safety and confidence are restored this will build to a crescendo that in 2021 could potentially be the biggest year ever for movie theatres," says Paul Dergarabedian, senior media analyst at Comscore. "Running on a parallel track, people love streaming and they're going to continue to love it and they're probably discovering new shows, new talent, so at the end of this there'll be an even greater appreciation for entertainment, both inside and outside of the home. That's good for everyone."