Critics rank Andrew Haigh's double Silver Bear winner the best film in competition at the Berlinale.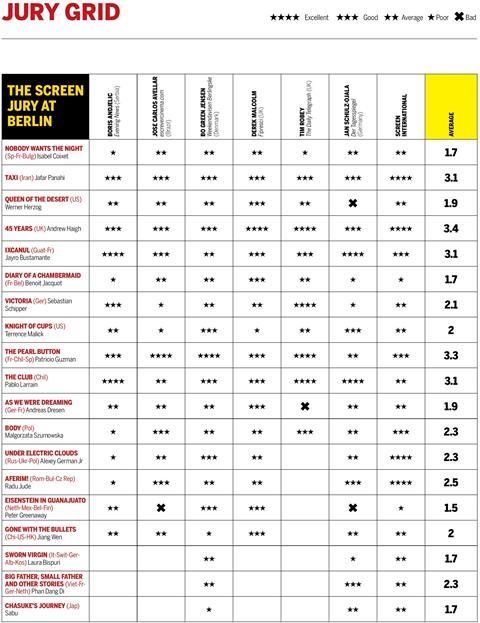 Andrew Haigh's 45 Years has topped the Screen Jury Grid at this year's Berlin Film Festival (Feb 5-15), scoring 3.4 out of a possible 4.
The film, which explores the strain placed on an old married couple, saw co-stars Tom Courtenay and Charlotte Rampling pick up Silver Bear's for best actor and best actress at the Berlinale awards ceremony on Saturday.
On the Jury Grid, 45 Years secured a rare 'four star' score from Screen's hard to please critic Dan Fainaru.
It also saw off competition from the 18 other contenders scored by international critics for Screen.
Taxi, by dissident Iranian director Jafar Panahi, picked up the Golden Bear on Saturday and was ranked joint third on the grid with a score of 3.1, alongside Jayro Bustamante's Ixcanul and Pablo Larrain's The Club.
Patricio Guzman's The Pearl Button claimed second place with a score of 3.3.
Renowned documentary-maker Guzman follows up 2012's Nostalgia For The Light with a film that tells two separate stories linked by buttons found in the ocean, illustrating how "the sea is the memory of the earth".
Deadly 'X' score
The favourites came thick and fast in the first half of the competition screenings, with the last few days offering slim critical pickings – some received the deadly 'X' score, meaning a 'bad film' (Peter Greenaway's Eisenstein In Guanajuato got two such scores from our critics) – and little in the way of cinematic excitement.
Maybe reviewers were sidetracked by the out of competition delights from films such as Fifty Shades of Grey and Cinderella, but certainly there was no repeating the enthusiasm for some of the earlier films in section.
Isabel Coixet's festival opener due a rather muted response, with an average score of just 1.7, but the critical collaborative were much more enthused with the next day's offering.
Early hopes for a red-letter year were soon dashed with Werner Herzog's clumsy Queen Of The Desert, which even received a dreaded 'X' from German critic Jan Schulz-Ojala.