Jeremy Kay talks to the team behind Captain Phillips about the challenges and rewards of recreating a real-life drama for the big screen.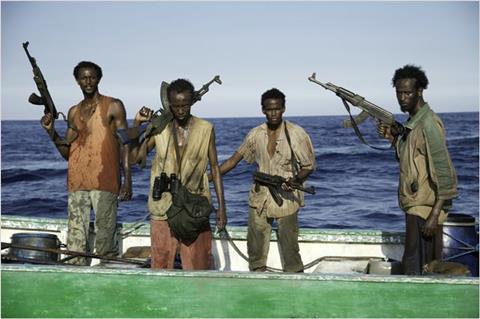 As producers Mike De Luca and Dana Brunetti watched the April 2009 hijacking of the Maersk Alabama unfold on TV, they were struck by the same thought.
Events on board the US cargo ship were ripe for the Hollywood treatment, but there was no knowing what might happen when Captain Richard Phillips was made to board a tiny lifeboat with his four gun-toting Somali captors.
"I didn't think it was going to end well and I told Mike that wasn't a movie I wanted to make, and he agreed," says Brunetti, who along with De Luca and fellow Captain Phillips producer Scott Rudin had earned a best picture Oscar nomination for The Social Network.
Eventually the sinuous four-day ordeal shifted course again and ended triumphantly. US Navy SEALs rescued Capt Phillips in a swift conclusion that resulted in the death of three pirates and the imprisonment of their ringleader, Muse.
'Richard Phillips is very, very down to earth and was concerned that the story get told with integrity'

Mike De Luca
"As that rescue operation was going on, we were on the phone and wanted to do it [as a film]," says Brunetti. "We quickly jumped on to it and found a contact for the Phillips family.
"We got in touch with Maersk and met the company representative in New York. Once Phillips got back to Vermont we wanted to meet him, but Mike [De Luca] couldn't do it, so I called my producing partner at Trigger Street [Productions], Kevin Spacey. He was in London and jumped on a plane and we went to dinner with Phillips and his family. [Phillips] still had bruises on his wrists from being bound," says Brunetti. "People asked: 'You went in that fast?' but if we hadn't, someone else would have."
"Richard is such a humble guy," says De Luca. "His initial reaction was: 'Are you sure you want to make a movie about this? Will anyone care? I'm not the hero. The SEALs are the heroes.' He's very, very down to earth and was concerned that the story get told with integrity."
Phillips held off on signing away his life rights until he had finished A Captain's Duty: Somali Pirates, Navy SEALs And Dangerous Days At Sea, a book of the account co-written with Stephan Talty that would be published in 2010.
"He promised to come back to us after his book was completed and he did," says De Luca. "So we set the book up at Sony and went about trying to get a writer and director. Dana and I both have deals at Sony so we brought it to Doug Belgrad [president of Columbia Pictures] and executive vice-president of production Elizabeth Cantillon, our executives on The Social Network."
[De Luca is now joining Sony as Columbia Pictures' president of production.]
The ship crews up
De Luca went out to screenwriter Billy Ray (State Of Play, The Hunger Games), someone he had worked with before and held in high esteem. It was an open assignment and Ray created a compelling vision that landed the job.
"In my head I was writing this movie for [Tom] Hanks before he was cast," says Ray. "You write about a fantastic actor and you never get them, but in this case I did. I pictured that movie with nobody else in the role — it's impossible. When he signed on, it was a mountaintop moment."
Hanks came on board to star in the title role and Paul Greengrass agreed to direct after he read Ray's first draft.
"We played around with certain things," says De Luca. "There was a draft where Billy opened the movie at the moment of Phillips' escape attempt on the lifeboat and flashed back to the beginning of that day. There were a few drafts that emphasised what was going on back home and cut back to Phillips' family getting news of the incident. With the shooting script and the cutting of it, it became more urgent and once we were with Phillips, we stayed with him in the theatre of the incident."
"There was so much drama going on in that house [during the incident] it seemed odd not to use it as a way of showing a bit more of Phillips," says Ray. "Paul was interested in exploring scenes at the time that were taking place at the Pentagon. So there were versions of all those scenes."
Ultimately, it was Hanks who suggested they keep the focus on the lifeboat, charting a course for the final version of Captain Phillips that has gone on to gross more than $100m in North America and almost as much -internationally.
"It's funny when you make big calls on films," says Greengrass. "You very often feel a sense of release afterwards. That's when you know you've done something right, because you kind of let go of baggage.
"What we were left with was the framework of the story of two captains, which is the story we all, Billy included, really wanted to tell. That's a big call."
'What we were left with was the story of two captains, which was the story we all really wanted to tell'

Paul Greengrass
The next big calls, as Greengrass puts it, were the casting of the Somali actors and the decision to shoot in the ocean with real ships.
Casting director Francine Maisler orchestrated a global search for actors to play the pirates. In this way she discovered newcomer Barkhad Abdi and a handful of his fellow countrymen from the thriving Somali community in Minneapolis, Minnesota.
To procure ships, executive producer Greg Goodman spent months negotiating with the Navy and Maersk. Both institutions requested lower fees than usual given the film's relatively modest budget of approximately $50m.
"We had a few things working to our advantage," says De Luca. "Maersk and the Navy were very approving of the screenplay and were friends of the production. Maersk made the sister ship, the Alexander, available to us for a nominal charge and were kind of our partners in the production and so were the Navy. Once we got that level of co-operation, it really made the production possible."
By the time the shoot kicked off in spring 2012 in Boston, which doubled as Phillips's native Vermont, the Maersk Alabama was on active duty and the production had secured the services of its sister ship, the Danish vessel Alexander Maersk. Phillips himself visited the Boston set a few times.
Production sets sail
"We shot in Malta off the coast for a lot of the Maersk container ship stuff," says De Luca. "We had a small stage shoot in London for the interior lifeboat scenes and then we were off the coast of Norfolk, Virginia, for all the Naval sequences and then [flew to] Morocco for Somalia."
"The great thing about Malta was it has these deep-water harbours," says Greengrass. "You could literally be out in the ocean in 10 minutes. It takes two hours to get out of Long Beach harbour [in California]."
Greengrass used a splinter crew to operate within cramped conditions on the lifeboat and the Alexander Maersk. "Paul had to make do with a lot less than other film-makers and that's the price we paid for the authenticity of being on a real ship," says De Luca. "It can be gruelling shooting on the open water and on the lifeboat, bobbing on the water like a cork for 12 hours. Tom playing the hostage for four or five days and trying to capture that was a very intense shoot because the subject matter is so intense."
The producers assembled a small flotilla for the scenes where US warships escort the lifeboat into harbour at Mombasa, Kenya, in a nerve-shredding prelude to the finale.
"We used the aircraft carrier USS Wasp," says Brunetti, "while the USS Halyburton was the only ship we used that was deployed in the actual incident. USS Truxtun doubled for the USS Bainbridge."
"We didn't know where we would get our [Navy] ships. Originally it was going to be from San Diego but then [the impasse with] North Korea kicked off and those ships had to be activated. So the Navy told us to go to Virginia Beach and they could give us what we needed.
"It was always a gamble; the last thing we shot was the Navy [escort scenes]. Normally when we shoot we watch the weather. This was the first time I was paying attention a lot more to what was happening in the world and particularly in the area where ships were. That's when you really want world peace."
The production used military and ex-military advisers and relied on exhaustive research by Greengrass and screenwriter Ray to give as close an approximation as possible as to how US elite forces would have executed the rescue plan. "With the SEALs, they don't tell you where they train, where they launch out of and how they got to the theatre of the incident," says De Luca, who adds that the parachute jump sequence was filmed near San Diego. "Pretty much everything that aren't those things, they'll let you in on and we extrapolated other information based on declassified material or reasonable assumptions that we would make."
Production wrapped in the summer of 2012 and post-production was completed a year later. Captain Phillips earned rave reviews following its world premiere in September as the opening night gala at the New York Film Festival.
Getting it right
The whole team on the production feels they have done justice to the events of April 2009.
"When I was watching the incident unfold on the news I felt we were seeing a 21st-century collision of [trends] that are fairly recent in the scheme of history, such as globalisation, with the economies of the world that are struggling now," says De Luca.
"I felt this story would be a great way to shine a light on the heroism of this crew and the desperation of Somalis, and the first thieving of an American vessel since the Barbary Coast pirates [in the late 18th century].
"It's very brave doing what the merchant marines do — you go out there unarmed and navigate some pretty dicey parts of the world to bring us the [material possessions] we want [via shipping lanes].
"Captain Phillipswas a real special one for us," De Luca adds, "and everyone understood why it was important for everyone to get this right."