Big winners also included Oscar nominee Mustang and local box office hit Margurite.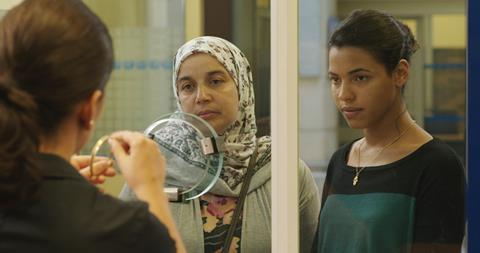 Philippe Faucon's contemporary immigrant drama Fatima won best film at France's 41st César ceremony in Paris on Friday, beating hot favourites Marguerite, My Golden Years, and Oscar nominee Mustang as well as Palme d'Or winner Dheepan.
The picture — based on the semi-autobiographical works of Fatima Elayoubi about an illiterate North African woman adapting to life in France — also won Césars for best upcoming actress for Zita Hanot, as the main character's medical student daughter, and best adaptation for Faucon.
As was the case last year, when Abderrahmane Sissako's timely exploration of Islamic extremism Timbuktu swept the board, the votes of the 4,276-member Académie des Arts et Techniques du Cinéma appear to have been influenced in part by events in France.
Like many European nations, the country is preoccupied with questions of cultural assimilation and the reality of its ethnic minorities against a backdrop of Islamist terror attacks and rising support for the anti-immigrant far right.
Faucon's film is a touching portrait of a Moroccan woman's struggle to make a life in France, following her as she learns French, takes a series of cleaning jobs to make ends meet and support her daughters and their education, all the time navigating the cultural clash between French society and her roots.
The director's previous film The Disintegration followed three French-born friends of Moroccan origin and their recruitment into an extremist organisation.
Big winners
Other top winners on Friday night included Mustang and local box office hit Marguerite.
Franco-Turkish Deniz Gamze Erguven's Mustang picked up four prizes: best first film, best screenplay, best score and best editing.
Xavier Giannoli's feel-good comedy drama Marguerite, which was a front-runner with 11 nominations, also scored four wins with Catherine Frot, winning best actress for her performance as a society singer with a terrible voice.
Best actor went to Vincent Lindon for his performance in The Measure Of A Man, which already won him the Palme d'Or at Cannes last May.
Arnaud Desplechin, whose My Golden Days also garnered 11 nominations, won the César for best director.
A number of non-French actors and technicians picked up awards at Friday's ceremony.
Danish actress and Borgen star Sidse Babett Knudsen clinched best supporting actress for her performance in Christian Vincent's romantic drama Courted as a woman gently but resolutely pursued by an uptight magistrate, played by Fabrice Luchini.
Paris-based Australian musician, composer and long-time Nick Cave collaborator Warren Ellis won best score for his work on Mustang.
The César for best non-French language foreign film went to Alejandro Inarritu's Birdman.
Michael Douglas
An honorary César was presented to US actor Michael Douglas. He charmed the audience with a five-minute acceptance speech in French in which he spoke of his love of French cinema and films such as A Man And A Woman by Claude Lelouch, who presented him with the award.
"I was fascinated by the work of those behind the camera such as yourself [Lelouch] as well as Francois Truffaut, Louis Malle and Jean-Luc Godard as well as that in front of the camera by the likes of Belmondo, Alain Delon and Jeanne Moreau which is why this award is so important in my eyes," said Douglas.
The diversity question
With the Oscar diversity debate raging in the backdrop, the Cesar wins for Mustang and Fatima prompted many French media outlets to champion the pro-diversity flavour of France's equivalent awards this year. But not everyone towed the line.
Thomas Sotinel, cinema critic at Le Monde, in an editorial published ahead of the awards, commented that while the César nominations promoted an image of French cinema as being "cosmopolitan" this was not the reality.
"If we compare the list of the public successes in 2015 with the nominations, we notice that among the César nominations, those which have had the most public success – Marguerite, The Measure Of A Man and My King – didn't really offer roles for ethnic minority actors, much less touch on the lives of minorities. But because the nominations show that all is well, why open the debate?," he wrote, warning against a sense of self-satisfaction.
An all-together more damning editorial by Algerian newpaper L'Expression entitled 'The False French Diversity At The Césars' railed against the fact that a number of France-based directors of Algerian origin – such as Mehdi Charef and Mohamed Zemouri - had never set foot in the awards while Oscar-nominated Rachid Bouchareb's one and only César is for best screenplay on Days Of Glory, shared with Olivier Lorelle.
"The Césars have always given credit to films about integration but never films which tackled the complicated history of French colonisation," read the article.
It is a debate that looks set to run on both sides of the Atlantic.
Full List Of Winners:
BEST FILM
Fatima – Philippe Faucon
BEST DIRECTOR
Arnaud Desplechin - My Golden Days
BEST FOREIGN FILM
Birdman – Alejandro Inarritu
BEST ACTRESS
Catherine Frot – Marguerite
BEST ACTOR
Vincent Lindon – The Measure Of A Man
BEST SUPPORTING ACTRESS
Sidse Babett Knudsen - Courted
BEST SUPPORTING ACTOR
Benoit Magimel – Standing Tall
BEST FEMALE NEWCOMER
Zita Hanrot – Fatima
BEST MALE NEWCOMER
Rod Paradot – Standing Tall
BEST ORIGINAL SCREENPLAY
Deniz Gamze Erguven, Alice Winocour – Mustang
BEST ADAPTED SCREENPLAY
Philippe Faucon – Fatima
BEST ANIMATED FEATURE
Le Petit Prince – Mark Osbourne
BEST ANIMATED SHORT
Le Repas Domincal – Céline Devaux
BEST FIRST FILM
Mustang - Deniz Gamze Erguven
BEST DOCUMENTARY
Tomorrow – Cyril Dion, Mélanie Laurent
BEST ORIGINAL SCORE
Warren Eliis – Mustang
BEST SHORT FILM
La Contrée-Allée – Cécile Ducrocq
BEST CINEMATOGRAPHY
Christophe Offenstein – Valley of Love
BEST EDITING
Mathilde Van De Moortel – Mustang
BEST SOUND
Francois Musy, Gabriel Hafner - Marguerite
BEST COSTUMES
Pierre-Jean Larroque – Marguerite
BEST ART DIRECTION
Martin Kurel – Marguerite
HONORARY CÉSAR
Michael Douglas