Nick Broomfield tells Wendy Mitchell why his doc Tales Of The Grim Sleeper is about a whole neighbourhood, not just one killer.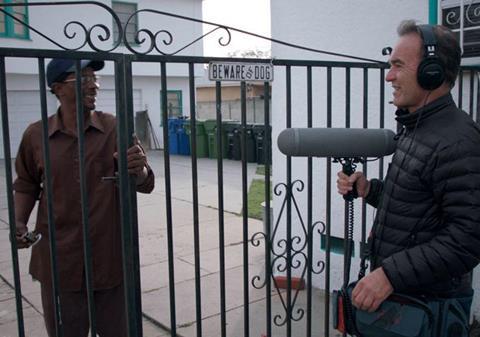 Before Tales of The Grim Sleeper, most people had not heard of alleged serial killer Lonnie Franklin Jr. He is on trial for killing 10 young black women in South Central Los Angeles - but the victims could number in the hundreds over a 25-year period.
The fact Franklin is not a household name does not surprise director Nick Broomfield. "It was almost like a genocide taking place and there was virtually no reporting on it," he says.
This film - which has been shortlisted for the best documentary feature Oscar - changes that situation. The title is reflective of its structure; it is not a straight biography of Franklin, instead it is the portrait of a neighbourhood and people forgotten by the rest of society, giving voices to those around Franklin including his victims, with Broomfield shooting in his usual first-person style.
As a white guy from Britain, Broomfield certainly stands out in the predominantly black neighbourhood, plagued by poverty, crack cocaine and Los Angeles Police Department neglect. "It doesn't just apply to LA, look at Ferguson. It's representative of a widespread attitude, it's a new form of Jim Crow [segregation laws] operating," Broomfield says of the marginalised subjects.

Entry point
A former prostitute and crack addict named Pam Brooks becomes Broomfield's guide into the world of impoverished South Central.
'It was almost like a genocide taking place and there was virtually no reporting on it'

Nick Broomfield, film-maker
"She enabled us to be accepted in the community. We needed someone who was from that world. It's like what a fixer might do but more."
To Broomfield's credit he admits Brooks is basically running the production at one point in the film; she is also a hugely compelling force on screen. "Without Pam, it would have been an incredibly different film," the director says. "She's got this Richard Pryor-esque motormouth. She's charismatic and very wise and unbelievably articulate."
During initial filming, Franklin's friends and neighbours mostly stand up for him. But later in the film they start to open up about his darker side. "When you make a film it's like a catalyst, you're asking things they don't normally get asked and it gets the mind going.
"This is the first time they'd been asked these questions, the first time talking about their world and their feelings. And they tell stories so beautifully," Broomfield adds. Two of Franklin's friends go so far as to show the accused's personal collection of homemade pornographic pictures.
One of the most moving parts of the film is seeing marginalised women - transients, drug addicts and prostitutes mostly - given their chance to tell their stories on camera. "Joe Bini, Werner Herzog's editor, edited that sequence," Broomfield explains. "It's like a chorus of women. They didn't have homes we could film them in so we did it in our office. Why not film them looking great? In some ways, that sequence is like a payoff for all of Pam's work."
Another key collaborator on the film was Broomfield's son, Barney Broomfield, who served as cinematographer. The younger Broomfield has a strong career in his own right, and joined Grim Sleeper after shooting Hubert Sauper's We Come As Friends in Sudan.
"You can have atomic arguments as father and son but we got on incredibly well," says Broomfield with a laugh. "Pam and Barney really got on and that's one of the reasons the film worked out so well. Barney amused them. If you amuse people, they will put up with a lot."
The film has screened in Telluride, Toronto, New York and AFI Fest and HBO will broadcast in the US in 2015. Submarine Entertainment handles international sales.
Broomfield likes shooting in the US, where his credits include Aileen: Life And Death Of A Serial Killer, Biggie & Tupac and Sarah Palin: You Betcha!.
"I like telling documentary subjects from the US - it starts the pace for the world," he says.
But next he is headed to Tanzania for the shoot of fiction project The Catastrophist, a four-part series for the BBC. Broomfield and Marc Hoeferlin are writing the script, which is based on Ronan Bennett's 1960, Belgian Congo-set novel about the love affair between a jaded writer and a young idealistic journalist who are forced to take sides when a violent civil war breaks out.
Broomfield has ventured into fiction in the past, working on films including Ghosts and Battle For Haditha. Yet he admits he is not a typical drama director, and says, "I like telling stories in a different way, it has to be something I can bring something to."