Mr Turner director to be honoured this weekend.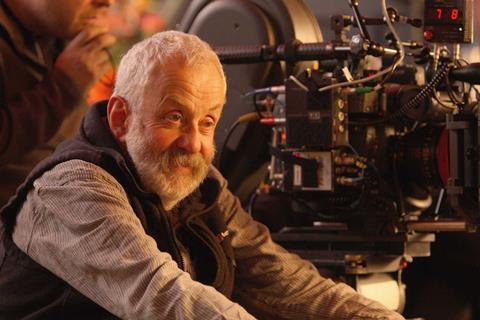 BAFTA is to present director Mike Leigh with the Fellowship at its annual film awards this Sunday (Feb 8).
Awarded annually, the Fellowship is the highest accolade bestowed by BAFTA upon an individual in recognition of an outstanding and exceptional contribution to film, television or games.
Fellows previously honoured for their work in film include Charlie Chaplin, Alfred Hitchcock, Steven Spielberg, Sean Connery, Elizabeth Taylor, Stanley Kubrick, Anthony Hopkins, Laurence Olivier, Judi Dench, Vanessa Redgrave, Christopher Lee, Martin Scorsese and Alan Parker. Helen Mirren received the Fellowship at last year's Film Awards.
Leigh said: "What a privilege to be honoured with the BAFTA Fellowship. I'm moved, delighted and surprised."
Amanda Berry OBE, chief executive of BAFTA, described Leigh as "a true innovator, an artist and an exceptional filmmaker".
This Saturday, the day before the ceremony in London, the writer-director will join a number of close colleagues and friends at a special BAFTA lunch held in his honour at The Savoy.
Leigh trained at the Royal Academy of Dramatic Art, at the Camberwell and Central Schools of Art and at the London Film School, of which he is now the Chairman.
His award-winning career features three BAFTA wins, a BAFTA Special Award for Outstanding British Contribution to Cinema and a John Schlesinger Britannia Award for Excellence from BAFTA Los Angeles last year, as well as a further 11 BAFTA nominations.
He has seven Academy Award nominations and has been celebrated in Cannes, winning the Palme D'Or for Secrets & Lies, and at Venice, where Vera Drake won the Golden Lion.
Leigh's first feature film was Bleak Moments; this was followed by the full-length television films Hard Labour, Nuts In May, The Kiss of Death, Who's Who, Grown-Ups, Home Sweet Home, Meantime and Four Days In July, as well as the television studio version of Abigail's Party.
Leigh's other feature films include Naked, Secrets & Lies, Career Girls, Topsy-Turvy, All Or Nothing, Vera Drake (for which he won BAFTA for Director), Happy-Go-Lucky and Another Year.
Most recently he has written and directed Mr. Turner, which received four nominations at this year's BAFTA Awards and four Oscar nominations.
Leigh has also written and directed over twenty stage plays, which include 'Babies Grow Old', 'Abigail's Party', 'Ecstasy', 'Goose-Pimples', 'Smelling A Rat', 'Greek Tragedy', 'It's A Great Big Shame!', 'Two Thousand Years' and 'Grief'.