APRIL 7 UPDATE: Live-action smash to cross milestone within week.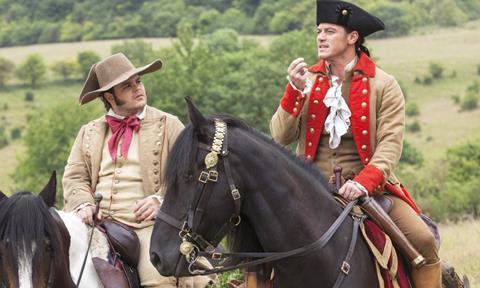 Disney's Beauty And The Beast is on course to become the first billion-dollar release of the year, which is likely to happen within the week.

The live-action hit has surged past the $500m international mark and sits on $512.7m heading into the weekend. Including the North American running total of $407.3m, the film stands at $920m globally.

China is the lead market on $83.8m, followed by the UK on $69.4m, Brazil on $33.3m, South Korea on $31.3m, Mexico on $27.5m, and Germany on $23.4m.

Australia has generated $23m, Italy $20.2m, Spain $18.3m, France $14.8m, Russia $14.2m, the Philippines $12.8m, Indonesia $9m, and Argentina $8.8m. The film starring Emma Watson and Dan Stevens will receives its last major debut in Japan on April 21. The animated film Moana has amassed $382.7m internationally.

Paramount Pictures International's sci-fi adventure Ghost In The Shell has grossed $50.3m. The anime adaptation starring Scarlett Johansson earned less than stellar reviews and was at the centre of a casting 'whitewashing' controversy that hung a shadow over the film's release. Horror reboot Rings has reached $55.2m.

Lionsgate International's Power Rangers has reached $33m internationally, after adding $8.3m last weekend from 70 markets. The live-action TV adaptation opens in six markets this weekend, including France.

Romantic musical La La Land grossed a further $1.5m from 38 markets last week and has no new debuts. The film stands at $286m internationally.

Legendary and Warner Bros' 'MonsterVerse' movie Kong: Skull Island heads into the weekend on $358.7m.

The LEGO Batman Movie enters the session on $125.7m via Warner Bros Pictures International, while CHiPS starring Dax Shepard and Michael Peña opens in Australia and Mexico this weekend and has generated $4.6m.

Fox International's X-Men spin-off Logan has reached $373m. The Hugh Jackman starrer has no new openings as it enters its sixth weekend.

DreamWorks Animation's The Boss Baby, featuring the voice talents of Alec Baldwin and Toby Maguire, currently stands at $67.6m and will debut in the UK and 13 additional territories this weekend. Trolls has opened everywhere and enters the weekend on $191.1m.

Fox's horror A Cure For Wellness has reached $16.4m as it arrives in two, while Hidden Figures has grossed $56.2m.

Universal Pictures International and Blumhouse Productions' Get Out heads into the weekend on $11.5m. The horror film from director Jordan Peele opens in six this weekend.

M. Night Shamylan's thriller Split has grossed $133.8m and has no new openings.
Family film A Dog's Purpose has reached $21.6m from Universal territories, while Illumination Entertainment's animated musical Sing has generated $335.6m at the international box office and has no new openings.