Lionsgate's highly anticipated sequel scores excellent debut of $19.8m (£12.2m) to mark the distributor's biggest ever opening.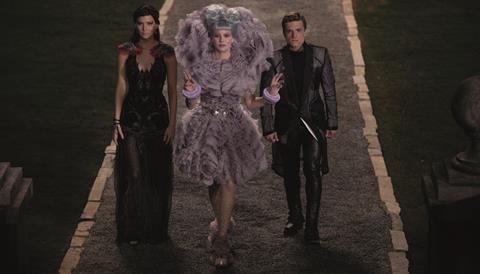 It seems the odds were in its favour. The Hunger Games: Catching Fire ignited the UK box office on debut to dethrone Gravity at the top of the chart.
Lionsgate's sequel posted a terrific $19.8m (£12.2m) debut, including $3.4m (£2.1m) in previews with $486,000 (£300,000) of that coming from its Wednesday [Nov 20] midnight showings.
Not only is Catching Fire's debut over double that of its predecessor's $7.9m (£4.9m) UK opening, but it also marks Lionsgate UK's best-ever opening.
It's also the third biggest debut of 2013, behind Despicable Me 2 ($22.6m/£14.9m with $7.4m/£4.9m previews) and Iron Man 3 ($21.3m/£13.7m with $3.6m/£2.3m previews).
The Hunger Games went on to take $38.9m (£24m) in the UK and a tally of over £30m seems highly possible for Catching Fire, which would make it only the fifth film to cross the £30m mark this year.
WARNER BROS
Falling 45% in its third weekend, Gravity added $3.9m (£2.4m) as it dropped to second.
Warner Bros' sci-fi is now up to a strong $31.5m (£19.4m) and grossed $7.7m (£4.7m) over the past seven days, suggesting it could still provide healthy midweek numbers in the coming weeks despite the presence of Catching Fire.
Also for Warner Bros, Don Jon is up to $1.1m (£656,506) after ten days in play and took $127,000 (£78,709) in its second weekend.
BBC
Starting from today [Nov 25], Rentrak has announced that Event Cinema releases will now be included in the official UK chart, starting with the huge success of Doctor Who: Day of the Doctor on Saturday night [Nov 23] which saw it chart third.
The simulcast 3D outing achieved a superb $2.8m (£1.7m) from its 450 sites on Saturday alone, with figures for its repeat screenings on Sunday unavailable at the time of writing.
Event Cinema releases are anticipated to gross around £20m this year, according to Rentrak.
DISNEY
Dropping two places to fourth, Thor: The Dark World hammered its way to a further $1.2m (£721,989) in its fourth weekend.
Disney's latest Marvel outing is now up to $29.9m (£18.5m) and is now the fourth-best Marvel performer in the UK having surpassed Iron Man's $27.9m (£17.4m). Its next target will be Iron Man 2's $34.3m (£21.2m).
Also for Disney, animations Planes and Monsters University have amassed $14.4m (£8.9m) and $49.6m (£30.6m), respectively.
ENTERTAINMENT
Falling just 22% in its second weekend, Entertainment's Lee Daniels' The Butler served up $993,000 (£610,000) from its 307 sites for a ten-day tally of $3.3m (£2m).
FOX
Philomena added $861,000 (£531,469) in its fourth weekend of release.
Fox's well-received comedy-drama is now up to $14.3m (£8.9m) in the UK and should cross the £10m mark in the coming weeks to become Stephen Frears' best-ever UK performer.
Also for Fox, animation Turbo grossed $409,000 (£252,649) for $18.2m (£11.2m) to date, while The Counsellor fell a hefty 64% in its second weekend and stands at $2.4m (£1.5m) after ten days in play.
SONY
Dropping a respectable 35% in its fifth weekend, Cloudy with a Chance of Meatballs 2 grossed an additional $777,000 (£480,000).
Sony's animated sequel is now up to $18.8m (£11.6m) ahead of the arrival of Free Birds this week and Frozen in early December.
Also for Sony, Captain Phillips has sailed past the £15m mark in the UK and currently stands at $24.8m (£15.3m) following a $389,000 (£240,000) weekend.
EONE
Released in 324 sites through eOne, Luc Besson's The Family recorded a $720,000 (£444,470) debut with a site average of $2,222 (£1,372)
Direct comparisons with Besson's recent directed outings in the UK are tricky, but it's a debut on par with the Besson-scripted Colombiana ($687,000/£424,049 from 332) and slightly behind Lockout ($966,000/£596,500 from 333).
ARTIFICIAL EYE
Palme d'Or winner Blue is the Warmest Colour posted a UK debut of $230,000 (£142,077) from its 52 sites through Artificial Eye.
That opening compares favourably with Palme d'Or 2012 winner Amour's $187,000 (£115,700) UK bow, albeit from less sites at 29. Amour went on to take $1.4m (£860,000) during its UK run.
The debut is also ahead of director Abdellatif Kechiche's only other UK outing Couscous (AKA The Secret of the Grain), which recorded a $51,500 (£31,814) opening from 11 sites.
PARAMOUNT
Having become the highest UK grosser of the Jackass franchise last week, Paramount's Jackass Presents: Bad Grandpa took a further $189,000 (£117,000) this weekend to climb to $10.3m (£6.35m).
KOCH MEDIA
Released in 147 sites through Koch Media, Parkland achieved a UK bow of $181,000 (£111,800) and arguably suffered as a result of limited performances at certain sites given the arrival of The Hunger Games: Catching Fire and the one-off event of Dr. Who on Saturday.
UPCOMING RELEASES
This week sees saturation releases for Sony's Carrie and eOne's Free Birds, while Disney's Saving Mr. Banks, Fox's Bullett Raja and Universal's The Best Man Holiday all receive wide releases.
Dogwoof's Leviathan, Lionsgate's Jeune et Jolie and Kaleidoscope's Saving Santa are among the films receiving a limited release.