OCTOBER 19 UPDATE: A solid debut for Sony saw the Jack Black family comedy open top on a confirmed $23.6m from 3,501 theatres as Bridge Of Spies and Crimson Peak came in second and third, respectively.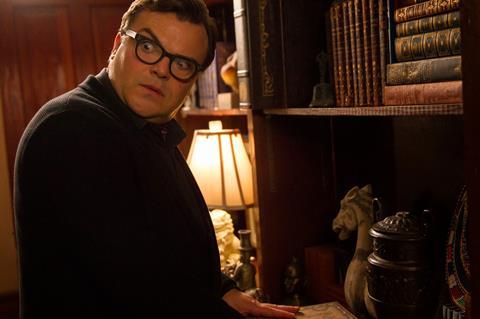 Fox's The Martian slipped to number two on $21.3m from 3,701 for $143.6m after three weekends while Pure Flix released the faith-based film Woodlawn at number nine on $4.1m from 1,553 venues.
DreamWorks' Cold War drama Bridge Of Spies directed by Steven Spielberg and starring Tom Hanks arrived at number three via Buena Vista on $15.4m from 2,811.
Universal debuted Guillermo del Toro's gothic horror homage Crimson Peak in fourth place on $13.1m from 2,984. Tom Hiddleston, Mia Wasikowska, Jessica Chastain and Charlie Hunnam star. $2.3m of the gross came from 365 Imax screens.
Netflix's first original film Beasts Of No Nation starring Idris Elba and Abraham Attah and directed by Cary Fukunaga arrived at number 33 on $51,003 from 31 Landmark venues via Netflix, which struck a deal with New York-based Bleecker Street to distribute theatrically.
The film launched day-and-date with the global streaming debut on Netflix across its growing international network. The streaming giant will not release data indicating how many people clicked on to stream the Africa-set child soldier drama, much less how many watched the film the entire way through.
Beast's Landmark theatre markets include New York, Los Angeles, Boston, Philadelphia, Baltimore, Washington DC, Atlanta, Indianapolis, Detroit, Chicago, Minneapolis, Milwaukee, St Louis, Houston, Dallas, Denver, Seattle, San Francisco and San Diego.
The acclaimed film is one of several awards contenders that arrived in North American theatres over the weekend.
A24 platform-released the mother-son drama Room starring Brie Larson and Jacob Tremblay in four sites for $118,000, ranking 26th.
SPC opened the journalism drama Truth starring Cate Blanchett and Robert Redford on $66,232 from six venues.
Well Go USA opened Hou Hsiao-hsien's Taiwanese Oscar foreign-language submission The Assassin at number 34 on $47,892 from four.
Reliance Films opened Bollywood comedy Pyaar Na Punchnama 2 at number 27, scoring $107,364 from 49 venues.
Overall box office climbed 1.4% against last weekend and dropped 8.1% against the comparable session in 2014.
This week's wide releases include: Summit's action-horror The Last Witch Hunter starring Vin Diesel for Lionsgate; Bill Murray starrer Rock The Kasbah through Open Road Films; and musical Jem And The Holograms produced by Jason Blum via Universal.
Paramount releases Paranormal Activity: The Ghost Dimension, one of two films the studio is releasing this year with AMC (and Cineplex in Canada) as part of a revenue-sharing experiment that will see the digital roll-out begin far sooner than the industry norm of around 90 days - in this case, 17 days after the theatrical footprint dips below 300 sites.
Confirmed top 10 North America Oct 16-18, 2015
Film (Dist) / Conf wkd gross / Conf total to date
1 (-) Goosebumps (Sony) Sony Pictures Releasing International $23.6m
2 (1) The Martian (Fox) Fox International $21.3m $143.6m
3 (-) Bridge Of Spies (DreamWorks-Buena Vista) Walt Disney Studios Motion Pictures International $15.4m –
4 (-) Crimson Peak (Universal) Universal Pictures International $13.1m –
5 (2) Hotel Transylvania 2 (Sony) Sony Pictures Releasing International $12.6m $136.8m
6 (3) Pan (Warner Bros) Warner Bros Pictures International $5.9m $25.7m
7 (4) The Intern (Warner Bros) Warner Bros Pictures International $5.4m $58.8m
8 (5) Sicario (Lionsgate) Lionsgate International $4.6m $34.7m
9 (-) Woodlawn (Pure Flix) Pure Flix International $4m –
10 (6) Maze Runner: The Scorch Trials (Fox) Fox International $2.9m $75.5m