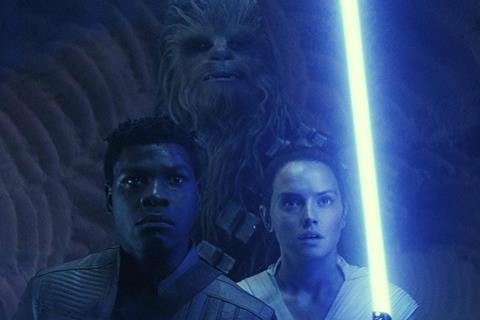 DECEMBER 20 UPDATE: Disney executives reported on Friday that Star Wars: The Rise Of Skywalker has raced to $59.1m from its first two days of international release, rising to $99.1m including $40m in Thursday previews in North America.
Active in 46 international markets and number one in all except the UAE, Lucasfilm's third trilogy finale has grossed $8.3m in the UK, $7.2m in Germany, $5.3m in France, $4.3m in Australia, and $3.6m in China since preview screenings started on Wednesday night. The territory has not traditionally been a key driver for the Star Wars films.
The Rise Of Skywalker has taken $2.4m in Mexico, $2.2m in Brazil, $2.1m in Italy, $2m in Sweden, $1.5m in Norway, $1.4m in Russia, and $1.3m in Denmark. Friday brings debuts in Japan, Spain and China (officially), as well as South Africa, Turkey and India. The sci-fi opens in Vietnam on January 3, and South Korea and Philippines on January 8.
Disney brass said the North American result was the fifth best preview performance in industry history behind Avengers: Endgame on $60m, Star Wars: The Force Awakens on $57m, Star Wars: The Last Jedi on $45m, and Harry Potter 7 Part 2 on $44m.
The Rise Of Skywalker has been forecast by observers to gross more than 450m worldwide this weekend. International launch estimates range from $230m-$300m, a wide and wild spread based on comparable debuts in the same bucket of markets at current exchange rates by The Force Awakens ($312m) and The Last Jedi ($235m).
Sony Pictures Releasing International executives said Jumanji: The Next Level had reached $174.9m as of December 18 and is at the cusp of $250m worldwide. The fantasy action sequel opens in Italy on December 25, Australia on December 26, and Brazil on January 16, 2020.
Universal Pictures International launches Cats, the Working Title Films and Amblin Entertainment production that has been panned by many critics, in the UK this week day-and-date with North America.
Latest figures put Last Christmas on $69.8m as the rom-com opens in Italy, slasher remake Black Christmas on $4.3m as it opens in Russia and Thailand, and The Addams Family on $78.5m from Universal territories. Downton Abbey has grossed $92.5m, and The Lighthouse $1m as it debuts in France.
Family film Playing With Fire has grossed $9.9m through Paramount Pictures International.