As Montreal genre festival Fantasia's Frontières International Co-Production Market wrapped, it emerged that five participants have teamed up to release a series of anthologies curated from the Little Terrors short film festival in Toronto.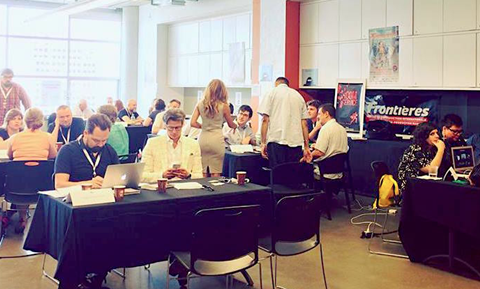 The series is the brainchild of Little Terrors founder Justin McConnell and Indiecan Entertainment's Avi Federgreen.
Indiecan, Unstable Ground and Rue Morgue Magazine produce the anthologies, which will be released in the US through a partnership between Uncork'd Entertainment and Indiecan Entertainment, while Indiecan and Raven Banner Releasing will collaborate in Canada.
The first release, Minutes Past Midnight, is set for a limited theatrical release in early October, followed by North American VOD on October 18 and DVD on February 5, 2017.
Each release will feature selections culled from the last five years of Little Terrors that played around the world. Raven Banner Entertainment will handle outstanding international sales.
Minutes Past Midnight comprises nine films directed by Robert Boocheck, Lee Cronin, Francisco Sonic Kim, Ryan Lightbourn, Marc Martinez Jordan, Kevin McTurk, James Moran, Christian Rivers and Sid Zanforlin.
Keith Leopard of Uncork'd brokered the deal with Rodrigo Gudino and Dave Alexander of Rue Morgue, Michael Paszt and James Fler at Raven Banner, Indiecan's Avi Federgreen and Unstable Ground's Justin McConnell.
Frontières concluded on July 24 after four days of pitch meetings and screenings involving more than 400 international film industry professionals, ranging from Amazon Studios, Blumhouse Productions, Drafthouse Films and Epic Pictures to Eurimages, Magnolia Pictures, Memento Films International, Mongrel International and XYZ Films.
Among developments were the launch of Alliance Media Partners Canada in Toronto by London-based producer-financier Alliance Media Partners; the creation by The Canadian Film Centre's Media Lab and Cream 360 of SCREAM 360, a scripted episodic VR property accelerator; and United Front Entertainment's acquisition of Canadian digital and home entertainment rights to a slate of features from Black Fawn Films and Breakthrough Entertainment.

Xander Robin's Frontières Goes To Cannes 2016 selection Are We Not Cats will close Venice Critics Week.

"We are beyond thrilled with the developments out of this year's edition, which have again far exceeded expectations and prove that the Frontières community is only continuing to extend its international reach and influence throughout the film industry at large," said market director Lindsay Peters.
Organisers said plans are afoot to launch the Frontières Finance and Packaging Forum in Amsterdam in February, 2017, as well as expand programming and networking activities for the genre film industry at the Cannes market.
Fantasia runs until August 3.