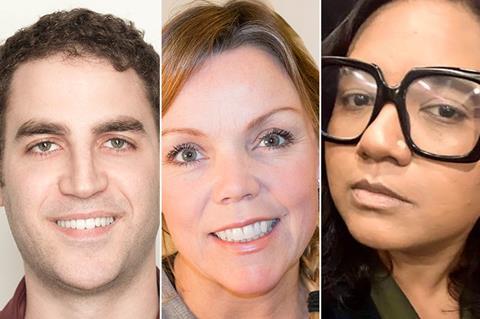 Webinars focusing on reaching new audiences, co-productions and restarting UK production all feature on the UK Film Centre's programme of industry events at this year's Cannes Virtual Marche and Festival (June 22-26).
The UK Film Centre is managed by the BFI under the UK Film banner and supported by National Lottery funding, the Government's GREAT campaign through the Department for International Trade.
Its activities this year include:
four webinars with leading executives and filmmakers
supporting the UK features and shorts selected for the Cannes 2020 label
supporting UK sales agents and market titles
supporting UK producers taking part in this year's Marché Film Producers Network
providing info about shooting in the UK, including tax reliefs, funding and locations
UK Film Centre webinar programme
The programme is curated by Wendy Mitchell, contributing editor to Screen International.
Fresh ideas for reaching audiences - Monday 22 June, 4pm CET (3pm UK time)
Experts will share case studies of 2020 releases, and lessons learned that can help the industry reach audiences in innovative ways in the future. Moderated by Wendy Mitchell.
Panellists:
Mia Bays, director-at-large, Birds Eye View
Jeff Deutchman, evecutive vice president of acquisitions and production, NEON
David Freyne, writer-director working in Ireland and the UK. His second feature Dating Amber was launched on Amazon Prime in the UK/Ireland this month
Kate Gerova, marketing & brand director, Curzon
Smriti Khan, artistic director, Jio MAMI Mumbai Film Festival
Nicola Pearcey, president, UK & EMEA, strategy and operations, Lionsgate
Co-production in COVID times and beyond - Tuesday, June 23, 11am CET (10am UK time)
How are UK and international producers finding success with cross-border productions in 2020 and beyond? What are the benefits to co-producing in these times? Moderated by Wendy Mitchell.
Panellists:
Finola Dwyer, partner and co-owner, Wildgaze Films, Oscar-nominated and Bafta award-winning film and television producer (Their Finest, Brooklyn)
Mike Goodridge, UK producer and executive producer. Also artistic director of the International Film Festival & Awards (IFFAM) in Macao
Matthew Metcalfe, GFC Films is one of New Zealand's most prominent producers (Capital in the Twenty-First Century, 7 Days and The Dead Lands). He oversees all productions and manages GFC's partnerships with Universal Pictures and XYZ films
Marleen Slot, co-owner Viking Film, Holy Motion, Netherlands (Dirty God, Rojoand Neon Bull). Opened the stop-motion animation studio Holy Motion Studio with director Mascha Halberstand
Claudia Steffen, producer and managing director, Pandora Film Produktion, Germany (In My Room, High Life, Monos)
Victoria Thomas, writer and producer–her feature documentaries including Born in New York, Raised in Paris
Get your short film seen in 2020's brave new world - Wednesday 24 June, 11am CET (10am UK time)
How can short filmmakers still take advantage of online festivals and platforms; what platforms are releasing shorts, and how can shorts filmmakers best navigate the Cannes Marche. Moderated by Jess Loveland, Head of BFI NETWORK
Panellists:
Mathieu Ajan, BFI NETWORK talent executive, Film London, founder of Bounce Cinema, a pop-up cinema dedicated to bringing communities together and celebrating exciting new filmmaking talent
Kathleen McInnis, strategist, publicist and producer, See-Through Films, focusing on short films, first and second features. Also created the SIFF New Works in Progress Forum and is a documentary feature producer currently working on projects in Sweden and Finland
Sydney Neter, sales agent and president, SND Films, which sells award-winning international short films, TV movies and feature documentaries
Rowan Woods, film programme manager, Festivals, British Council. Also programmes industry events and episodic work for the BFI London Film Festival, and is a freelance acquisitions consultant, moderator and broadcaster.
Back to our Future: restarting UK production (in association with the British Film Commission) - Thursday 25 June 4pm CET (3pm UK time)
British film Commission chief executive Adrian Wootton will lead a discussion on the UK's new 'Working Safely During COVID-19 in Film and High-end TV Drama Production', launched at the end of the May.
Panellists:
Sarah-Jane Wright, head of production, Working Title Films and Working Title Television
Chris Fry, executive producer, Sister Pictures which has recently produced the acclaimed shows Chernobyl and Giri/Haji
Gareth Ellis-Unwin, head of film and animation, ScreenSkills,and an American Academy and BAFTA Award-winning producer (The King's Speech)
Marché Producers Network
The Producers Network has been running for 15 years and is an initiative for helping producers get co-production projects off the ground. The BFI is supporting five UK filmmakers participating in the 2020 Cannes Producers Network.
Samm Haillay, Kirlian, Gateshead
Kirlian is a diversified production and consultancy company which has a diagnostic framework (currently at early stage R&D) - The Story Bridge. Kirlian is the brainchild of co-founders Samm Haillay (Island of the Hungry Ghosts, Light Years, Bypass) and Sophie Mathisen, spanning development, production, distribution, exhibition, festival curation, skills and training, academia and advocacy.
Sarah Brocklehurst, producer Sarah Brocklehurst Productions, London
Sarah Brocklehurst is a Bafta-nominated and Bifa-winning producer, and a Bafta Breakthrough Brit. Her credits include Sophie Hyde's Animals and Will Sharpe and Tom Kingsley's Black Pond. Sarah Brocklehurst Productions is the recipient of a BFI Vision Award and was selected as one of the UK's top emerging production companies in Screen International's Brit 50 list.
Kate Byers, Early Day Films, Bristol
Kate Byers and Linn Waite of Early Day Films won Bifa's Breakthrough producer award and the 2020 Bafta for best debut feature. Their critically acclaimed feature Bait continues to screen internationally. Specialising in original story, they are bringing together a slate of films embracing artist filmmakers as well as collaborating with established writers and directors.
Brian J. Falconer, Out of Orbit, Belfast
The Bafta award-winning, Academy Award-nominated Out of Orbit has emerged from the booming Northern Ireland Film and Television Industry. Productions include Ordinary Love(2020) staring Academy Award nominees Lesley Manville and Liam Neeson, and The Dig(2019) directed by the Tohill Brothers (Texas Chainsaw Massacre 2020).
Oliver Kassman, Escape Plan Productions, London
Escape Plan is a genre focused production company, founded by producer Oliver Kassman. The company's first film was Rose Glass's debut Saint Maud, starring Morfydd Clark and Jennifer Ehle. Funded by the BFI and Film4, it premiered at TIFF 2019 and sold-out worldwide to A24, Studio Canal, Diaphana and Sony.
UK films in selection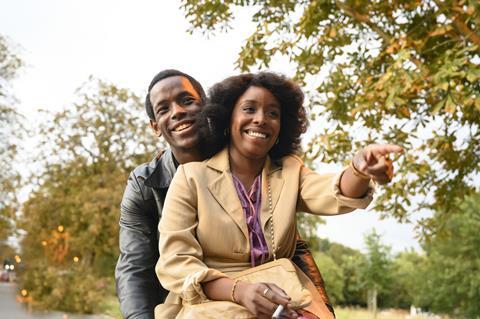 Six UK feature films and co-productions were selected under the festival's official 'Cannes Select' banner including two titles from Steve McQueen; Mangrove and Lovers Rock, both part of the BBC Small Axe strand, and the Canada/UK/Denmark co-production Falling, directed by Viggo Mortensen.
Sophomore features Ammonite from Francis Lee and Limbo from Ben Sharrock also join the line-up. Aleem Khan's debut feature AfterLove has been selected for Critics' Week. All three films were supported by the BFI Film Fund with National Lottery funding. Also selected are two short films, Sophie Littman's Sudden Light, supported through BFI NETWORK and Molly Manning Walker's Good Thanks, You?
Last year the UK had Jessica Hausner's Little Joe which won the best actress award for Emily Beecham and Ken Loach's Sorry We Missed You both in Competition.
The UK Film Centre presence at is supported by the BFI with National Lottery funding, the Government's GREAT campaign through the Department for International Trade and the British Council, British Film Commission, Creative England, Cymru Greadigol/Creative Wales, Ffilm Cymru Wales, Film London, Northern Ireland Screen, Screen Scotland/Sgrin Alba and ScreenSkills.