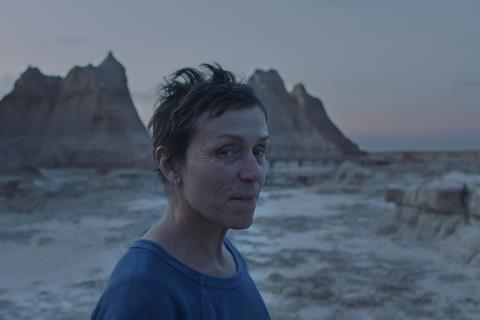 Bafta wins give Nomadland Oscar boost
This year's Bafta nominations diverged significantly from what transpired with the Oscar nominations, largely thanks to Bafta's juried categories, leading many to question whether the British academy's awards should any longer be seen as a bellwether of Oscars success. However, the winning choices – voted by the whole Bafta cohort in most cases – could actually provide a close blueprint for the Oscars.
Wins for Searchlight's Nomadland in best film, director, actress and cinematography augur well for Chloe Zhao's road movie at the US Academy Awards on April 25.
Over the past six years, Bafta's best film choices have consistently diverged from the best picture Oscar, with 1917, Roma, Three Billboards Outside Ebbing, Missouri, La La Land, The Revenant andBoyhood winning at Bafta, whereas Parasite, Green Book, The Shape Of Water, Moonlight, Spotlight andBirdman prevailed at Oscar.
Before that, there was a six-year run when the top prizes were aligned at Bafta and Oscar: 12 Years A Slave (2014), Argo (2013),The Artist (2012),The King's Speech (2011),The Hurt Locker (2010)and Slumdog Millionaire (2009) won both awards.
Nomadland's win looks set to bring the best film Bafta and best picture Oscar back into alignment. Hoping to create an upset is Emerald Fennell's Promising Young Woman, which received a boost from the Baftas by winning outstanding British film.
In the acting categories, Nomadland's Frances McDormand should be encouraged by her Bafta win – but she didn't face many of her strongest Oscar competitors this time around. Bafta didn't nominate Carey Mulligan, Ma Rainey's Black Bottom's Viola Davis or The United States Vs Billie Holiday's Andra Day for best actress.
In best actor, The Father's Anthony Hopkins receives a boost – and now looks to be the strongest challenger at Oscar to Ma Rainey's Black Bottom's Chadwick Boseman, edging ahead of Sound Of Metal's Riz Ahmed.
In supporting actress, Minari's Yuh-jung Youn cements her position as the frontrunner. In supporting actor,Judas And The Black Messiah' s Daniel Kaluuya was already considered the favourite to win the Oscar prior to his Bafta win – but he does face the obstacle of competing with his co-star LaKeith Stanfield, a hazard not presented at the Baftas.
In original screenplay, Emerald Fennell has cemented her frontrunner position. In adapted screenplay, The Father's Florian Zeller and Christopher Hampton are boosted by the Bafta win, and could cause an upset at Oscar, overhauling Nomadland's Zhao.
Soul, My Octopus Teacher andAnother Round look set to repeat their Bafta wins at Oscar – winning for animated feature, documentary feature and international feature.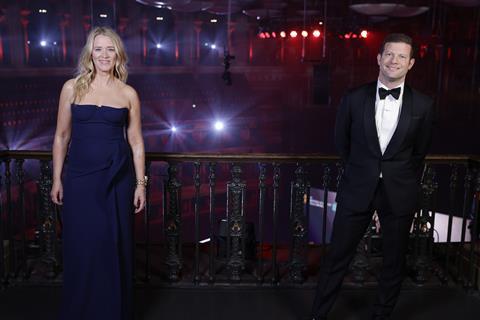 Mostly virtual show sees ratings fall
Due to Covid restrictions, this year's ceremony saw Edith Bowman and Dermot O'Leary (the latter promoted from red carpet duty) present from an almost empty Royal Albert Hall. They were joined only by select awards presenters, with the nominees tuning in remotely.
As usual, the ceremony was recorded ahead of its broadcast on BBC One, which gave producers time to iron out technical problems and made for a smooth-running, brisk show. The canned-sounding applause and laughter in place of a real audience however was undeniably jarring, however inured we think we have become to that distinctive Zoom sound.
Perhaps understandably given the lack of celebrities in physical attendance, no red carpet element and the audience's unfamiliarity with many of the nominated titles, TV viewing figures were well down on last year – averaging 2 million compared to 2020's 3 million. For context, the Golden Globes saw ratings fall from 18.3 million in 2020 to just 6.9 million this year, a 62% drop.
Read our review of the show here
Promising Young Woman wins outstanding British fIlm
It is a rare year when the biggest, US-backed film in the outstanding British film category does not win this prize and it was no different this year. Promising Young Woman, written and directed by first-time UK filmmaker Emerald Fennell, starring the UK's Carey Mulligan and produced by two UK-born, Los Angeles-based filmmakers in Josey McNamara and Tom Ackerley, with Australia's Margot Robbie, picked up the trophy on the evening. But as the film was set and shot in the US, with backing from Focus and FilmNation and no obvious connection to the UK film industry, the eligibility debate over this category will rumble on.
However, increasing the number of nominated films in this category to 10 gave valuable visibility to those nine other UK films. Bafta voters will have watched at least some they might otherwise have skirted and hopefully the TV audience will also have been tempted to seek them out too.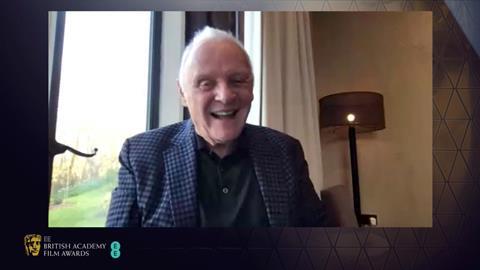 Anthony Hopkins' important painting
Corralling several dozen nominees located around the globe was always going to be a challenge for Bafta; while the majority appeared with cameras on, it is unfortunate both best actor Anthony Hopkins and best actress Frances McDormand were no-shows to accept their Bafta wins. McDormand, who won the same prize in 2018 forThree Billboards Outside Ebbing, Missouri, was "somewhere in the wilds of North America" according to presenter Richard E. Grant, who quipped that her brief acceptance speech was sent "by carrier pigeon".
Octogenarian Hopkins had returned to his Welsh hometown the day prior to the ceremony, having just had the Covid-19 vaccine in the US where he lives. While his family and friends were watching the ceremony live prior to broadcast, the star of The Father indulged in another art form, as he told an online press conference following the show's recording. "I'm sitting here painting – I'm covered in paint, look [Hopkins showed his hands to the camera] – and I heard this cheer go up from next door. 'What the hell's happened?' – I thought somebody was watching a football match," said Hopkins.
"I haven't seen the programme yet, but I wish all the nominees and winners congratulations," he added, while confirming he will remain in Wales for the Oscar ceremony on Sunday April 25.
Lionsgate, which is set to release The Father in UK cinemas on June 11, issued a statement following the Bafta broadcast on BBC One addressing Hopkins' absence: "Tony just returned to his hometown in Wales post vaccination. He arrived yesterday and was very jet-lagged and didn't think he would win. Once he did we were able to get a hold of him and have him join the press conference portion. He is so elated that he won and is so thankful to Bafta."
A star is born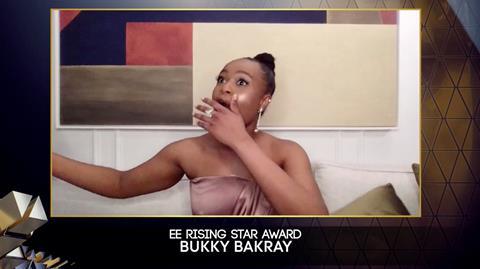 Few results were more popular than Bukky Bakray's win in the Rising Star category, voted for by the public rather than Bafta members. Propelled by (although not awarded directly for) her lead role in teenage girl drama Rocks, East Londoner Bakray is a testament to the success of the alternative casting approach taken on the film. Lucy Pardee won the casting award in the previous night's craft ceremony, the film's only Bafta in the end.
Looking genuinely surprised at her win, Bakray embraced her delighted friends and family, before giving a poised acceptance speech thanking God, her family, her brothers – "the Black sopranos" – and her Rocks collaborators. She went on to individually praise her fellow Rising Star nominees, before giving a touching tribute to several individuals who have died recently, including US rapper DMX; "Richard" – a reference to UK student Richard Okorogheye, who was found dead in Essex having gone missing from his west London home two weeks earlier; two members of "the Rocks family", Mr Demetriou and Mr Mohamed; plus her sister Lynette's father.
"Sleep well to everyone else who has died last year and this year, who went to bed infinitely. I truly believe it is the love and light which you have left on this universe which is holding us all today," she added.
In the online press conference following her win, Bakray confirmed she is looking to work with her Rocks castmates again. "I don't see the point of continuing in this industry if I don't get the chance to work with those women again," she said. "Hopefully the clout from this award will shift them towards my way again, because they also have promising futures. I want to work with Kosar [Ali, her co-star], the writers, directors – everyone!"
Bakray's upcoming projects include You Don't Know Me, a drama series for BBC Oneand Netflix alongside Screen Star of Tomorrow 2019 Sam Adewunmi that is now filming in Birmingham; and Self-Charm, a mental health-themed short from UK director Ella Greenwood.