British debuts Lady Macbeth, God's Own Country and I Am Not A Witch are all playing currently at Jerusalem Film Festival.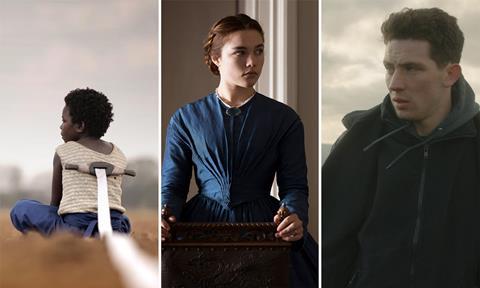 Programming this year's Jerusalem International Film Festival, artistic director Elad Samorzik did not set out to spotlight the rising talents of any particular nation.
Nevertheless, British observers were quick to notice that three UK filmmakers have been selected for the 2017 edition with their debut feature: William Oldroyd for Lady Macbeth, Francis Lee for God's Own Country and Rungano Nyoni for I Am Not A Witch.
The buzz around these three titles, and the commercial success of the one that has started to reach paying audiences – Lady Macbeth – is creating a new sense of optimism for the UK independent film sector.
"It's a good year," agrees Ben Roberts (pictured below), director of the Film Fund at the British Film Institute, which backed all three titles to varying degrees, and annually invests $27m (£21m) in development and production.
Adds Samorzik, "there was no active agenda in programming them. But it has certainly been a great year for British independent cinema, and also for fascinating new voices from the UK. All three are major highlights in our festival programme this year."
What unites the trio, observes Roberts, is that "they are all incredibly original pieces in either approach or concept." Roberts also points out that, while these practitioners may be new to feature filmmaking, "they are not fresh out of school. These are people who have been developing their craft for a while, sometimes in other disciplines in the case of [theatre alumni] Will and Alice [Birch, Lady Macbeth screenwriter]. They each excited us in their own way, but the unifying element is that these are serious filmmakers who have a maturity in their approach."
Rungano is aged 35, Oldroyd is 37 and Lee, who gave up acting seven years ago and worked in a scrapyard to pay for three self-financed short films, is 48.
Ticket master
While both God's Own Country and I Am Not A Witch have yet to see release in the UK or any other territory, Lady Macbeth began its rollout in April, grossing an impressive £800,000 so far in the UK and $3.2m worldwide. Key territories released so far are France ($986,000), Spain ($633,000), Netherlands ($310,000) and Italy ($129,000). The film has just been released in the US, via Roadside Attractions.
Following a period where a number of British directorial debuts may have enjoyed acclaim from festivals and critics, but struggled to connect with cinema audiences – titles such as Daniel Wolfe's Catch Me Daddy, Stephen Fingleton's The Survivalist and Guy Myhill's The Goob among them – the success of Lady Macbeth is encouraging the whole sector. Commercial expectations for the September 1st UK release of God's Own Country, via indie distribution-exhibition powerhouse Picturehouse, are high.
The BFI's Roberts, for one, is enthused. "It's very exciting. What's gratifying about Lady Macbeth is that an original approach towards the genre of the period film has got the attention of audiences," he says. "And when you see success, it instills confidence in others. It's important to us. The point in developing talent is so that talent can thrive and grow in terms of what they want to do.
"Altitude did a really great job positioning Lady Macbeth. It was a very confident campaign. I think that God's Own Country, albeit it's a very different film and it has its own set of challenges, my sense at this stage is that the narrative around that film is quite similar in terms of the excitement of a new filmmaker, doing something new, doing something in their own way, and I think Picturehouse are going to embrace that in their campaign."
Adds Roberts, "We're saying: you can come to us with original ideas. You can be thought-provoking, you can take chances, you don't have to think first and foremost about your box office, the idea being that you will deliver original work that audiences respond to. Because the market isn't easily second-guessable. Hits are normally surprises, especially outside the studio model. On that basis, I think it's a better hand for us to play to go for broke."
New model
The new BFI 2022 strategy, announced earlier this year, included provision for the BFI Film Fund, at the lower end of the budgetary scale, to fully finance features, rather than requiring producers to go searching for matching funding. Roberts explains the thinking: "What we've realised over the past few years focusing much more on first features such as God's Own Country and I Am Not A Witch, is that the inherent risk in supporting new talent of the type we want to support is not a wildly attractive commercial proposition at the point of financing, so the available resources for a project and to a producer are limited.
"We often felt that we were sending producers on something of a merry dance to try and raise additional pieces of finance, which was not necessarily the best route forward for the film, and was slowing down schedules. So the idea behind the facility is that selectively we can guarantee certain projects a start date, on the basis of if no other attractive finance is to be had, then they can stick to their schedule and retain talent, retain heads of department. We will be very happy if in fact a portion of our finance is switched out in those circumstances.
"It's something that will allow the momentum to stay in place, and also an acknowledgement that really on films like Francis's film that unless something is going through a scheme like ifeatures, where the finance is all there, we are pretty much fully financing them anyway. There's a tax credit and some other small amounts of money. We just wanted to acknowledge up-front that that's a likely outcome. And not make that an ongoing distraction when there are creative and other challenges to sort.
"I would say watch this space, but I imagine we will put something up in October."
Read more:
Five upcoming UK feature debuts earning industry buzz