The attack on Charlie Hebdo sent shockwaves through the creative industries. Andreas Wiseman considers the fallout within the film industry and gauges the climate for challenging film-making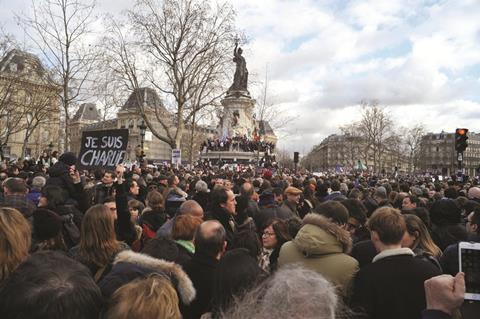 Last year, Cannes hosted the world premiere of the poignantly prescient documentary Cartoonists: Footsoldiers Of Democracy?. The film, in which cartoonists from across the world expressed fears about crackdowns on freedom of expression, premiered eight months before the fateful attack on satirical magazine Charlie Hebdo, which left 12 dead and many others injured.
"I couldn't have imagined what happened in Paris," says the film's writer and producer Radu Mihaileanu. "However, I could see that freedom of expression has been shrinking in many countries."
The Franco-Romanian film-maker, who also directed the 2011 Competition entry The Source, fled Nicolae Ceausescu's dictatorship at a young age.
"We made the film because of the many cartoonists in South America, China, France, the US and other countries who feel increasingly constrained and afraid of reprisal. We saw the movie as a warning because it's increasingly complicated to broach difficult subjects, especially religion."
Religion ranks alongside violence, sex and politics as the subjects most likely to inflame controversy, spark anger or prick sensitivities among audiences. Contentious films such as The Last Temptation Of Christ and Monty Python's Life Of Brian have generated thousands of complaints and multiple banning orders over the years.
But the assault on Charlie Hebdo was a watershed moment in the attack on freedom of expression.
"Post-Charlie Hebdo, there has been an inevitable chilling effect," acknowledges Prash Naik, general counsel, legal, compliance and governance for UK broadcaster Channel 4, which has a history of backing controversial TV and films, including Chris Morris's suicide-bomber black comedy Four Lions (2011) and the what-if? drama Death Of A President (2006).
"The notion that satirically covering a subject such as Islam can result in murder is a very different consideration to anything pre-Four Lions. It would be naïve to say it shouldn't have any impact on decision-making in the industry."
In the past year, the film industry has experienced a new level of interference and undergone new levels of introspection. The politically motivated threats against US theatres preparing to screen the Seth Rogen comedy The Interview and the ongoing Sony hacking crisis have also raised questions about free speech.
The initial decision not to show The Interview provoked anger and surprise, as the distributor and some cinema owners were confronted with a dilemma similar to that faced by many editors and broadcasters over whether to show images of cartoons depicting the prophet Mohammed.
Channel 4 faced the decision in January when it came to airing the Charlie Hebdo cover. "You either say to yourself, 'OK, we think this is justifiable because it raises an important moral issue and there's a compelling public interest behind it'," says Naik. "Or you don't run the image because of the potential threat to security and staff, or the potential level of offence caused to the audience."
Ultimately, Channel 4 did show images of the Charlie Hebdo cover. Unlike some other media outlets, the broadcaster had also previously shown images of similarly controversial Danish cartoons.
Rights and responsibilities
While some are appalled by the notion that an image of a cartoon cannot be shown on television or that a film might be pulled from a cinema due to politically motivated threats, the decision to self-censor is also a reminder that freedom of expression comes with caveats in every territory.
It is not, and never has been, an unfettered right. In most Western countries the right to air potentially offensive material is subject to individual judgment as well as a raft of statutory limitations: libel, hate speech, copyright, public security, confidentiality and copyright among them.
"After Charlie Hebdo there was a big push in France to stand up for freedom of expression, which included the publication of the offensive photos," says Naik. "It is down to each media organisation to decide whether it feels, in that particular context, justified to show those images."
Sony ultimately felt the context it faced demanded it scale back the theatrical release of The Interview. The story didn't end there.
That same context led to deep internal and external unease about confidentiality at the studio level. While the majors declined to talk to Screen about the issue, the change is noticeable, according to Hollywood industry.
"There's a climate of paranoia," said one well-connected US sales agent who has worked with the studios. "It's just more dangerous than it was before. Studios are trying to stay away from controversial movies. Their worst nightmare is their secrets coming out."
The knock-on effect of the Sony hack is that it will inevitably focus each studio's key decision-makers on whether they want to risk it happening to them.
"Organisations and production companies start to think, 'Do I really want to take on a subject like this with everything it brings with it?'" says Naik.
Despite growing awareness that the climate has changed, particularly at a studio level, large parts of the independent industry remain unencumbered.
"If anything people feel emboldened to express more because they feel social responsibility," argues Graham Taylor, head of WME Global.
"The reality is that, on a worldwide basis in terms of packaging movies and TV, you always try to be respectful and sensitive of free speech, gender and socio-economic issues. You would never want to put something together that feels like the goal is to offend."
"I haven't found in my decision-making that this [fear of repercussions] has been a factor that influences the films with which I get involved," says Andrew Herwitz, president of The Film Sales Company.
"In a number of cases it's the inverse, in fact. I realise that given social media it is easier now to create awareness of a film on a controversial topic despite a tight publicity budget. I've not seen the chilling effect of terrorism or violence against those who express a controversial view."
Threat level
Film festivals, which have long been considered important bastians for free speech, debate and the celebration of both, have felt the squeeze, however. Security at Cannes is expected to be among its highest levels, the only reaction possible given the climate in France.
The attacks on Charlie Hebdo re-affirmed the stark reality that no platform is immune to terror attack.
"Festivals remain key arenas for free expression," says Wild Bunch chief Vincent Maraval, who cites Mohammad Rasoulof's 2013 doc Manuscripts Don't Burn - which he notes screened without credits to protect the film-makers - and Abderrahmane Sissako's 2014 Competition entry Timbuktu - an African perspective on Islamic jihad - as examples of festivals flying the flag for free expression.
"A festival's first use is for showing films that are outside the formatted circuit of distribution. Thierry Frémaux and Pierre Lescure have proved over the years their courage in their festival activities," he adds.
Government censorship has reared its head at other festivals. In April, Istanbul Film Festival was forced to cancel its competition after perceived state censorship of the line-up.
A month earlier, Prishtina International Film Festival was cancelled, with organisers hinting that authorities disapproved of its LGBT strand.
In a more nuanced censorship turn, a number of established film-makers have called on Locarno to drop a planned focus on Israel, which is organised with the state-backed Israeli Film Fund, something the festival has declined to do.
Radu Mihaileanu urges fellow directors and festivals not to be cowed by any such crackdowns. "Fundamentally, we mustn't say, 'I cannot say that because this guy will be angry,' or 'I cannot say this because a government will be angry,'" he says. "If you do that, there is no progress."
The director acknowledges the challenging climate but also sees hope. "Some industry might be frightened they won't see a financial return on risky material. But there are also people out there who know how to turn us away from censorship."
Additional reporting by Jeremy Kay
Loud speaker
Parvez Sharma risked his life to make documentary A Sinner In Mecca, writes Jeremy Kay
Parvez Sharma takes selfies galore in A Sinner In Mecca, although it is a far more meaningful exploration of identity than the rash of narcissism du jour that Thierry Frémaux is keen to avoid on this year's red carpet in Cannes.
A high-profile gay Muslim after his 2007 documentary A Jihad For Love, Sharma has upped the ante in his new film and risked his life putting himself on camera.
A Haram Films production in association with Arte and ZDF, Sharma's film centres on the US-based film-maker's personal Hajj to Mecca.
After his mother's death triggered a crisis of confidence, Sharma wanted to reconcile being a good Muslim with his sexuality. Yet his goals were also political as he sought to bring attention to what he regards as Saudi Arabia's "regressive" and doctrinaire version of Islam.
"This film is a call to action to challenge the Saudi project of exporting Wahhabi Islam to all corners of the Muslim world," says Sharma, who slipped into the country armed with an iPhone and two small cameras in late 2011 after Saudi officials failed to take note of his reputation and granted a visa.
Knowing he could be executed for being gay, the Sunni film-maker aroused constant suspicion among his Shiite tour group as he snapped himself on the Hajj and shot covert footage in defiance of the filming ban in Mecca.
The film stands as a testament to courage, particularly in the wake of the Charlie Hebdo massacre and the ongoing ISIS campaigns. Sharma has already received death threats.
"I refuse to be silenced because I know there is a crisis in my religion and it's affecting a large part of humanity today," he says. "Some of our most bitter battles are being fought on this front line and it's Muslims like me who can help transform our religion."
The Film Sales Company is selling A Sinner In Mecca in Cannes.