The Morning Show could be called the first great #MeToo drama, although it is more than that. And in some ways, it is also simpler than that, says the show's writer and showrunner Kerry Ehrin. "It is really just writing about human beings and power."
The Apple TV+ show was already in the works when Ehrin, the veteran writer and producer of Bates Motel, Friday Night Lights and Parenthood, was approached to join the team as writer, showrunner and an executive producer in April 2018. Apple had announced the project in November 2017, set to star Jennifer Aniston and Reese Witherspoon, who also executive produce and co-own the show alongside Michael Ellenberg's Media Res, which produced the series for Apple TV+. At that time it was being written by Jay Carson, who left the project before it went into production.
For her new take on the pilot and the subsequent series, Ehrin, like Carson, drew on Brian Stelter's book Top Of The Morning: Inside The Cutthroat World Of Morning TV. "There was a great tone in Brian's book – high stakes, real human issues combined with immature behaviour," she recalls. "It is an intriguing mix and a good stage to tell stories."
But Ehrin was also keen to put her own stamp on it. The #MeToo movement had exploded in autumn 2017, so that also informed the stories that she wrote with the other eight writers in the writers' room.
Season one follows breakfast TV show anchor Alex Levy (Aniston) as she comes to terms with the firing of co-host Mitch Kessler (Steve Carell) over sexual misconduct allegations, and has to get to grips with rebellious new colleague Bradley Jackson (Witherspoon). Ehrin was rich with ideas but not rich with time, as she started to write her pilot in May 2018 – Apple had already set shooting to begin in November 2018.
"I didn't have the luxury of time to go hang out on morning show sets for three months doing research," she says. "But Brian was an amazing resource and I had research conversations with morning show producers, and my best friend is a make-up artist at Good Morning America [the morning show for US broadcast network ABC, which has been airing since 1975]."
While they were writing, men of power were toppling in scandal after scandal. And while the character of Mitch is not based directly on the likes of film mogul Harvey Weinstein, former Today anchor Matt Lauer or talk-show host Charlie Rose, it is a fictional amalgam of many of those disgraced men.
Watching news unfold meant "a little bit of walking on a tightrope", Ehrin says. "I wasn't tackling storytelling through incidents like big news headlines. I really just was telling this one story about these co-anchors who had this close, dysfunctional relationship and then he drops out and disappears. She has to go on and [deal with] all the reverberations that happen in the workplace once he is gone. And then his own reckoning with who he is and what happened."
Indeed, especially early in the season, Mitch is painted in shades of grey rather than black and white. "This is also my sensibility, that the show does not take a stand with a hammer and say, 'This is right, this is wrong'," says Ehrin. "Of course, people need to be called out and prosecuted." But she also wanted to show how abuses of power have been allowed to happen in corporate environments. "I think Mitch is more of a tragic character than a villain."
The writing, direction, and performances are all mindful of the fact there can be moments of humour amid dramatic times. "That particular tone is just my sensibility," says Ehrin. "I think that has to do with the house I grew up in. It was a little chaotic and dramatic and about finding the dark humour in stuff. I think sadness and humour live next to each other."
Heightened reality
Director Mimi Leder was drawn to the "behind the scenes" aspect of this world of morning TV. "I signed on before there was even a script, which I've never done before," she recalls. "The world is interesting to begin with, a world full of egos and moods. Then the #MeToo movement happened and you drop something super real into that TV world, and that combination made for great drama and great story­telling.
Leder, whose credits include TV's China Beach, The Leftovers, LA Law and ER as well as films such as Deep Impact and On The Basis Of Sex, was already on the team when Ehrin joined. She was also drawn to the tone that Ehrin and the other writers captured in the scripts, as well as the contained timeline. "The first season takes place in 23 days," she says, "so it's a very heightened reality, it's almost operatic."
Leder had specific thoughts about the visual style of the show – another trademark of hers, as she is still lauded for the influential long, flowing shots on ER. "When they're in front of the cameras, it is very bright. I did my research and went to Good Morning America and the Today show. Everything is brightly lit, their world has to have a lot of contrast and colour." But the hallways were darker, and usually filled with giant portraits of famous men.
She also wanted to frame the actors in an intimate way. "I wanted some lingering shots on emotions, to hold things a little bit longer than is comfortable. And have lots of big close-ups. I'm trying to define the visual language and tell the story in a very visual way."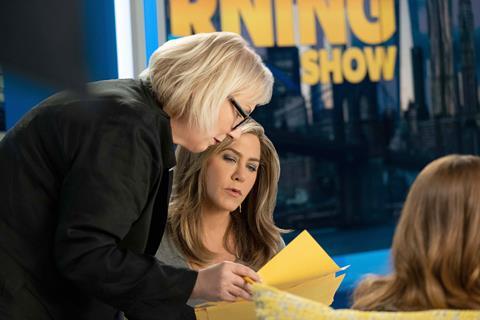 Strength in depth
The production is a showcase not just for Aniston, Witherspoon and Carell, but for a strong ensemble that includes Billy Crudup as slick network executive Cory, Mark Duplass as producer Chip, Jack Davenport as Alex's estranged husband Jason, and Bel Powley as a junior member of the show's staff who starts a consensual relationship with Néstor Carbonell's older meteorologist.
Gugu Mbatha-Raw, who plays The Morning Show's talent booker Hannah, was initially sent the scripts for only the first two episodes. "I was blown away by the strength of the writing, and these characters were so muscular and neurotic and narcissistic but also fascinating," she says. "I loved that this story wasn't just black and white and they went into the grey area of this world.
"I also knew Reese and Jennifer and Steve were going to be involved so I jumped at the prospect of working with them," adds the UK actress, whose credits include Belle and Misbehaviour and TV's Doctor Who.
Before the other eight scripts were ready for her to read, Mbatha-Raw had an early phone call with Leder and Ehrin, who told her more about Hannah's journey across the first season (spoiler alert: the character accuses Mitch of a previous sexual assault).
"They pitched me the whole arc of Hannah over the phone," she recalls. "It gave me chills. I was so moved by her trajectory. What she goes through, how she confronts Mitch, the moral dilemma she is placed in – it felt so relevant to our era."
And the actress was not afraid to go on a traumatic journey with her character. "I'm not scared of going on that dark journey if it has a reason and it's going to be thought-provoking. We can't be scared of the uncomfortable side of humanity. That's something that needs to be discussed, to be healed."
One of Mbatha-Raw's scenes is a flashback to the hotel room assault by Mitch, and for this she worked with an intimacy coordinator for the first time in her career. "It was great to have that support, to talk to both of us about our comfort level and the choreography," she says. "Especially because of the mostly female team and the POV of this show, everybody was incredibly sensitive and we knew we had to get this right."
Another challenging scene for Mbatha-Raw was Hannah's 'confession' (an eight-page monologue) about the incident to Bradley. Mbatha-Raw praises Witherspoon for being "amazing to work with" and "really caring for how this story was told".
Of course, the audience is not privy to that assault in the early episodes of the series, as they are introduced to Hannah. Letting the character reveal herself over the season was natural in terms of human behaviour, Mbatha-Raw notes.
"Nobody goes around with their heart on their sleeve or wearing the trauma of their past. A character like Hannah is also an ambitious career woman, so she has something of a manipulative drive in early episodes. I knew what was motivating that, and the unrelenting side of her ambition is potentially that, because she hasn't had a chance to expose Mitch personally, she could do this vicariously."
Mbatha-Raw praises Leder for "always pushing me to give Hannah that edge, that energy, the ambition. We didn't want to reveal her fragility too soon. To keep that tougher facade where it's not too obvious."
First bite
Ehrin says that working on Apple's first flagship show, with some of the most famous actresses in the business, and reportedly budgeted at $15m per episode, was of course "a tremendous amount of pressure, but I can't think about it like that. All I had to think about was the story, and making this fictional world real."
She found Apple executives to be "appreciative and supportive; which is not to say they never had a note but those notes weren't obsessive, they weren't offensive, they were completely reasonable. I would say largely they were just really supportive and cool."
Leder also tried not to think too much about the pressure of launching Apple's new platform. As she recalls, "I had directed the first DreamWorks movie [1998's The Peacemaker] and if I really thought about it, that probably would have frozen me… With The Morning Show, I just wanted to make it as honest as I could. What is the best way to tell the story? That's how I focus – I did not think about the pressure of launching the Apple platform."
Leder will direct four episodes of the second season, and adds that Apple "continue to be a great network to work with — they are very collaborative and very supportive".
That second season is still being written, and the team hopes to resume production as soon as it is safe. Ehrin, who has now extended her multi-year overall deal with Apple, says: "The silver lining of the quarantine is it means a lot of time to really focus on writing."
Mbatha-Raw has been thrilled with the audience response to the show as a whole, and also to Hannah's storyline. "This show is an entertaining, glossy, exciting package on the outside, and when you get into it, it packs a punch emotionally and is thought-provoking," she reflects. "For me, what has been gratifying working on a show with this meaty material is that it has a capacity for healing in our culture. Women – and men – have reached out to me on social media and otherwise to tell me how much this show has meant to them."