Encouraged by China's recent box-office boom, international buyers and sellers attending Filmart this year (March 19-22) will bring high hopes for a buoyant market.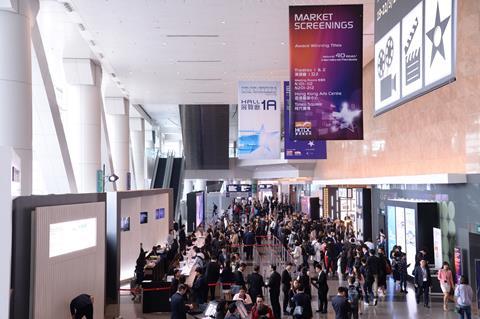 Taking place barely a month after Chinese New Year, the 22nd edition of Filmart (March 19-22) kicks off when the industry is still in a state of euphoria over China's recent box-office results. Within the first three days of the new year, China broke the world records for the biggest single day ($281m on February 16) and the biggest three-day opening weekend ($535m, February 16-19) for a single market. February also set another world record, with $1.6bn for a single month.
The Chinese New Year success came on the heels of China's 2017 box office of $8.6bn, an all-time high and up 22% year-on-year (or 13% when online ticketing fees are removed). The figure represents a resounding achievement, particularly when most of the other major markets suffered a decline or remained stagnant for the year.
Given this box-office boom, international sellers flocking to Filmart have high hopes for a strong market that offers the chance to meet buyers from the region, and begin negotiations for Cannes. "We've sold everything to China during the last three Filmarts. It's especially important for us this year as not many Chinese buyers were in Berlin because of Chinese New Year," says Nicolai Korsgaard of Denmark's TrustNordisk. A nine-year veteran of Filmart, Korsgaard is bringing two feature titles, Paprika Steen's That Time Of Year and Michael Noer's A Better Life, as well as three TV series.
Lucrative deals
Filmart is becoming an increasingly important portal to the east, particularly as last year's China box office was marked by surprisingly strong showings for non-Hollywood foreign imports. Thai high-school thriller Bad Genius (which grossed about $45m), Spanish crime thriller The Invisible Guest ($27m) and India's wrestling drama Dangal ($190m) all became the highest-grossing film of their respective countries in China.
It was at Filmart last year that Thailand's GDH 559 announced the first string of sales deals for Bad Genius, which went on to become the number one Thai film in Hong Kong, Taiwan, Malaysia and Vietnam as well as China. "We've successfully closed many deals at Filmart in the past. It's the one market that we all want to attend, as it's the right place to meet the right buyers," says GDH 559's director of international business DD Pholthaweechai, who will bring two new titles this year.
Spain's Film Factory Entertainment, which found success with The Invisible Guest, is set to return with Gonzalo Tobal's Dolores. "In Asia, South Korea and Japan were traditionally most receptive for Spanish-speaking titles," says Film Factory's head of sales Toni Oliete. "But China is now our best Asian market."
Several European companies will attend Filmart under the European Film Promotion (EFP) banner, joining Unifrance, Roskino and Film Export UK. EFP alone is made up of 29 exhibitors who will present 57 titles, all with EFP's Film Sales Support, up from last year's 45. From North America, Creative BC and the Independent Film & Television Alliance (IFTA) will have a presence, too.
Although Filmart is seen as a vital stepping stone to the vast China market, its role has also grown beyond that. "Early on, Filmart quickly evolved from its Hong Kong and China roots to become a regional event; today it's even broader," says IFTA's Jonathan Wolf, who is also managing director of the American Film Market. "More than 30 IFTA members participate on our umbrella stand every year, and they always report that the deal-making and networking is worth the trip."
Laura Voros of US's Highland Film Group started attending Filmart three years ago, to explore more opportunities in Asia, and was surprised by the variety of potential buyers. "At the beginning, we found that mostly Hong Kong and China clients dominated the marketplace, but it is great to see that other Asian territories are expanding and sending more and more representatives to the show," she observes. "We attend all major markets but found this particular marketplace very targeted and strategically focused. We closed multiple deals at our first market on the spot." This year, Voros expects to close out the remaining territories for Boss Level, starring Frank Grillo and Mel Gibson, and The Manuscript, with Morgan Freeman.
Some sellers are also busy doubling up as buyers. Formerly known as Films Distribution until its rebranding last autumn, France's Playtime will make a market debut at Filmart. "We'll prepare our Asian buyers for our Cannes line-up, especially with clients that we haven't seen since AFM," says Playtime partner Nicolas Brigaud-Robert. "HAF is important too. We're also there to buy and spot future projects."
Market growth
The Hong Kong-Asia Film Financing Forum (HAF) coincides with Filmart, and also takes place at Hong Kong Convention and Exhibition Centre. According to organisers Hong Kong Trade Development Council (HKTDC), Filmart is currently the largest film and TV market in Asia. This year, more than 850 exhibitors from 37 countries are expected, including those from new markets such as Colombia's Caracol TV, Nigeria's Rosetwin, Poland's Studio Trefl and Turkey's Match Point Telif Haklari. Hong Kong players will also be out in force on their home turf, including Emperor Motion Pictures, Mei Ah Entertainment, Media Asia Entertainment, One Cool Film Production and Universe Films Distribution. There are also 60 exhibitors from seven Association of Southeast Asian Nations (Asean) countries including, with 23 companies, the largest ever Thai delegation to Filmart, and multiple pavilions headed by India, Japan, the Philippines, South Korea, Taiwan and Vietnam.
China will have a record presence, including a dozen pavilions from various provinces such as Guangdong, Hangzhou, Shanghai and Ningbo. HKTDC Filmart senior service promotion manager Peggie Liu says: "We have observed a constant growth in participation from the Chinese mainland, [and now have] a larger exhibiting area to promote local entertainment to the international market. New participants include Sichuan and Chongqing province."
In addition to film, Liu adds that the growth in TV productions has attracted more major broadcasters: "Over 300 exhibitors are expected to participate in TV World, including major TV stations." These include Hong Kong's TVB, China's CCTV, Japan's NHK and Studiocanal from France.
Doc focus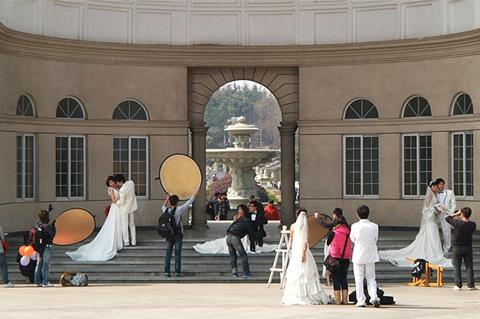 A new component at this year's Filmart is Doc World, which will be launched as a spotlight on feature-length documentaries. More than 200 exhibitors with documentary-related business will be featured, with independent production companies from the UK, US, Taiwan, Japan and Hong Kong showcasing their latest productions.
"As more and more high-quality documentaries are produced in Asia, it's crucial to have a market like this to inject momentum and resources into documentary filmmakers as well as to share their products and experience," says CNEX Foundation co-founder and chief producer Chang Chao Wei, who will bring award-winning Taiwanese filmmaker Shen Ko Shang's latest documentary Love Talk to Filmart.
Chang will also moderate a panel entitled 'Documentaries: From Local to Global', with speakers such as Submarine Entertainment's Daniel Braun, AMC/Sundance TV Global's Patrick Connolly and China Visible Influence Pictures' Summer Song.
This is one of 12 thematic conferences to be held on site, with other notable speakers including Transformers series executive animation producer Shuzo John Shiota on the potential for monetisation behind live-streaming; Beijing-based Ci Wen Media's Ma Zhongjun and Talent Television and Film's Wu Hongliang, both on navigating the Chinese TV market; and STXinternational president David Kosse, who will be in conversation with Screen International's Asia editor Liz Shackleton on March 20.