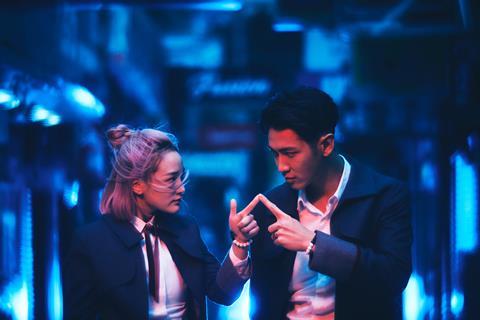 Following a prosperous Chinese New Year season with box office hits including Gatao: The Last Stray, The Soul, and I Missed You, sales companies are introducing buyers to even more local Taiwanese productions for Hong Kong Filmart.
Distribution Workshop is starting sales on Arvin Chen's Mama Boy. Giddens Ko's Till We Meet Again is positioned as a summer blockbuster. Both films star You Are The Apple Of My Eye actor Kai Ko who is also in Chen Tapu's upcoming Do The Right Thing.
Chang Tso-Chi's Red Horse In The Summer Sky is selected for HAF WIP lab, which runs alongside Filmart, while documentary Sounds Of Taiwan: A Symphony hy Bao Yuankai is making its international premiere at Hong Kong International Film Festival in April.
American Girl
Dir. Fiona Roan
This debut feature is a semi-autobiographical family drama about a 13-year-old girl who struggles to adjust to life in Taipei during the 2003 SARS outbreak. Starring Karena Lam (Zinnia Flower) and Kaiser Chuang (Who Killed Cock Robin), the film is backed by Hong Kong's Media Asia, Splash Pictures from Taiwan and G.H.Y. Culture and Media (Singapore), with Tom Lin (director of The Garden Of Evening Mists) as executive producer. Roan is a Taiwanese-American writer-director based in Los Angeles and Taipei. Her short film Jiejie won the HBO Asian Pacific American Visionary Award and was distributed online in the US via HBO Go and HBO Now.
Contact: Media Asia
Do The Right Thing
Dir. Chen Tapu
DoP-turned-director Chen's dark comedy is about a young ex-convict determined to start afresh but gets caught up in a political tussle over a water supply issue with an older farm woman. The stellar cast includes Angelica Lee (The Garden Of Evening Mists), Kai Ko (You Are The Apple Of My Eye) and Lee Kang-Sheng (Days). Chen made his directorial debut with 2011's Pick The Youth and followed up with 2017's Turn Around. He won best cinematography at the Taipei Film Awards last year for Chang Jung-chi's We Are Champions.
Contact: mm2 Entertainment
Mama Boy
Dir. Arvin Chen
Kai Ko, last seen in You Are The Apple Of My Eye, stars as a shy young man who finds himself attracted to a sex hotel manager played by Vivian Hsu (Little Big Women) in this romantic drama. Key crew include producer Aileen Li, a producer of 2019's top local film Detention, and Asia-based DoP Jake Pollock whose recent credits include The Shadow Play and Soulmate. Filming will began later this month in Taipei, with a release targeted in November. US-born Taiwanese Chen previously directed the romantic comedies Au Revoir Taipei and Will You Still Love Me Tomorrow both of which premiered at the Berlinale in 2010 and 2013 respectively.
Contact: Distribution Workshop
Man In Love
Dir. Yin Chen-Hao
Roy Chiu, whose credits include Dear Ex, stars opposite Hsu Wei-Ning, best known for Netflix's The Victims' Game, in this remake of the 2014 Korean romantic film of the same name. He plays a petty thug who asks a young woman to go on unusual dates with him to offset her family's debts. The Tag Alone director Cheng Wei-Hao produces this feature debut for Yin, a music-video director best known for the video of indie band EggPlantEgg's hit song 'Back Here Again', which has garnered more than 114 million views on YouTube. Sony Pictures will distribute the film in Taiwan on April 1.
Contact: Calendar Studios
Red Horse In The Summer Sky
Dir. Chang Tso-Chi
Veteran director Chang's new film follows a runaway city girl who travels to a small seaside village in Yilan to look for her biological father she never met, setting off a journey of atonement. The project, which features a cast of unknowns, is selected for HAF WIP lab. Chang's previous films include 2015's Thanatos, Drunk, which picked up the Siegessäule Readers' Jury Award in Berlin Panorama and 1999's Darkness And Light from Cannes Directors Fortnight. Both 2002's The Best Of Times and 2010's When Love Comes were named best films at the Golden Horse Awards.
Contact: SimpleView Production
Sounds Of Taiwan: A Symphony By Bao Yuankai
Dir. Heather Tsui
This documentary retraces the musical journey of Chinese composer Bao Yuankai as Tsui follows him to various locations across Taiwan that inspired his acclaimed eight-movement symphony piece 'Sketches of Taiwan'. Bao's decades-long love affair with Taiwanese culture began in the 1990s when he visited the island as a guest professor. Hong Kong International Film Festival will host its international premiere in April, following its local theatrical release earlier this month. Tsui's 2018 feature debut Long Time No Sea received a special jury prize at Seattle and best new performer prize at the Golden Horse Awards.
Contact: Swallow Wings Films
Till We Meet Again
Dir. Giddens Ko
Novelist-turned-director Giddens Ko reunites with actor Kai Ko who starred in the former's blockbuster hit You Are The Apple of My Eye for his fantasy romance adapted from his own book. Co-starring Vivian Sung (Café Waiting Love) and Gingle Wang (Detention), the film follows a young man who takes on the job of god of love after being struck dead by lightning, while trying to retrieve the lost memory of his previous life. The film is scheduled for a summer release and is produced by Machi Xcelsior Studios, which recently released mystery thriller Plurality and zombie horror The Sadness in Taiwan.
Contact: Machi Xcelsior Studios