As fresh titles with Sammi Cheng, Han Geng, Louis Koo and Aaron Kwok come to Filmart, Screen reveals the buzz titles from China and Hong Kong.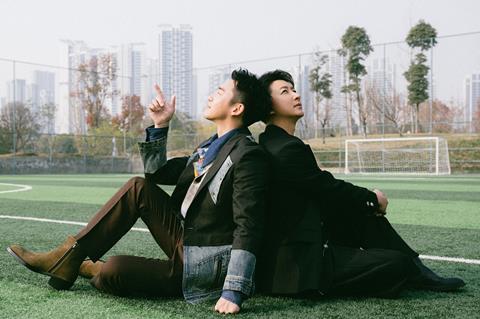 Hong Kong sales and production companies have long been planning eye-catching booths to welcome back international visitors to an in-person Filmart. Mandarin Motion Picture, Mei Ah, Universe, One Cool, PCCW, Media Asia, Emperor Motion Pictures, Sil Metropole and Entertaining Power have taken the premium front row on the trade floor, each showcasing their upcoming hot projects.
Soi Cheang's Twilight Of The Warriors: Walled In — a long-awaited action thriller starring Louis Koo and Richie Jen, set in the infamous (and now demolished) Kowloon Walled City — has inspired Media Asia's elaborate booth.
Universe has a brace of action films scheduled for summer including Herman Yau's The White Storm 3: Heaven Or Hell, which also stars Koo, Lau Ching Wan and Aaron Kwok, and Jason Kwan's undercover cop thriller I Did It My Way, with Andy Lau, Lam Ka Tung and Eddie Peng. Emperor Motion Pictures has Felix Chong's 1980s crime drama The Goldfinger, which reunites Tony Leung Chiu-Wai and Lau from the iconic Infernal Affairs trilogy.
It is encouraging that such anticipated big-budget titles are finally set for release in China, which has reportedly relaxed its censorship process. Hong Kong-China co-productions must secure clearance from mainland China before they can be released further afield.
China's leading producer Huayi Brothers is also returning to the international marketplace for the first time since the pandemic through sales agent Blossoms Entertainment. It brings two new titles based on successful IP: Delicious Romance and The Ex-File 4.
Hong Kong International Film Festival usually takes place alongside Filmart but not this year. It opens on March 30 with Soi Cheang's noir thriller Mad Fate and Ann Hui's documentary Elegies, and closes on April 10 with Cheuk Wan Chi's paramedic drama Vital Sign.
An Abandoned Team
Dirs Thomas Lee, Daniel Ho
First-time feature writer/directors Lee and Ho team up for this feature about a lonely retired man who finds a new purpose in life, rescuing abandoned animals after he befriends a stray dog and an animal shelter volunteer. The cast of An Abandoned Team is led by actor/filmmaker/TV host Lawrence Cheng and rising actress Amy Lo, with a special appearance by Fish Liew. It is produced by Catherine Kwan (Cold War) and partly financed by the Hong Kong Film Development Council's film production financing scheme. Both Lee and Ho are seasoned assistant directors.
Contact Vanessa Lo, Media Asia
Band Four
Dir Lai Yan Chi
This music-themed drama is about a broken family reunited as a rock band, and follows a single mother with a young son who reconnects with her long-absent guitarist father. Singer/actress Kay Tse, veteran singer/songwriter Teddy Robin and rising singer/songwriter Anna hisbbuR head the cast. Robin (The First Girl I Loved) also serves as producer along with Jacqueline Liu (Men On The Dragon). Apart from filmmaking, Lai is also a theatre actress, playwright and recipient of the Hong Kong Arts Development Council's award for young artist (film). Her feature directorial debut was the award-winning N+N.
Contact Grace Chan, Entertaining Power
Delicious Romance
Dirs Leste Chen, Hsu Chao-Jen
Presented by Huayi Brothers, this film adaptation of 2021's hit TV series of the same name reunites main cast members Li Chun, Zhang Hanyun and Naomi Wang. Like the woman-centric series, which streamed on Tencent Video and Netflix, they play three best friends who suffer hardships at work and setbacks in love but gain a new understanding of life with each other's support. Directors Chen and Hsu are also the co-directors of the original series. The film is dated for release on April 15 in China.
Contact Vicky Ding, Blossoms Entertainment
Everyphone Everywhere
Dir Amos Why
Following last year's hit romantic comedy Far Far Away, director Why returns with this drama about three friends who reunite after 25 years. Once together, they experience an unusual day on account of their mobile phones and find new meanings in life. The cast is led by Endy Chow (One Second Champion), award-winning theatre actress Rosa Maria Velasco and Chan Charm Man (Table For Six). Producers include Winnie Tsang, Philo Wu and Teresa Kwong. Why's directing credits include Napping Kid and Dot 2 Dot.
Contact Felix Tsang, Golden Scene
The Ex-File 4
Dir Tian Yusheng
This latest from the beloved romantic comedy franchise sees the return of Han Geng and Zheng Kai, reprising their roles as two yuppie buddies. This time, the focus shifts from dating to marriage. It serves as a sequel to 2017's Ex File: The Return Of The Exes, which grossed $279m (rmb1.94bn) in China and is still the country's top grossing romance film. Tian is the director of the entire Ex-File franchise, all presented by Huayi Brothers. The release in China is expected to be in the third quarter.
Contact Vicky Ding, Blossoms Entertainment
Lost Love
Dir Ka Sing Fung
Superstar singer and actress Sammi Cheng plays a woman who, after the loss of her own child, takes in foster children and provides a caring home for them. Cheng was voted best actress by the Hong Kong Film Critics Society for her performance and is nominated in the same category at the upcoming Hong Kong Film Awards. This directorial feature debut by former journalist Ka is produced by veteran industry executive Katherine Lee with the support of Hong Kong Film Development Council's first feature film initiative. The film opened in Hong Kong on March 2 through US studio Universal Pictures.
Contact Vanessa Lo, Media Asia
Master Zhong
Dirs Wang Yuxi, Huang Shanchuan
This animated fantasy feature follows the eponymous Master Zhong, a demon slayer who rescues a girl who is being chased by evil demons after she breaks into the underworld to find out the truth about her father's death. She vows to become the demon slayer's apprentice as a battle looms that will shake the underworld. Backed by Chinese streaming platform iQiyi, the project is created by directors Huang and Wang, who both studied at the Animation School of the Beijing Film Academy.
Contact Bryce Tsao, iQiyi
My First Of May
Dir James Hung
Aaron Kwok (Cyber Heist) and Gigi Leung (Chilli Laugh Story) topline this heartfelt family drama about a father who gives up his squash career to take care of his terminally ill daughter when his wife cannot handle the responsibility and walks out of their lives. Patrick Tam (Where The Wind Blows) and rising actress Natalie Hsu co-star. The project is backed by Angus Chan's Entertaining Power. Director Hung's credits include the award winning The Seventh Lie and the upcoming Detrimental.
Contact Grace Chan, Entertaining Power
Over My Dead Body
Dir Ho Cheuk Tin
This dark comedy follows a group of residents who will go to any lengths to get rid of a dead body found on their doorstep, all to prevent their property prices from nosediving. The ensemble cast consists of veteran and emerging talents such as Teresa Mo (Mama's Affair), Ronald Cheng (Chilli Laugh Story), Edan Lui (Hong Kong Family) and Yeung Wai Lun (The Sparring Partner). The film opened this month's Osaka Asian Film Festival before being released in Hong Kong on April 4. Director Ho's debut The Sparring Partner has received 16 nominations for the upcoming Hong Kong Film Awards.
Contact Christy Choi, One Cool Pictures
To Be Continued
Dirs Dora Choi, Haider Kikabhoy
This documentary is a love letter to Hong Kong, rediscovering the forgotten legend of Harry Odell, a Cairo-born, Shanghai-raised Russian Jew who was considered the city's first impresario in post-war Hong Kong. The project began as a conservation campaign to save the iconic State Theatre but morphed into five years of research and interviews with those who witnessed Odell in action. Choi is a seasoned news documentary TV programme director, while Kikabhoy is an academic researcher on the city's architectural history. To Be Continued will receive a gala screening at Hong Kong International Film Festival in April.
Contact Hong Kong Community Heritage Foundation
Ultimate Revenge
Dir Terry Ng
This action cop thriller follows three serial robber brothers who are setting up yet another heist, not knowing that a nearby police crime unit is ready to apprehend them, sparking a fierce firefight. The cast includes Alex Fong (Overheard series), Andy On (Undercover Punch And Gun) and Louis Cheung (The Narrow Road). Produced by Ng Kin Hung and Jason Siu, it marks the second film by Ng after Pretty Heart in 2022.
Contact Miriam Cheung, Emperor Motion Pictures
Vital Sign
Dir Cheuk Wan Chi
Set as the closing film of Hong Kong International Film Festival, this paramedic drama stars Louis Koo, Yau Hawk Sau (She Remembers, He Forgets) and Angela Yuen (The Narrow Road). The story follows a paramedic who creates a bond with a senior crew and sets about their mission to save every single life on the medical frontline. Director Cheuk's credits include Kick Ass Girls and Temporary Family.
Contact Christy Choi, One Cool Pictures
Winter Chants
Dir Tsang Tsui Shan
Documentary filmmaker Tsang (Flowing Stories) once again shines a spotlight on her home village Ho Chung through the Tai Ping Ching Chiu Festival. This historic event, which is held every 10 years, brings villagers back from all over the world, but the global pandemic threatens the long-awaited reunion. Produced by her regular collaborator Teresa Kwong, the documentary will receive a gala screening at Hong Kong International Film Festival. Tsang was named best new director at the Hong Kong Film Awards for 2011's The Big Blue Lake. Last year, her VR project Chroma 11 premiered in Venice Immersive, the extended reality section of Venice Film Festival.
Contact River Vision
Yum Investigation
Dir Leung Kwok Fai
This supernatural comedy stars for the first time all four members of boyband Error, including Dee Ho from recent record-breaking hit A Guilty Conscience. Based on a popular web novel, the story revolves around detective agency Yum Investigation, which specialises in supernatural cases run by a trio who all possess different special powers. The other Error bandmates comprise Leung Yip, Denis Kwok and Poki Ng. New director Leung was previously assistant director to late filmmaker Benny Chan on Raging Fire.
Contact Miriam Cheung, Emperor Motion Pictures