In Pain & Glory, Antonio Banderas was able to draw on his friendship and many collaborations with Pedro Almodovar to get under the skin of the director's rich inner life. The actor tells Screen about embracing vulnerability for his Cannes-winning performance.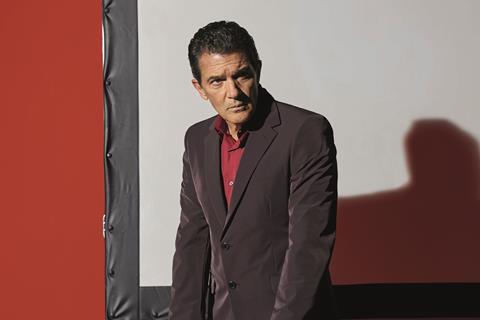 With more than 100 credits as an actor in his filmography and an award for his performance in Pedro Almodovar's Pain & Glory at the 2019 Cannes Film Festival, the glory side of the equation in Antonio Banderas's career is well proven. When it comes to pain — the pain he has drawn on to master his part as a filmmaker-in-crisis in Almodovar's cinematic self-portrait — things are a little more complex.
Characteristically charming and open, Banderas is frank when it comes to discussing his work and the troubles in his own life. Asked if he feels that, at 59, he has entered a new stage in his career, he says: "I do feel I'm exploring new territory, maybe because I'm benefiting from my own maturity and the things that have happened to me in the last few years. They have made me grow and look at life and work in a different way.
"Almodovar is so clever that he spotted this from the start. He said I shouldn't try to hide my baggage but use it instead. It was the right thing to do because what you go through in life gives you the colours to work with in front of the camera. When you feel death close, like I did with my heart attack [in 2017], you have a more acute sense of vulnerability. We used that when working to grasp my character in Pain & Glory.
"I also got divorced. But I look at that in a positive way. Our whole family has managed to go through it respecting each other, loving each other. My ex-wife [Melanie Griffith] is probably my best friend and the children value this. Divorce is not easy; it can feel like someone is pulling the rug under your feet, but you cannot bury 20 years of your life, particularly when those years are full of beautiful memories."
The benefits of his long relationship with Almodovar emerge in Banderas's performance in Pain & Glory, playing film director Salvador Mallo — the thinly disguised alter ego of the Spanish director, whose work launched the actor's career back in the 1980s. Fresh out of his native Malaga, Banderas moved to Madrid and worked with the director on a total of eight features, beginning with Labyrinth Of Passion (1982) and including Law Of Desire (1987), Women On The Verge Of A Nervous Breakdown (1988), Tie Me Up! Tie Me Down! (1989) and The Skin I Live In (2011).
How did Banderas feel when confronted with the challenge of Pain & Glory's lead character, a figure who shares so much of Almodovar's DNA? "At first, I was a bit apprehensive because it meant playing the part of a person I had known for more than 30 years, with whom I had shared a long professional relationship and a long friendship too," he reflects. "But I realised the way to deal with it was to focus on the screenplay, hold on to it for dear life."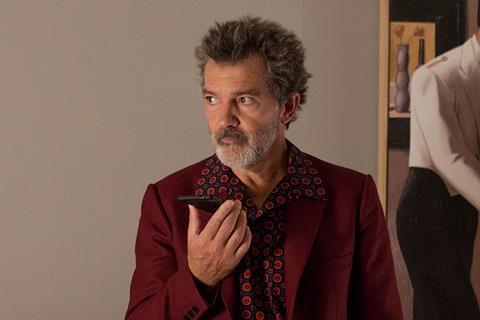 Banderas has earned five Golden Globe nominations for work in film and television, including for Pain & Glory in the best actor - drama category, but none yet for the Academy Awards or Baftas.
With Pain & Glory, the actor saw how invaluable it was to get all the emotional information he needed from Almodovar. "Looking at how he was reacting to the screenplay he had written gave me precious information. It's very rare for an actor to be in that kind of situation," he says. "If you are able to rationalise that information and translate it into something coherent, it's very useful. I realised very early on that this was a once-in-a-lifetime opportunity.
"I remember the scene when Salvador tells his mother [played by Julieta Serrano], 'I'm sorry I haven't been the kind of son you wished for.' Pedro usually likes working the lines with the actors to find the right tone and pace for the scene, and he couldn't read that line out loud. His silence was very eloquent. Also, we thought very early on about whether I should use some of Pedro's mannerisms. I didn't — an imitation would have distracted from the core of the film."
If Almodovar has used his own life more overtly in Pain & Glory than in his previous films, Banderas also found himself drawing on years of working with the director to fine-tune his performance: "The screenplay is full of references to events that I experienced first-hand. There are characters like Alberto [played by Asier Etxeandia] that is a Frankenstein built from all the actors who have worked with Almodovar including me, Carmen Maura or Eusebio Poncela [Law Of Desire]. I also had the chance to get to know Francisca, Pedro's mother [who died in 1999]. What surprised me was the degree to which Pedro was unveiling himself. He has always been a very private person and there were things we never discussed, places you didn't feel you could go to.
"The first time I read the screenplay I realised it had a lot to do with him making peace about certain topics. Some had to do with his family, others had to do with the actors who had worked with him or with his former lovers. It was about circles he had to close that he closed the way he knows best — through cinema."
Final release
The word 'therapy' has come up several times when Almodovar has discussed Pain & Glory — a film that has grossed $2.15m in the US for Sony Pictures Classics, and $32.9m worldwide. But for Banderas, shooting was anything but an agonised psycho-drama. "It was the friend­liest, most relaxed Almodovar shoot I have ever experienced. You could actually see the weight coming off his shoulders, that it was working like therapy. We even finished a week and a half earlier than expected."
Banderas's performance in Pain & Glory has been acclaimed as a tour de force of nuance and intimacy — a world away from the swashbuckling passion his name often evokes in a Hollywood context. "In the case of Pain & Glory, I have been able to work more from within, silently," he says. "It's like embroidering small stitches that, little by little, make up a picture and that make sense when you see the finished work."