Isabelle Huppert is back at the Venice Festival with her new film, Promises, directed by Thomas Kruithof and premiering today (September 1) in the Horizons section.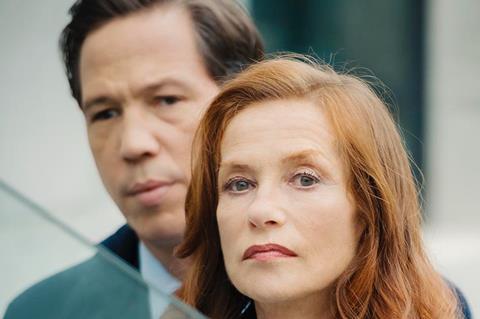 Sold by Elle Driver, it marks a departure for one of French cinema's greatest stars who, over the course of her screen career, has played sexually uptight piano teachers, killers, prostitutes, ex-nuns and unhappy wives. This, however, is the first time Huppert has portrayed a local politician.
Her character, Clémence, is the mayor of a tough and impoverished town just outside Paris. She knows just how the system works and what compromises she must make to help her constituents. Her head, though, is turned when she is suddenly presented with the chance to become a minister.
"There is a certain ambiguity," Huppert says of what drew her to the role of the ruthless, self-centred but ultimately idealistic politician. "She is not a bad person. She is not always a good person. She is driven mostly by her ambition, a legitimate ambition. Her personal ambition is mixed with a social ambition – she fights for this building to be renovated.
"She's an interesting character because she falls between contradictory feelings," she continues. "Usually, political films are more like westerns: you have the good and the bad."
In Promises, French writer/director Kruithof instead explores the grey areas between right and wrong and looks at the compromises that every politician is forced to make. Huppert had seen and admired the director's previous film (and debut feature), the 2016 dark thriller La Mécanique De L'ombre starring François Cluzet. "You could tell he was a real filmmaker," she says.
Huppert has met real-life politicians, among them Annie Hidalgo, mayor of Paris since 2014. She has also read widely about the kind of housing problems that the film addresses. However, her approach to the role was typically matter-of-fact: "You have to make the character believable. It goes mainly through the costumes, the way you appear, the way you dress – elegant but not too much."
Huppert came to shoot Promises immediately after completing Michele Placido's 16th-century-set period drama Caravaggio's Shadow (sold by Wild Bunch) in which she plays the Roman aristocrat and protector of the artist Caravaggio, Costanza Sforza Colonna. Huppert talks of her pleasure in being able to "jump into these opposite worlds", making a period film one moment and a contemporary political thriller the next.
She enjoys collaborating with talented younger filmmakers. "I've worked very often with first-time directors, most of the time quite successfully," she says, reeling off names like Ursula Meier with her debut feature Home (2008), Joachim Lafosee with Naked Property (2006) and Alexandra Leclère with The Angry Sisters (2004). "I made, most of the time, good choices by working with all these people making their first films. In the case of Thomas, it is his second film."
Huppert doesn't believe younger directors are daunted at the idea of working with someone of her reputation. "I think it's the first time for everyone when you do a film whether you've done 60 movies like me or whether you've done only one or none. It's the same."
Early in her career, Huppert had a high-profile role in Michael Cimino's epic western Heaven's Gate (1980), the movie that reputedly bankrupted United Artists. Since then, her forays into English-language cinema have been infrequent, including roles in Curtis Hanson's The Bedroom Window (1987) and David O Russell's I Heart Huckabees (2004) alongside indie fare like Hal Hartley's Amateur (1994) and Ned Benson's two-parter The Disappearance Of Eleanor Rigby: Him and Her (2013). But she protests at the notion she has avoided the US: "I have to say I'm quite proud of all the English-speaking films I have done in my life."
These rare ventures into the English language are perhaps reflected in her awards recognition, which is weighted towards European prizes. As well as being a two-time winner of Venice's Volpi Cup (for La Ceremonie in 1995, shared with co-star Sandrine Bonnaire, and A Story Of Women in 1988) and a multiple European Film Awards nominee, Huppert has 16 Cesar nominations to her name including two wins (for La Ceremonie and Paul Verhoeven's Elle). Compare that to her single Oscar nomination in 2017 for the latter film.
Being bad and owning cinemas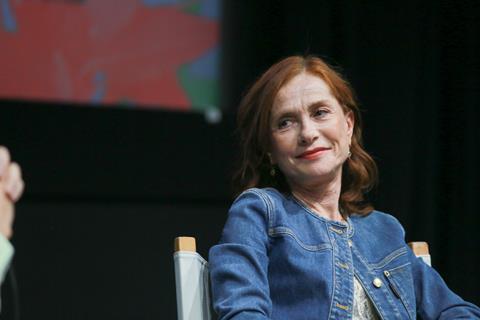 On the perception that she often plays evil characters, for example recent turns like her predatory widow in Neil Jordan's Greta (2018) and evil stepmother in Anne Fontaine's Pure As Snow (2019), Huppert nods in agreement. She likes taking a trip on the dark side.
"There is a different way of showing malevolence now," she says. "Before, you had the good and the bad but now there is more ambiguity. It is much more interesting to see how an individual can be good on the surface and bad underneath."
From Greek tragedy to Shakespeare, the most intriguing characters, she adds, always tend to be the nastiest. "You have all these supposedly malevolent characters and they are usually the most interesting people. I am not saying that doing a non-malevolent character is not interesting. In fact, sometimes I think I would love to play a really iconic good character." That, she suggests, would actually be far more of a challenge.
Huppert isn't just one of the most renowned stars of French cinema. She is also the owner of two rep cinemas in Paris – the Christine Cinema Club and the Ecoles Cinema Club, which her son Lorenzo Chammah programmes. "The ultimate and great place to watch movie remains the theatres," she says.
In France, running cinemas is a tough business these days, with spectators obliged to show Covid health passes and box office falling as a result. "It makes the situation for theatres very, very difficult but I can only encourage people to go [to them] because that is the best place to watch movies, in a dark room with people, on a big screen," she says.
Spectators are coming back, at least to Huppert's theatres. "The attendance is not… tragic. Given the situation, it is not too bad."
Her cinemas show classic movies. "There is still hunger for this kind of film," she says. "Traditionally, these two cinemas were always more devoted to American films from the '50s. Now, of course, the programming goes from Japanese films to American films to French films."
Huppert herself goes to watch films whenever she can. One title she saw recently and admired hugely was Sidney Lumet's Running On Empty (1988) starring Christine Lahti and River Phoenix.
Not that she has much time to spend on cinemagoing. In spite of the pandemic, her work schedule remains as frantic as ever. She has recently been on stage, in Ivo van Hove's production of The Glass Menagerie and opening this year's Avignon Festival in The Cherry Orchard.
She says both of those productions are likely to be revived as is Robert Wilson's production of Mary Said What She Said in which Huppert plays Mary, Queen of Scots, and which had been due to play in New York and LA before Covid intervened.
Huppert will be in Venice to support Promises. After that, she is off to Japan to star in Sidonie, the new film by Elise Girard, and is also due to appear in The Syndicalist, the next film from director Jean-Paul Salomé (with whom she made 2020's Mama Weed).
With more than 140 film credits to her name already, there is no sign yet that Huppert has any plans to put her feet and go watch other people's movies in her son's cinemas.