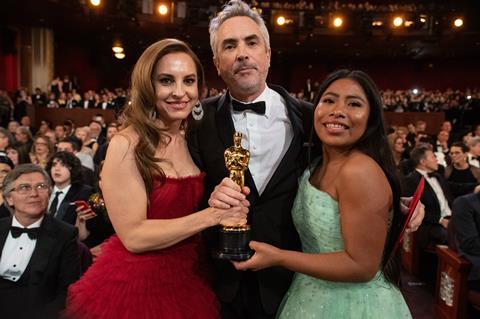 ROMA's stumble at the final hurdle of an impressively managed marathon may have seemed like the big surprise at Sunday's 91st annual Academy Awards, although in truth the best picture Oscar was always going to be a stretch for Netflix this year – but it will be back.

Oscars 2019: full list of winners
It was easy to get swept up by the streaming giant's $30m campaign (which encompassed the awards push and promotion of the limited theatrical release) and yet, as one senior awards strategist pointed out to Screendaily, the perception of inevitability was not borne out by reality.
Alfonso Cuaron's drama is a brilliant lava flow of a Mexican family saga. It is also a 135-minute black and white Spanish-language film with no recognisable stars outside Mexico that, anecdotally, many voters who could not summon the stamina to view theatrically failed to watch all the way through on Netflix.
That ROMA got the recognition it did speaks volumes not only for the genius of Cuaron – who earned directing, cinematography and foreign language Oscars on the night – but the undeniable might of Netflix. The streaming platform took Participant Media's film to its growing global subscriber base, orchestrated theatrical releases in more than 1,100 theatres worldwide with varying degrees of acceptance and controversy, plastered billboards in Hollywood and elsewhere with images of monumental monochromatic magnificence, and kept itself in the conversation.
The campaign picked up plenty of awards throughout the season and delivered 10 nominations heading into the Oscars, on par with Fox Searchlight's The Favourite. Yet awards observers have suggested that by the time the Oscars came around nearly six months after ROMA's Venice Golden Lion-winning launch, fatigue had set in and the film could no longer rely on the sustained engagement of Academy voters to bag the top Oscar.
On the other hand Green Book – which like ROMA was financed and produced by Participant Media, and handled in the US by Universal – surged at the right time. It won the Grolsch People's Choice Award in Toronto last September and laid low for a while, parlaying strong word of mouth into a low-key swell that benefitted from recognisable stars at the top of their game.
When the 1960s-set buddy movie with its inoffensive messaging about the need for racial tolerance won the top award at the Producers Guild Of America last month, a veneer of invincibility had begun to form. That protective coating showed no sign of cracking, even when the film ruffled the feathers of the family of the real-life pianist Don Shirley (portrayed by Oscar winner Mahershala Ali), and Viggo Mortensen used the N-word during a Q&A.
Yet Green Book's win was itself a distraction. This was a significant, triumphant season finale for Netflix. To earn 10 Oscar nods including its first for best picture, and convert them into three senior awards for a foreign language art house film must be sending shivers down the spines of awards season rivals. Imagine the noise Netflix will make with Martin Scorsese's Jimmy Hoffa mob drama The Irishman later this year, featuring a legendary cast of Robert De Niro, Al Pacino, Joe Pesci, and Harvey Keitel.
Having brought awards campaign ace Lisa Taback in-house and hired Scott Stuber to head original films, awards strategists say Netflix is in the awards business for the long haul, and will pursue best picture Oscars with steely determination. The streaming service has money to burn and will not baulk at large outlays to promote its awards hopefuls, stage theatrical releases in support of those films, and garner more prestige through a stable of world-class talent. This season's campaign spend on ROMA dwarfed those of its rivals, and offered a taste of things to come as the company seeks to court and keep the world's brightest talents and convince more subscribers to sign up.
There could be awards season pushes too for Dee Rees' Joan Didion mystery The Last Thing He Wanted starring Anne Hathaway and Ben Affleck (Rees and Netflix worked together on Mudbound.) Steven Soderbergh's journalism drama The Laundromat with Gary Oldman and Meryl Streep could also be a contender.
Returning to the ceremony, Olivia Colman delivered the one true shock of the night in the lead actress contest. The Bafta-winning British star of The Favourite upset Glenn Close's seemingly unassailable march to her first Oscar after the Hollywood veteran won the Screen Actors Awards, Golden Globes, and Film Independent Spirit Awards.
Besides entertaining vignettes like the show-stopping duet between Bradley Cooper and Lady Gaga, or Melissa McCarthy's crazy couture pastiche of The Favourite, another resonant theme of the 91st Academy Awards was the triumph of racial diversity. This was a night when Black Panther made history, Spike Lee finally won his first competitive Oscar, and Cuaron ensured a Mexican filmmaker won the best directing prize for the fifth time in the last six years.
It was also an occasion when populism prevailed with awards for Black Panther, Bohemian Rhapsody and to an extent Green Book, demonstrating that in light of a significant new intake of younger, racially diverse and "woke" Academy voters, the governors of a 7,900-strong membership perhaps need not reverse-engineer relevance by adopting patronising measures like a 'popular Oscar' category. On that subject, viewership for Sunday's host-less, shorter telecast on ABC gained 11.5% on 2018's all-time low and averaged 29.6million viewers, although this still ranks as the second least-watched Oscars show in history.