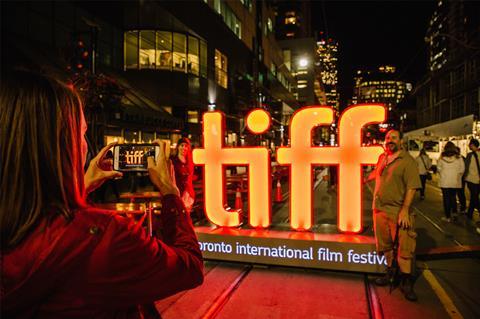 US buyers and major sales agents are expected to be thin on the ground at Toronto International Film festival (TIFF) despite Canada's newly relaxed border restrictions admitting non-essential travellers.
Despite strict protocols at the hybrid 46th annual festival, the pandemic's fourth wave fuelled by the Delta variant has ensured that many industry players are choosing to sit out this year's event and engage virtually.
TIFF opens tonight (Sept 9) with the world premiere of Universal's Dear Evan Hansen. It is one of many marquee titles in a 100-plus feature selection that is already spoken for and while that bodes well for public attendees at the festival's indoor and outdoor screening venues, the consensus seems to be there are few big-ticket acquisition targets.
While TIFF's industry portal is keeping many online screenings geoblocked to Canada, many others will be accessible from around the world, which some see as a problem. "When you make it too easy to see movies with the virtual piece you lose that urgency to attend," observed one industry source. "People came in droves to Telluride because they were told they had to be there to see the movies."
On the pure market side, reports of last year's virtual sales topping $100m flatter to deceive. TIFF has never been a major staging post for packages and pre-sales to rank alongside the markets in Cannes or AFM, although the industry remains opportunistic and big sales can always occur.
Endeavor Content unveiled its noir project Sniff with Morgan Freeman, Danny DeVito, Al Pacino and Helen Mirren, and so far it is one of only a few announced packages in the market. FilmNation and AGC Studios are not believed to be introducing new sales titles. STX will be showing a promo for its untitled Guy Ritchie project and Memory starring Liam Neeson, while Voltage Pictures has All My Puny Sorrows in selection, Arclight is selling Big Gold Brick, and Highland has Door Mouse and One True Loves starring Simu Liu from Labor Day smash Shang-Chi And The Legend Of The Ten Rings and may announce one or two others. Montreal-based WaZabi Films has several TIFF titles like Maria Chapdelaine and Guatemalan drama Cadejo Blanco, which 30West represents for North America.
Endeavor Content has four films in the festival and two are arguably among the more sought-after acquisition titles: Barry Levinson's The Survivor starring Ben Foster and Blumhouse Productions' Dashcam. "Buyer appetite is very high and that's probably because fewer films have been able to get made, so people jump on opportunities when they arise," says Endeavor Content's Alex Walton.
There are slots to fill in 2022 and hopes are high that cinema-going will eventually return. Covid-19 has created a compromised theatrical distribution sector in the US and across much of the world but the situation is improving thanks to vaccines and the right films will work. Summer season in the US just ended on a high note with Shang-Chi And The Legend Of The Ten Rings scoring a Labor Day opening record on $94.4m over four days.
Release calendar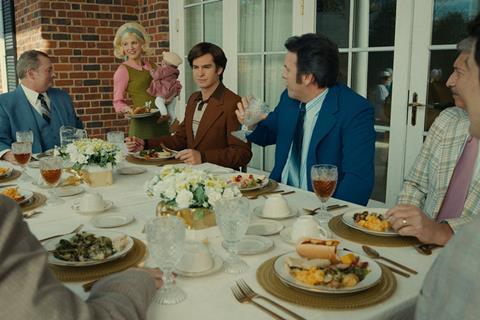 Still, the industry is by no means out of the woods and there is concern that another spate of release calendar changes may not be far off as studios play it safe. So long as the situation does not deteriorate, Eon/MGM's No Time To Die is expected to stick to its October 8 release date, although Paramount recently moved Top Gun: Maverick from November to May 2022, and Sony is reportedly selling Hotel Transylvania: Transformia to Amazon Studios.
The release of TIFF selections The Eyes Of Tammy Faye from Searchlight Pictures and Dear Evan Hansen, for example, are coming up fast and are currently dated for September 17 and 24, respectively.
Josh Braun and the team at Submarine Entertainment have North America on Bernard MacMahon's Becoming Led Zeppelin, which premiered in Venice (where there were scarcely any US buyers) and is not screening in TIFF. The documentary screened secretly in Telluride and is attracting attention after a Los Angeles buyers screening yesterday (September 8). Altitude Film Sales represents international rights.
Hostage story Hold Your Fire is Braun's only documentary selection in the festival this year. There are high expectations for the film, which Braun says is reminiscent of Sidney Lumet's 1975 classic Dog Day Afternoon and has strong remake potential.
"We've truncated our line-up and we're being more exacting about what we sign," notes Braun. "We have fewer films this season and we've gone with what we feel will work."
Having a smaller slate in TIFF felt organic, he adds, because this year the festival appears to have programmed more documentaries with distribution in place.
Like everyone else, Braun has been selling steadily year-round outside the major markets. Submarine sold Jeremy Workman's SXSW Grand Jury Prize-winning dominoes documentary Lily Topples The World in a worldwide deal to Discovery+, and alongside CAA Media Finance struck a pre-sale with Netflix for R.J. Cutler's upcoming Martha Stewart doc to Netflix.
"I have the feeling TIFF is going to be fairly light so it's a good opportunity to catch up with buyers and financiers," says The Exchange CEO Brian O'Shea, who is travelling to Toronto to support Justine Bateman's Violet and see his business partners at Orogen Entertainment, the Alberta co-investor in development and production joint venture Next Prods.
Like other sellers, O'Shea is aiming for considerable market activity at AFM (which recently announced it was switching to an entirely online event in November). However, once he gets back from TIFF next week he intends to start virtual sales talks on Violet, which premiered at SXSW and screens in Toronto today.