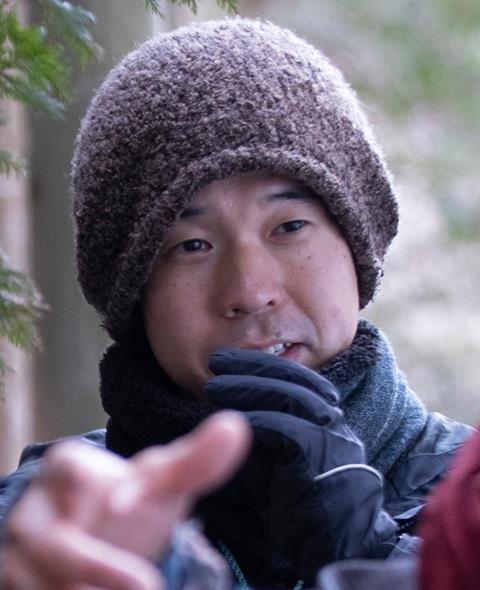 Japanese director Masakazu Kaneko has a thing for the great outdoors. Both his debut feature, The Albino's Trees, and his latest film, Ring Wandering, are about the relationship between humans and nature.
When asked what made him happiest on the set of Ring Wandering, Kaneko cites a scene filmed in the mountains in deep snow. "It was physically demanding, but it felt like a jam session between the actors, nature, and the camera, so it was a lot of fun," says the director.
Kaneko, who studied under Berlinale award-winning filmmaker Takahisa Zeze at the Film School of Tokyo and made his directorial debut in 2016, is one of four directors being introduced by UNIJAPAN, as part of a project to support participation in oversea film festivals, commissioned by the Agency for Cultural Affairs, Government of Japan, at the EFM.
Ring Wandering, which premiered at the Warsaw Film Festival in 2021, follows a young man writing a manga about Japanese wolves, and touches on the Tokyo air raids of 1945.
"Tokyo was undergoing development for the 2020 Olympics, and the landscape was undergoing a transformation," says Kaneko. "At the same time, it is said that the remains of over 100,000 people who died in the air raids 77 years ago are still buried under the ground in Tokyo. I believe that we are living as an extension of those irreplaceable lives, and I wanted to use this timing to depict that in a film."
The director's upcoming project, entitled Suiko (The Water Sprite), again touches on nature. This time, the action takes place in the Meiji period (1868-1912), a turbulent time in Japan's history.
"I think that in our modern world, we are losing the ability to harmonize with nature that people used to have," says Kaneko. "I want to depict a world where people lived with powers that we today have lost." The director has completed a 14-minute pilot for the film, which was a finalist for the 34th Tokyo Film Festival's Amazon Prime Take One Award.
Looking ahead, Kaneko says he would like to follow in the footsteps of directors like Kenji Mizoguchi and Akira Kurosawa and make waves abroad, adding: "Through the beauty and harshness of Japan's unique culture and nature, my films depict emotions and problems that people all over the world universally feel."


In order to promote the arts and culture of Japan, the Agency for Cultural Affairs is dedicated to the promotion of media arts such as films, animation, and manga, by providing support to creative work including music, films, dance and other dramatic arts, fostering young and upcoming artists, reinforcing opportunities for children's arts and culture experiences, providing support to arts and culture activities in local communities, and hosting the Japan Media Arts Festival.