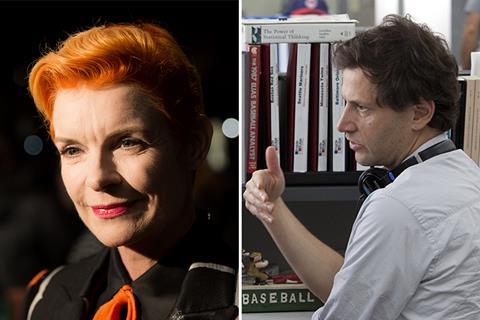 Oscar-winning costume designer Sandy Powell and US director Bennett Miller have been named as the final two masters at the Doha Film Institute's talent and project event Qumra, running March 9-14.
Organisers the Doha Film Institute also unveiled details of the 34 projects from 25 countries – in various stages of production - that have been selected to attend the event.
They include Weldi, the upcoming feature by Tunisian director Mohamed Ben Attia, whose picture Hedi won best first feature at the Berlinale in 2016, as well as Palestinian-British director Basil Khalil's A Gaza Weekend, his feature debut feature after Oscar-nominated short Ave Maria.
Powell and Miller join previously announced masters Russian director Andrey Zvyagintsev, Thai filmmaker Apitchatpong Weerasethakul and Italian documentarian Gianfranco Rosi who will mentor participants attending the bespoke meeting aimed at first and second time filmmakers.
The five masters will attend the event unfolding in and around Doha's historic souq and Museum of Muslim Art to mentor the up and coming film-makers in attendance.
The UK's Powell, who recent credits include Martin Scorsese's upcoming The Irishman, has won the Costume Design Oscar three times for Shakespeare In Love, The Aviator and The Young Victoria.
Oscar-nominated Bennett Miller is best known for Capote, Moneyball and Foxcatcher.
The selection of Powell as a master marks push in a new direction for Qumra which has previously invited directors and producers as mentors.
"It's fresh and refreshing to head in different directions and bring this focus on craft and this very creative element of film. We're always trying to keep it interesting," said DFI artistic director Elia Suleiman.
"Sandy Powell's adeptness at transporting audiences into directors' environments makes her a modern legend in design while Bennett Miller possesses a powerful ability to dissect social constructs by skilfully tapping into the psyche of his protagonists."
DFI CEO Fatma Al Remaihi added: "We are honoured to be hosting five of the most celebrated contributors to contemporary world cinema. All creative visionaries in film, their presence in Doha and interaction with Qumra delegates will incredibly benefit emerging filmmakers, and inspire them to take their works to the next level."
"With the masterful crafts of Sandy Powell (OBE) and Bennett Miller, the Qumra Masters will push the conversation and learning in exciting new directions this year."
Participants at the six-day event will take part in bespoke industry sessions aimed at their projects, ranging from masterclasses to workshops and one-on-ones with some 100 international industry professionals attending the event.
2018 Qumra Projects (synposes provided by the DFI)
Feature Narratives: Development
The Voice of Amirah (Qatar), by Khalifa Al-Thani, is about Amirah, whose life takes a wonderful turn when she stands up for what she believes in.
Khuzama (Qatar), directed by AJ Al-Thani, is about a Bedouin girl who dreams of exploring the desert until she discovers that the desert is not what she imagined it to be.
Behind Closed Doors (Qatar) by Hend Fakhroo tell the story of six-year-old Leila, who wakes up one day and finds her mother gone with only her father to take care of her.
A Gaza Weekend (Palestine, UK, Qatar) by Basil Khalil. When a viral epidemic consumes Israel, Gaza becomes the safest place in the region.
Dead Dog (working title/Lebanon, Qatar) by Sarah Francis. When Farid, a 60-year-old man living abroad, visits his wife, he learns that his beloved dog has died. Tensions arise and Farid confesses he is returning home for good.
Noura Dreams (Tunisia, France, Qatar) by Hinde Boujemaa, about Noura who struggles to raise her three children alone while her husband is in jail, until she meets Lassaad. Their plans to be together are however jeopardized by the impending release of her husband, and the two decide to flee.
The Unknown Saint (Morocco, France, Qatar) by Alaa Eddine Aljem. After years in captivity, a thief returns to retrieve the money he stole and discovers a mausoleum unexpectedly built on the site where he stashed the money.
Feature Narrative: Work in Progress
1982 (Lebanon, USA, Qatar) by Oualid Mouaness, is about 11-year-old Wissam, who decides to tell a classmate that he loves her. But his will is challenged, his courage falters and an impending war threatens to separate them permanently.
Sofia (Morocco, France, Qatar) by Meryem Benm'Barek. At 22, Sofia is the only daughter in a rather traditional family. While having dinner with her family, she discovers she is about to give birth.
A Kasha (Sudan, South Africa, Qatar) by hajooj kuka, an offbeat love story set in the time of civil war. Through a series of wry and humorous incidents over 24 hours, it explores life and love in rebel-held areas of Sudan.
Feature Narrative: Picture Lock
Late to Die Young (Chile, Brazil, Argentina, Netherlands, Qatar) by Dominga Sotomayor, which is set in an isolated community, where Sofía, Clara and Lucas prepare for New Year's Eve. They may live far from the dangers of the city, but not those of nature.
The Load (Serbia, France, Croatia, Iran, Qatar) by Ognjen Glavonić, set during the NATO bombing of Serbia in 1999. Vlada is driving a truck. He does not know what the load is, but his cargo slowly becomes his burden.
Weldi (Tunisia, France, Belgium, Qatar) by Mohamed Ben Attia, in which a father is confronted by his own reality and has to question himself and his choices.
Feature Documentary: Development
NAZ (working title/Palestine, UK, Qatar) by Omar El-Khairy and Ana Naomi de Sousa, explores the historical and cultural formations of the British Yemeni boxer Prince Naseem Hamed. It is a film that not only celebrates a forgotten era, but also sheds light on where we are now.
Displaced in Heaven (Palestine, Germany, Qatar) by Khaled Jarrar, which follows a family through the Balkan route, with the Palestinian director plunging into the horror of exile in a desperate need to recover his lost memories.
Suspended Wives (Morocco, Qatar) by Merieme Addou, which follows three women, who were abandoned by their husbands, and their lengthy battle to obtain divorces.
The Fifth Resurrection of Farid (Egypt, Qatar) by Khalid Youssef, a feature essay that explores how in Little Tokyo, Los Angeles, a new life was awarded to Olympic champion, pilot, Hollywood actor, war hero, and all around professional Farid Semeka.
Feature Documentary: Work in Progress
Batata (Lebanon, Canada, Qatar) by Noura Kevorkian, was filmed over an unparalleled eight-year period, documenting the life of charismatic Syrian migrant worker Maria. An intimate story of love, friendship and perseverance set to the back-drop of an age-old conflict between Syria and Lebanon.
Chaos (Syria, Austria, Lebanon, Qatar) by Sara Fattahi, is about three Syrian women, each living in a different time and place, separated by the very things that unite them – fear and trauma.
Underdown (Lebanon, Germany, Qatar) by Sarah Kaskas, a pulsating journey of three unbreakable characters struggling to live below the poverty line in the chaos of Beirut.
Tiny Souls (Jordan, France, Lebanon, Qatar) by Dina Naser, portrays the changes in Marwa's life, as she goes from childhood to adolescence within the walls of the Al Zaatari Refugee Camp in Jordan, reflecting its effect on her reality and future.
Feature Documentary: Picture Lock
Constructions (Argentina, Qatar) by Fernando Martin Restelli, about a 60-year-old watchman of buildings under construction, who has a second chance in life to become a father.
Nine Months War (Hungary, Qatar) by László Csuja, in which Jani has left his family to serve in the Ukrainian Army. His mother wants her son back and Jani just wants independence.
Qumra Shorts
Sh'hab (Qatar) by Amal Al-Muftah, upon hearing a myth about falling stars, a young girl's curiosity is sparked. When night falls on Al Wakrah village, she sets out in her father's boat to chase the fabled comets.
Chained Prey (Qatar) by Mohammed Refaat, is about a domestic falcon who lives a life of prestige at his falconer's house in Doha faces the threat of losing his secure lifestyle forever.
Bandits (Qatar) by Sara Al Obaidly. Two young rebels leave behind their London lives for dream of the Middle East, but when reality sets in they realize have taken on more than they bargained for.
Burn the Bird (Qatar) by Zahed Bata, is about Samaa and her son Sari who drive out in the dead of night to bury Naghnoush, their pet parrot. Ultimately, they realise the only way to set him free is to set him on fire.
Gubgub (Qatar) by Noof Al-Sulaiti. An adventurous young girl goes crab-hunting with her father and brother. Discouraged when her father undervalues her accomplishments compared to her brother's, she sets out to win her father's approval.
In Connect (Qatar) by Maha Al-Jefairi, a young mother dies and is brought back to life in a robotic body – and must confront her new reality, in which her six-year-old son is afraid of her.
· Al Sit (Qatar) by Susannah Mirghani, in a Sudanese farming village, old Al Sit must be consulted for her blessings ahead of any wedding. But in a modernising world, does the matriarch's word hold any power?.
· Pastimes (Qatar) by Majid Al-Rumaihi, interrogates the repetition of traditional scenery in painting practice in Doha, and the factors that sustain as well as complicate it.
· Hatshepsut in the Box (Qatar) by Hadeer Omar, is set in a world where people wear transparent boxes on their heads to reveal their identities, 14-year-old Leila goes rogue and divides the materials in her box to become like a new Pharaoh Hatshepsut.
· Amphitheatre (Qatar) by Mahdi Ali Ali. A young girl rebels against her family's traditions in front of a professional photographer's lens.
· Okht Rjal (Qatar) by Obada Jarbi, three women become the breadwinners for their families, necessary for their survival.