Stephen Daldry's Trash built an enormous dump filled with fake rubbish. Martin Blaney visited the set on the outskirts of Rio de Janeiro.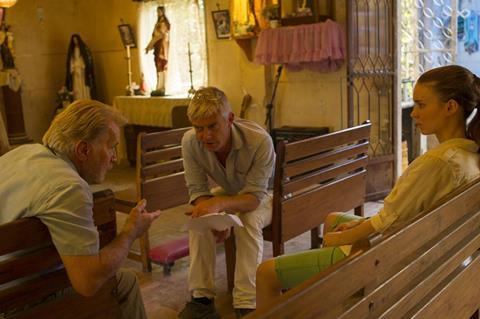 Vultures are circling over the dump, but they know something is not quite as it should be, since there are not the usual smells of death and decay enticing them down to earth.
"Stephen [Daldry] is such a stickler for authenticity, but we realised that we couldn't put the three young protagonists and our other actors and crew in a real dump," recalls Kris Thykier, founder of London-based PeaPie Films, who is co-producing British director Daldry's latest feature, Trash, together with the UK's Working Title Films and Brazil's O2 Filmes.
"It was quite an engineering feat finding a disused quarry, digging it out and bringing in 2,000 cubic metres of clean trash, as well as creating an artificial river and lake for a slum on stilts," Thykier tells Screen during a set visit in October.
Next to the dump in the neighbourhood of Jacarepagua, two houses doubled up as those of a young NGO worker (played by Rooney Mara) and a Catholic missionary (Martin Sheen), while the team turned a warehouse building into a studio for interiors of a disused hydroelectric plant.
'We were going into uncharted territory because Stephen's vision of the film meant he wanted non-acting, real kids'

Kris Thykier, PeaPie Films
Billed as a contemporary thriller, Trash is based on Andy Mulligan's novel about three boys living and working on a rubbish dump, who discover a wallet with a treasure map inside it, which leads them on an adventure.
Thykier had come across Mulligan's book four years ago, acquiring the rights before it had been published and recruiting Richard Curtis to adapt the screenplay and Daldry to direct. "The book itself is set in an imaginary -country, so one of the challenges was to land it somewhere. Mulligan had taught in Brazil, India and the Philippines, and if you read the book, you see influences from all three countries," explains Thykier.
After deciding on Rio as the setting, Thykier set about looking for a local Brazilian production partner, which he found in the form of Andrea Barata Ribeiro and Fernando Meirelles' O2 Filmes. They introduced him to a local "network of people who were creatively brilliant". Almost all of the crew were Brazilian and the Brazilian cast includes Wagner Moura and Selton Mello.
One of the biggest challenges was finding the film's three young protagonists. "We were going into uncharted territory because Stephen's vision of the film meant he wanted non-acting, real kids," says Thykier.
The three non-professional actors recruited — Rickson Tevez, Eduardo Luis and Gabriel Weinstein — were whittled down from 10,000 boys seen in a large-scale casting campaign throughout Rio.
"They have never had a stable home life or discipline, and they hardly go to school. They are highly unpredictable, so we were unsure how they would react to the discipline of turning up at the set every day," says Thykier, who admits that while "it's not been a walk in the park, they have been so good that it's been worth it, and I would be surprised if Rickson and Gabriel, in particular, didn't continue careers as actors".
Since the UK-Brazilian co-production treaty has still not been ratified, the film's producers opted for a "triangular relationship", as O2 Filmes' Barata Ribeiro explains, with a 50-25-25 split on the $12m budget between Working Title, O2 and Universal Pictures' German-based production arm. The project is evidence of Universal's increasing involvement in production in local markets such as Germany and Brazil; it will distribute worldwide in 2014.
The Brazilian-German side was regulated by Ancine and the German Federal Office of Economics and Export Control (BAFA), while BAFA and the UK's British Film Institute (BFI) — which has identified Brazil as a "priority territory" for co-productions — could recognise the German-UK side through the European Convention on Cinematic Co-Production.
While the producers were "disappointed" in not being awarded any funding by the local RioFilme fund, Trash received logistical support from the Rio Film Commission. Barata Ribeiro says: "Its doors were always open and we have locations that were, until only recently, no-go areas."