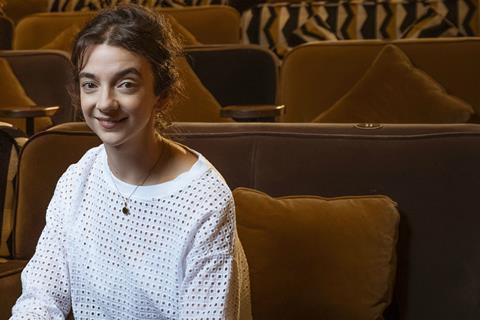 While Spain-born, Surrey-raised Patsy Ferran always knew she wanted to be an actor, she says she was careful not to let that ambition overwhelm her. "I think it's important as an actor to be interested in other things, to go exploring, learn something new, read something new. If you are so obsessed with the bubble, for me it can feel sometimes quite toxic."
After several years playing the male roles in plays at her all-girls school ("That helped me in my ability to be silly," she says. "Jim Carrey and Rowan Atkinson were my inspirations"), Ferran studied drama at the University of Birmingham. "I knew deep down that I wanted to [be an actor], but I never allowed myself to feel I should do it or could do it," Ferran says. Validation came with acceptance into RADA and her first role on stage in 2014's Blithe Spirit opposite Angela Lansbury at London's Gielgud Theatre.
For the past three years, Ferran has been shooting Sky's period drama series Jamestown in Budapest. Her role started off as the light relief, but has gradually become more complex and nuanced as the programme makers realised the depth of Ferran's talent.
During a break, she shot God's Own Country in Yorkshire with director Francis Lee. It was a small but memorable role and now Ferran is back on stage as Alma in Tennessee Williams' Summer And Smoke, which started off at the Almeida in north London and now transfers to the West End in November.
Acting, says Ferran, is a way of exploring her Spanish side. "I very much hold myself like an English person. I'm very apologetic, full of 'pleases' and 'thank yous'," she says. "My Spanish family make fun of me because they are very front-footed and expressive. Acting is exciting as I'm allowed to do that without being told I'm inappropriate or rude."