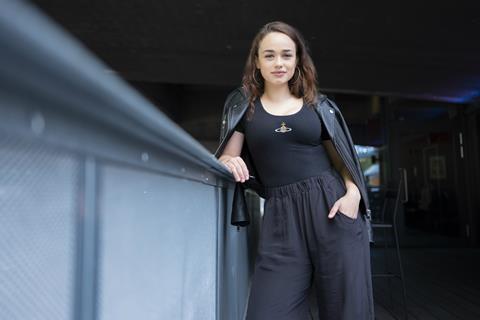 The first day of shooting on ITV's Jane Austen adaptation Sanditon was a memorable 25th birthday for Rose Williams. "It felt like stepping into womanhood in a different way," she says. "Austen's legacy is something I hadn't explored in depth before. It's a challenge, but it's been the joy of my career."
Sanditon is written by Andrew Davis and based on Austen's unfinished novel. Williams plays Charlotte Heywood, the daughter of a country gentleman who explores a new society on moving to the titular seaside town.
After wrapping the five-month shoot in June, Williams has gone straight to Corinna Faith's The Power, a supernatural thriller from the 2018 Brit List showcasing the best unproduced UK scripts. She stars as a young nurse in 1970s London who is forced to work the night shift in a crumbling hospital. Williams has been prepping with writer/director Faith for several months already. "She sent me so many references of cool '70s horrors and Japanese horrors — that's opened me up to a different world of storytelling."
After a start as a trainee costume designer, London-born Williams moved to Toronto in 2014 to play a 16th-century French princess in the CW network's TV series Reign for three years. "It was a technical lesson because it's such a well-oiled ship — eight days an episode, like clockwork. Each episode is a different director, so you become your own anchor for how to do it."
She returned to the UK to play a pregnant woman in Sky's crime drama Curfew, about amateur drivers competing in an illegal street race. Williams credits it with "reigniting my creativity and appreciation of British drama". Her film credits include Terrence Davies' 2016 Emily Dickinson biographical drama A Quiet Passion and Seth Green's upcoming comedy Changeland.
When it comes to choosing a role, Williams has a particular interest in one area: "I am passionate about all the stories of powerful women throughout the ages which haven't been told."
Contact: Jo McLintock, A&J Management, Honor Colt, A&J Management